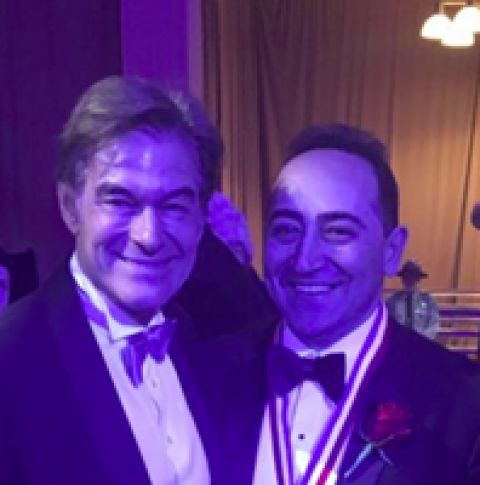 Dr.Mehmet Oz, Turkish-American, a famous doctor from The Dr. Oz Show, was interview by Ali Cinar. Dr. Oz talked about the social distancing rules, the latest on the vaccine, plasma treatment, and other issues related to coronavirus pandemic.Dr. Oz is ranked #1 of the most influential Turkish-Americans, and he was also one of the awardees of Turk of America Magazine.
When do you see the coronavirus stopping?
Since this is a novel, or new, virus, it's hard to predict when its transmission will slow or completely stop.

During the coming months of April and May we hope that social distancing will impact the number of coronavirus cases and cause transmission to slow.

Some medical professionals think that as the weather gets warmer (in the months of May, June and July) we may see transmission slow because the virus swell and does not travel as far thru air.

We will probably see the virus come back again as the weather gets colder - and that's something everyone, especially the healthcare system, should consider preparing for.
Any comment on a vaccine?
There are multiple companies working on a vaccine right now which is good news! But unfortunately I don't anticipate a vaccine before 12-18 months. This is because vaccines have to prove both safety and efficacy, meaning that this vaccine is not only safe for the public but that it actually works.

This involves multiple clinical trials which take time and that's why I think it will be 12-18 months before we have a vaccine
Does plasma treatment  work for the patients?
Plasma treatment would mean that antibodies, proteins made by the immune system to attack the virus, could be taken people who have recovered from the virus and be given to people who haven't had the virus yet. Essentially allowing people to be able to fight the virus off should they ever get infected

Medical centers around the world are starting trials to see if plasma treatment could work and a promising report from our biggest journal JAMA is supportive
What is/are your recommendation(s) regarding people using a mask in public?
The purpose of wearing a mask is to decrease the chance that people who are infected spread the disease to others.

You can wear a homemade mask - but keep in mind that it offers a limited amount of protection if any protection at all.

Even if you are wearing a mask, you should still be washing your hands for at least 20 seconds and staying inside as much as possible
What is/are your recommendation(s) to people to protect themselves.
Right now the number one thing people can do to protect themselves is practice social distancing. We don't have a vaccine that we can deploy so our best weapon against the virus is to stay at home. This means avoiding any large gatherings and maintaining a distance of at least 6 feet (2 meters) from others when you go places like a grocery store.

People should also make sure to practice hygiene measures like washing their hands for at least 20 seconds and cleaning any high touch surfaces in their home multiple times a day.
Do you think that the estimated number of fatalities will reach the projected amount of 100k-240k?
Sadly, I do think it's possible that the estimates made by some of America's leading experts could be reached.

If people follow the recommendations made by organizations like the World Health Organization and Centers for Disease Control and Prevention, we could prevent the fatality number from getting that high.
How can NYC prevent this peak or what can New Yorkers do to lower this number?
The number one thing that people can do especially New Yorkers can do at this time is practice social distancing. We are evaluating some promising medical therapies to reduce the impact of infection like hydroxychloroquine and antibiotics and antivirals.
*Our Journalist Ali Cinar's interview with Dr.Mehmet Oz was also published on Milliyet in Turkish.