Please click adsense and enjoy shopping on Amazon.

Is Amazon taking over the world? Well, I'd estimate that I spend half of my paycheck on Amazon Prime. Whether it be stocking up on paper towels and cleaning supplies, buying random kitchen products, or ordering my favorite snacks in bulk, it's hard to resist the convenience and affordability of Amazon.
If you're not an Amazon shopping fanatic like myself, your customers likely are. There are 300 million Amazon users, and it's estimated that 80 million Americans are Amazon Prime members! 80 MILLION! In fact, more American households have Amazon Prime accounts than attend church regularly or have a landline phone!
What Are Amazon Ads?
Similar to how Google search works, when you type in a keyword in the Amazon search box and results appear, some of the top results will be sponsored posts – these are considered Amazon ads. They are denoted with subtle "sponsored" or "ad" text like in the image below.
Amazon offers a variety of ads to fit your marketing strategy. Here are a few things to keep in mind about Amazon ads.
All advertisement packages are cost per click and based on an auction model.
You choose the highest price you're willing to pay for each click.
The higher the price, the more likely your ad will appear.
Sponsored Products: These ads appear around or within search results and on product detail pages. Because these ads are keyword targeted, you can choose the keywords yourself or let Amazon automatically target your ad with suggested search terms.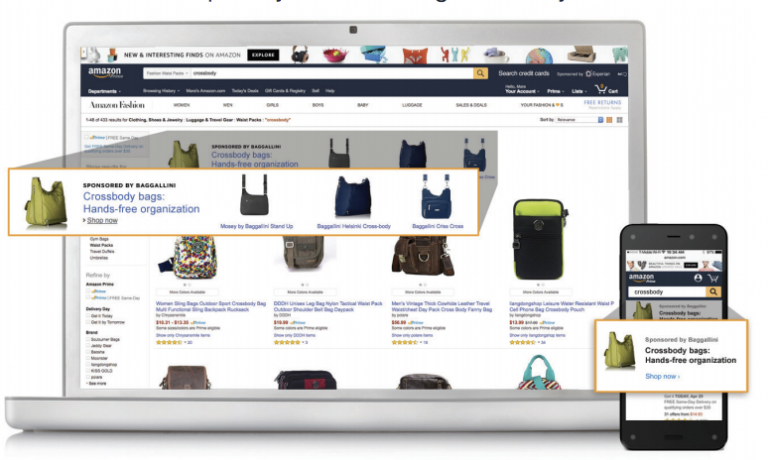 Amazon Advertising Strategy
Even though we'll be describing five unique types of Amazon advertisements that all have different best practices, here are three general tips for shaping a successful Amazon advertising strategy:
1. Determine your goals.
Whether you want to drive more sales or boost brand awareness, Amazon allows you to align your targets with your goals. For instance, you can deem your Advertising Cost of Sales (ACoS) as your metric of success if you're focusing on driving more sales. Alternatively, you can deem impressions as your metric of success if you're focusing on boosting brand awareness.
2. Choose the right products to advertise.
Advertising your most popular products gives you the best chance to convert clicks into purchases. You should also make sure these products are in stock and priced competitively.
3. Craft clear, concise, and compelling product detail pages.
Amazon ads can entice shoppers to visit your product detail pages, but the product detail page is what will ultimately turn those shoppers into customers. To craft a persuasive product detail page, consider including accurate and descriptive titles, high-quality images, and relevant and useful product information.
Sponsored Brand Campaigns Best Practices
Ad Creative
It's a good idea to feature three top-performing products in your Sponsored Brands Campaign to increase the amount of clicks and sales your ads generate.
Amazon also recommends including your product's top benefit in your ad's headline because mobile shoppers can only see the ad's main image and headline.
Additionally, when describing your product, try not to claim your product is "#1" or a "Best Seller" -- your ad won't get approved.
Testing
To run the most accurate and fruitful tests, consider only changing one variable at a time, run them for at least two weeks, and anchor the success of your tests to business goals.
Landing Page Design
With Sponsored Brands, you can direct shoppers to your Amazon store or a customized product page. Consider testing how different product pages convert visitors into customers, as well as the order in which your products appear.
Get discovered