NYC is ready for New Year Eve Celebration by Ali Cinar New York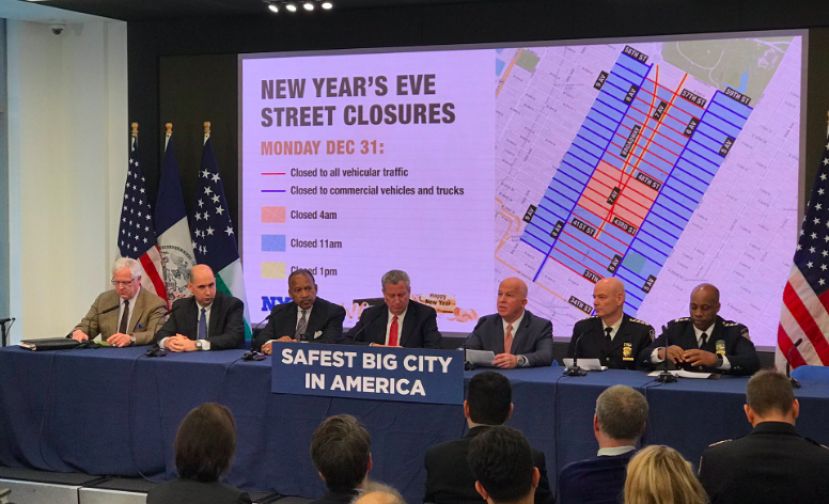 Mayor de Blasio and Police Commissioner O'Neill Hold Media Availability to Discuss New Year's Eve Security.
By Ali Cinar, New York - Mayor de Blasio and Police Commissioner O'Neill Hold Media Availability to Discuss New Year's Eve Security. Before New Year Eve, NYC Officials provided an update on how New Year's Eve in Times Square will be both safe and fun. There will be 7000 Police Officers will be on duty for New Year Eve's Festivities in Times Square, including, police cars, sand filled sanitation trucks,counterterrorism teams and police dogs.Nearly 200 police cars will block intersections leading to the pedestrian areas. Roads in the Time Square area will begin to close at 4:00 a.m. on Monday (New Year's Eve).

First Time Drone Technology during New Year Eve :

NYPD will be deploying NYPD drones for over-watch in the City. New drone technology will help NYPD a visual aid and the flexibility of being able to move a camera to a certain spot with great rapidity through a tremendous crowd. NYPD Officials also encouraged New Yorkers not to fly a drone New Year Eve. If they do, there is a good chance they will be going to end up getting arrested.

NYPD Commissioner: "We are ready for New Year Eve"

NYPD  Commissioner James O'Neill:' People will be safe on Monday and they should feel safe too.We are prepared." He also added  there are no known, credible threats to the city or the New Year's Eve event and he encouraged spectators to remain vigilant and to alert officers if they suspect something is awry.

NYC Mayor: Up to 2 Million People in Times Square.
Mayor Blasio said during the press conference  that NYC  is expecting "up to 2 million people in Times Square itself" for the ball drop, repeating a figure often cited by city officials, organizers and television broadcasters.He also added NYPD has done an outstanding job year after year, keeping the event safe and orderly and that's what we expect again this New Year's Eve.

In addition, NYPD's Deputy Commissioner John Miller share some details how the City will be secured with 1225 surveillance cameras. Chief of Patrol Rodney Harrison and Chief Terence Monahan answered some questions during the Press Conference.

There were over 300,000 Turks who travel to United States during 2018. NYC hosts many Turkish tourists during Christmas and New Year season. Many Turkish restaurants in the City will be having a New Year's Eve Party on Monday night.
Last modified onFriday, 04 January 2019 17:18