Visa Announcement Concerning Worldwide Healthcare Professionals from the U.S.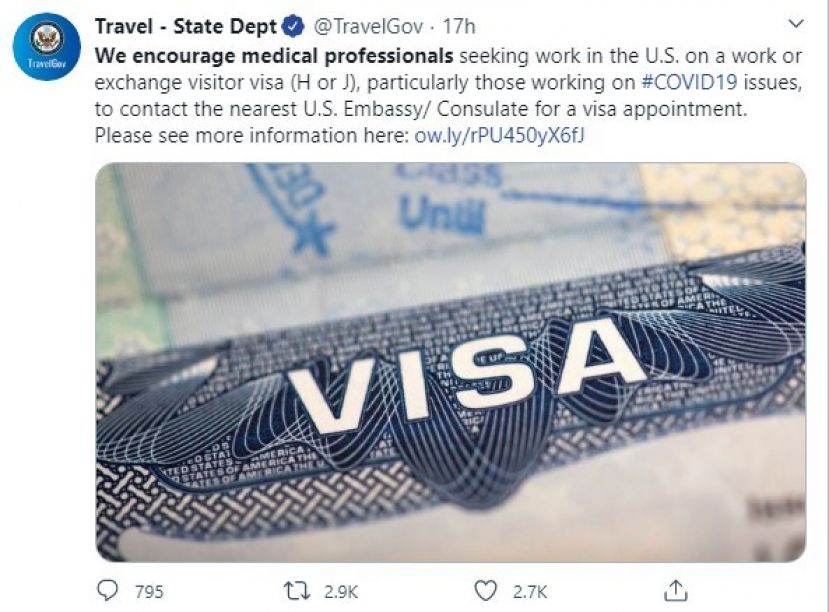 The U.S. recently became the number one country, surpassing China and Italy, in regard to the total number of infected cases. Therefore, the statement has been published and invited health professionals to apply to the nearest embassy or consulate for obtaining visas, "as long as they possess the necessary and valid documentation."
The statement in question has been published on the website of the U.S. Department of State, under the visas section. It was noted in the statement that "Medical professionals with approved I-129, I-140 (or similar) petitions or with valid certifications to participate exchange programs (such as DS-2019), particularly those working to treat or mitigate the effects of coronavirus" are encouraged to visit the website of the closest embassy or consulate to request a visa appointment.
The Association of American Medical Colleges  estimated that in a decade from now the United States would likely face a shortage of about 105,000 doctors. About a fourth of all US health care workers, and a third of doctors, are foreign born.
Details: https://travel.state.gov/content/travel/en/News/visas-news/important-announcement-on-h2-visas.html
Secretary Pompeo: Our team won't stop until we get all #AmericansHome who wish to return.
Secretary of State Mike Pompeo also made an announcement about bringing U.S. citizens home: "Our team is out there taking care of Americans, keeping our own team safe, and we've now brought over 10,000 #AmericansHome from places where they were stranded through no fault of their own."
Last modified onWednesday, 01 April 2020 00:48