President Trump: "There will be a lot of death over the next two weeks."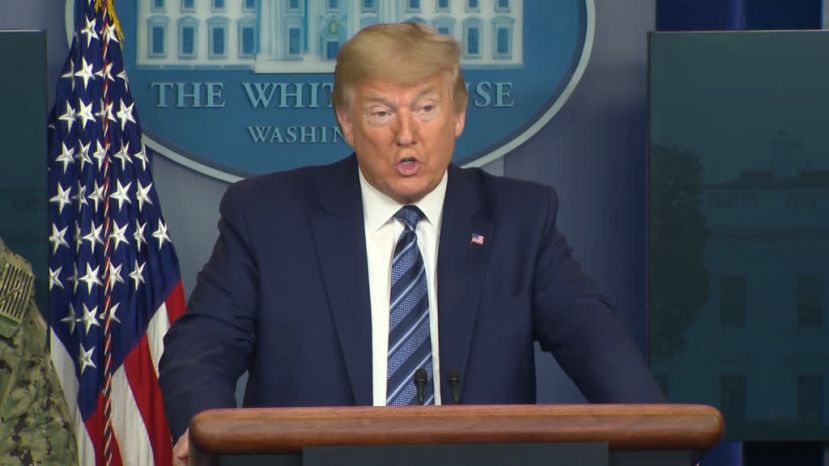 New York, the epicenter of the coronavirus pandemic in the US, has recorded 630 deaths, the highest number of fatalities in a single day. The President of the US, Trump, said, "The next two weeks will be tough, and unfortunately there will be a lot of death."
 President Trump put an end to the vaccine issue: "It takes 15–16 months for approval." He is talking instead about ready-to-use drugs that may suppress the virus.
Some Highlights from President Trump:
-We are trying to save people's lives. The media must stop fake news! Are they after ratings?
-I don't care about OPEC."
-There's going to be "a horrific point in terms of death" and US getting close to that level now,
-I believe in the effect of the drug hydroxychloroquine.We have stockpiled 29 million pills of the hydroxychloroquine. There's some very strong, powerful signs" that hydroxychloroquine works for treating #COVID19
-I want to save live and I don't want it to be in the lab for the next year and a half while people are dying all over the place
3000 soldiers(Health Professionals) will be sent to New York,New Jersey and Connecticut
Trump also remarked that 300 million gloves, 8 million masks, 3 million gowns, and many more critical supplies are being distributed across the nation right now.
Trump stated, "We want them to help our country. We need masks. We don't want others to buy these masks. You can call this retaliation." He pointed out, "The expenses of the hospitals that treat uninsured coronavirus patients will be covered by the federal government for the next sixty days. We are expanding the role of our armed forces in our fight against the Coronavirus. Because nobody is as ready for war as us, and we are fighting an invisible enemy right now. I didn't say that stadiums and arenas must be open in August."
 President Trump also announced he had a video conference with the managers of the three most popular sports in the country (baseball, American football, and basketball).
Trump said, "We need to open up our country. The treatment can't be worse than the problem. I want to see the fans back at the arenas when they are ready. The sooner, the better!" 
Trump stated that he believed the national congress of the Republican party would take place as planned on August 24, prior to the presidential election that will be held on November 3.
The Trump administration has recommended the people of the USA to use cloth masks on a volunteer basis to prevent the spread of coronavirus. Sharing the recommendation at a press conference in the White House, Trump also announced that he would not implement the recommendation.
Last modified onMonday, 06 April 2020 14:22