NYC Mayor:We need 45,00 additional health care workers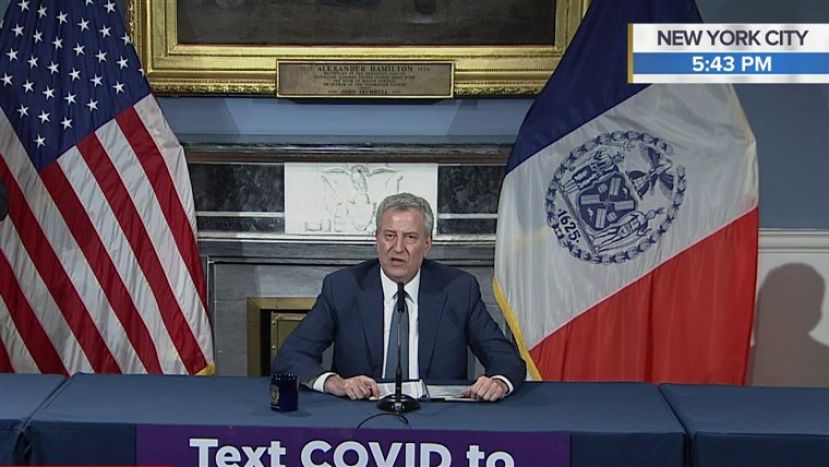 The Mayor of New York, Bill de Blasio, announced that they were in need of 45,000 healthcare workers in the USA. Mayor Blasio invited healthcare workers to apply by saying, "Everyone who is not yet ready for this struggle, we need you."
Meanwhile, de Blasio answered some questions. To the question of whether places like restaurants and gyms would open when the quarantine period ended on April 30th as planned, he replied that they predict that the quarantine period continue in May and that they want people to be prepared for it, stating that the time will be extended. He stated that the situation would be better by the end of May.
When asked about whether the coronavirus is seasonal or not, Blasio said, "There is still a lot to learn about the coronavirus. But let me tell you something interesting—yes, the virus may be seasonal; there is no precise information. There is one thing we know for sure that we have a few difficult months ahead of us."
NYPD is working hard despite coronavirus challenges 
NYPD Officers continue to visit restaurants, bars, supermarkets, salons and public spaces to remind individuals of the ban on congregating in public spaces and to practice social distancing.They visited the followings as of April 5th:
 -2457 supermarkets of which 1295 were closed
 -7019 bars and restaurants of which 5499 were closed.
-1267 public places of which 754 were closed.
During the announcement by NYPD , he stated that 5,600 officers from the New York City Police Department called in sick, and 1,000 had tested positive for coronavirus.. An eleventh member of the NYPD has died from the virus.
New York Governor: "We May Reach the Peak of the Outbreak in Seven Days"
Governor Andrew Cuomo of New York (the epicenter of the coronavirus in the U.S.) said that the escalation in the number of cases is ongoing and that it may reach its peak in the next seven days. 
Governor Cuomo said the non-vulnerable need to rely on the healthcare system with 74 percent of people reportedly being treated and released. Governor Cuomo said he recognizes the stress on the healthcare system and how they are being asked to do the impossible.
Governor Cuomo said the Javits Center could be a major relief valve since it has a 2500 person capacity that will be staffed by federal personnel. He stated the following "I can't tell a hospital that I can send them all the ventilators and supplies they need, we don't have them. We need to move what we have to where it's needed. The Federal stockpile is not enough. Help New York now, shift national and state resources now, we'll do the same when another state hits it's curve. 325 of the 1000 federal personnel heading to NYC public hospitals today to start. I know it's difficult and all I can say is thank you to the front line workers."
Watch Governor Andrew Cuomo's Video: https://twitter.com/NYGovCuomo/status/1246503599020158982
Last modified onMonday, 06 April 2020 14:19