NYC Mayor: "Don't let your customers without masks in"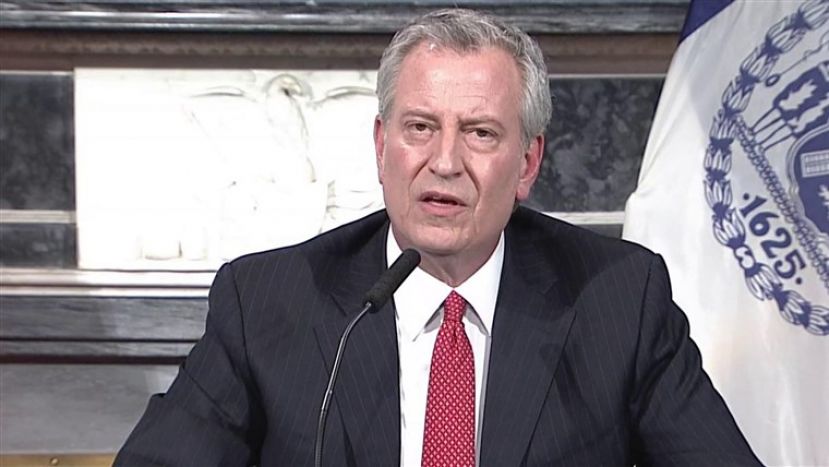 New York City Mayor De Blasio has called on the businesses, which are open for essential needs, not to let customers without masks in.
Mayor De Blasio stated that the city had suffered billions of dollars of economic losses due to the coronavirus and requested financial aid from the federal government. De Blasio said, "If we do receive aid from the federal government, we will not be able to provide fundamental services."
170 million dollars will be spent on food aid
The City of New York and many non-governmental organizations are providing aid in the form of food and basic needs, mostly to the regions of the city where people of low income predominantly live; the coronavirus outbreak struck mostly those regions.
The City of New York has announced that it will spend 170 million dollars on food aid to the poor. The Municipality of New York also announced that it would purchase 18 million ready-to-eat meals that would be delivered using 11 thousand taxis.
Mayor De Blasio said, "No one in New York will go hungry. I give you my word, and I am certainly aware that I have made you this promise. We will not let the people of New York go hungry."
Masks are on the black market in New York
The N95 masks used by healthcare workers have fallen on to the black market in New York, where the prices of N95 type masks range from 16 to 25 dollars.
NYPD is working hard against coronavirus pandemic.
The New York Police Department (NYPD) has assigned police officers to stores that are meeting essential needs to ensure the implementation of social distancing rules.
The City of New York has placed the signs it had prepared for the preservation of social distancing at various spots in the city.
It was reported that police officers, firefighters, and healthcare workers, as well as a large number of transport officers in New York, have been infected with the coronavirus. Twenty-eight uniformed and civilian members of the NYPD have lost their lives due to COVID-19.
It has been stated that one in every six police officers in New York is unable to work, either due to having contracted the virus or being sick.
The death toll in New York suddenly increased this week.
Those examining the statistics on how many have been infected with and how many have died from the coronavirus on a global scale have identified a spectacular increase in the data reported from New York: The death toll suddenly increased by 3,778—60%—climbing to above 10 thousand deaths.
NewYork's statewide shutdown is extended until May 15th
Seven states in the northeast had extended curfew restrictions. New York Governor Andrew Cuomo announced that the lockdown was extended until May 15th.