Protests Continue in New York City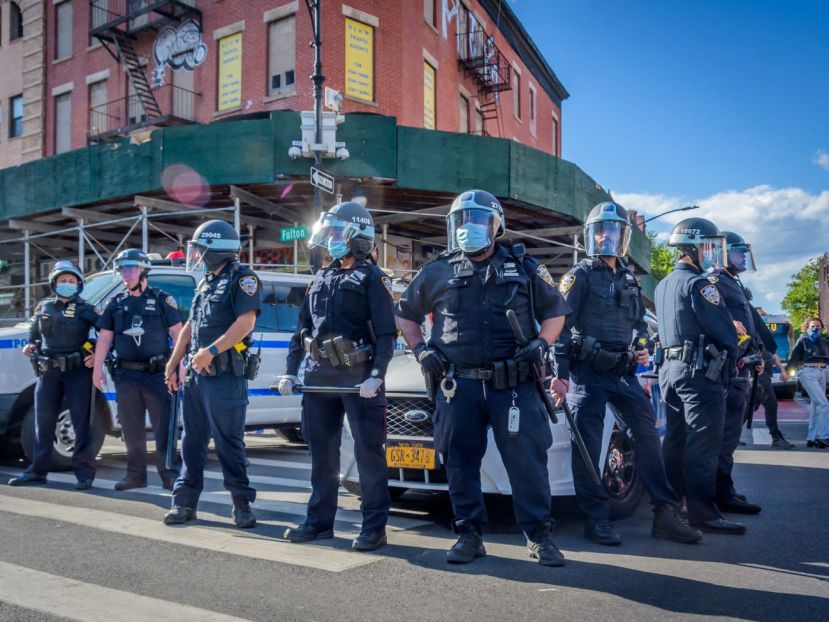 In the U.S. , the peaceful protests that started and spread across the country in response to the police killing of African American George Floyd continue on the twelfth day.Thousands of protesters have come together in various territories in New York yesterday and called for justice for Floyd. The protests that took place in Brooklyn,Bronx,Staten Island and Manhattan in the afternoon were calm in general.
There were few  clashes between the police and the protesters who did not comply with the curfew, which had been in force after 8:00 p.m. for five nights in order to prevent looting and violence in protests in New York.
NYPD Commissioner Shea tweeted :"The widespread criminal activity that we're witnessing at night has nothing to do with the peaceful protests we're standing with during the day. This senseless looting is organized by bad-actors using a worthy cause as cover."
Deputy Commissioner for Intelligence and Counterterrorism John Miller, alongside his two counterparts had a press briefing on Saturday:NYPD arrested 1,024 people in protest related arrests and 1,164 summonses.This arrest number  did not include curfew violations. Deputy Commissioner Miller said: "It does not appear that groups traveled into New York together and initially arrests of people outside New York made up a high percentage but over time they became a much smaller percentage. 
NYPD Officials also said that 292 officers injured during George Floyd protests in 5 boroughs. NYPD 10th Precinct tweeted and highlighted that "We respect everyone's First Amendment rights, but there is no reason to bring axes (attached to signs) and knives to peaceful demonstrations."
Mayor De Blasio: "We Do Not Want Armed Forces"
Stating, "When outside armed forces go into communities, no good comes of it in New York," Mayor of New York City. Bill de Blasio blamed both sides in the protests that involved violent incidents in the city and added, "There are people who participate in these peaceful protests just to do violence. On the other hand, we also witnessed scenes of breach of power by the police that do not match with our values."
Mayor Blasio also tweeted regarding George Floyd's memorial : " I could see the raw pain and anger in the crowd at George Floyd's memorial yesterday. I felt it, I heard it. People have seen injustice before our very eyes and can't live with it."
Governor Andrew Cuomo apologized to NYPD
Governor of New York Andrew Cuomo apologized to New York Police Department (NYPD) and Mayor Bill de Blasio after his criticism following the violence and looting incidents. NYPD Chief Terence Monahan  was interviewed by "Today" Show and he said "Last night his office called and apologized to me, and I know he called the commissioner directly to apologize," .  What  Governor Cuomo has said was "The police in New York City were not effective in doing their job last night. They have to do a better job."
Last modified onSunday, 07 June 2020 19:22