President Trump signs executive order on police reform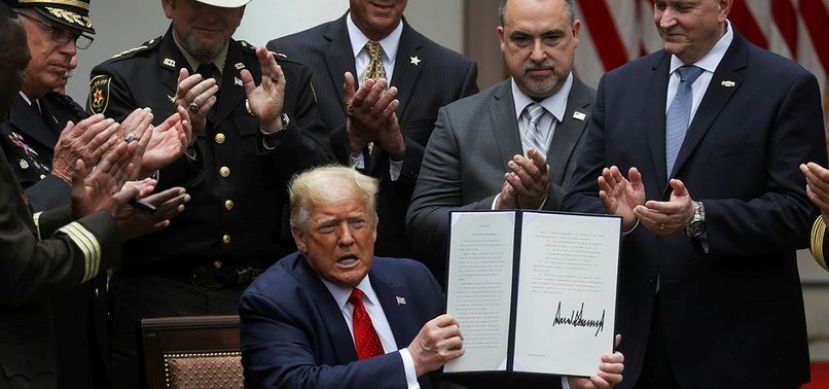 U.S. President Donald Trump held a press conference at the White House to sign a "police reform" order. Reporting that he met with the families of African-American victims of police violence before the press conference, Trump said, "These people lost their loved ones in deadly interactions with police. I want you to know that all Americans mourn by your side. Your loved ones will not have died in vain.  We are one nation. We grieve together, and we heal together."
Coming out against abolishing or defunding police departments, Trump stated, "Without safety, there is a catastrophe." Implying that the police keep the streets and people safe, he said, "We must improve accountability, increase transparency, and invest more resources in police training. Reducing crime and raising standards are not opposite goals.
"Law and order must be further restored nationwide. The federal government is ready, willing, and able to help. Police chokeholds will be banned during arrests; there will be no more looting or arson. The penalty will be very grave for those who get caught. We cannot tolerate these people."
President Trump also stated that "As part of this new credentialing process, chokeholds will be banned, except if an officer's life is at risk. Additionally, we're looking at new advanced and powerful less-lethal weapons to help prevent deadly interactions," 
Is police reform necessary?
There are 18,000 police departments all across the USA, where approximately 800,000 people work. And the largest one is the New York Police Department (NYPD). The annual budget of NYPD, with a total of 38,000 police officers, is 5.6 billion dollars. Yes, you did not hear it wrong; it is more than the 3-billion-dollar budget of the United Nations. The other day, the governor and mayor of New York made new decisions on police reform. I discussed the police reform and recent events with three valuable police officers who formerly worked at NYPD.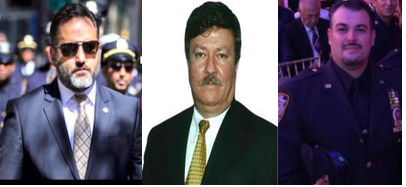 Yalcin Demirkaya: Having worked successfully as an NYPD detective inspector and detective commander for 20 years, Demirkaya thinks that the politicians are the responsible party for the current situation. Stating that there could also be bad eggs in the police department like in any other group, but we could not lay the blame on the whole department, Demirkaya said that the police officer who killed Floyd was a psychopath. Expressing that police associations defend every police officer, Demirkaya emphasized that the bad eggs should be eliminated. Indicating that the mainstream media was inciting protests with biased and faulty information, Demirkaya expressed that defunding the police would not result in any benefit.
Murat Oner: Having served as a soldier in the U.S. Navy for 12 years and worked for 21 years with the NYPD, Oner will receive the badge of honor. He says that the police department should recognize good cops and bad cops. Expressing that there should be racial, linguistic, and religious diversity within police departments, Oner emphasized that budget cuts would not be realistic. He believes that more funds should be allocated, and police officers should be involved in training, transparency, responsibility, and social programs.
Erhan Yildirim: Having served as the Community Affairs Coordinator at the NYPD, Yildirim says that reforms were already made after September 11, and the NYPD has been working closely with the community leaders of the city. Stating that he found the statement of New York City's First Lady (who said that an "NYPD-free New York City would be like nirvana") "strange," Yildirim said that budget cuts would lead to greater vulnerability, as the city is a center for terrorism.
Last modified onSunday, 21 June 2020 21:48