Secretary Pompeo Visits Southern Cyprus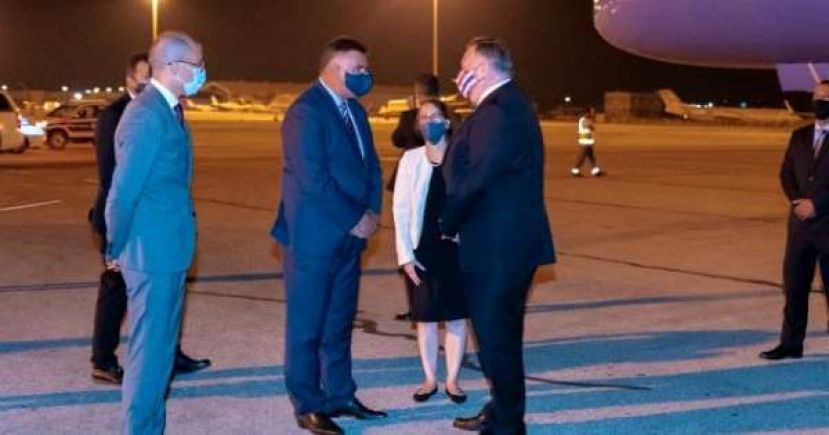 Secretary of State Mike Pompeo stated that his country is not comfortable with Turkey's activities in the Eastern Mediterranean.
Secretary Pompeo made this statement in Southern Cyprus during an official visit. Secretary of State met Greek leader Nicos Anastasiades as part of his schedule of meetings.
Secretary Pompeo called upon a diplomatic solution for the crisis between Turkey and Greece. He said, "The countries in the region must resolve the issues related to energy, security, and sea borders via diplomacy and dialogue." The Secretary of State highlighted that the escalated military tension between the two countries would only benefit the competitors who want segregation in the transatlantic unity."
Secretary Pompeo added that  U.S. is  deeply concerned about Turkey's ongoing operations and that Southern Cyprus has the right to use its natural resources, including the economic hydrocarbons that it has discovered within its exclusive economic region.
Two survey vessels sent out to the Mediterranean gets a reaction from Greece and Southern Cyprus. France supports Greece upon the responses.
European Union will put the matter on its agenda at the meeting to be held on September 24th. 
In addition, Secretary Pompeo underlined that they know not all of the Russian vessels which stop at the Southern Cypriot ports carry out humane activities in Syria.
At the end of the visit, it was determined to establish a "Cypriot Land, High Sea and Port Security Center" between the U.S. and Greek Cypriot region.
The reaction from  TRNC:
The Presidency of TRNC reacted to the U.S Secretary of State, Pompeo, who was said to meet only Greek officials during his visit to Cyprus, stating, "It is not possible to accept such an attitude." 
Turkish Defence Minister Akar arrived in the TRNC to monitor the "Distinguished Observer Day" activities of "Mediterranean Storm-2020 Drill".
During his visit, Hulusi Akar said: "We have done everything under good neighborhood relations, and we will keep on to do so. We expect the same from the other party. Hence, as long as our demands and requests on this are met, we seek peace."
Regarding the recent developments, retired Admiral Cihat Yaycı also indicated that the Greek President's visit to Meis and surrounding Turkish islands is unacceptable and that "this is a major diplomatic opportunity to justify our position to the rest of the world."
Last modified onMonday, 14 September 2020 20:12