President Trump:"Feeling Great"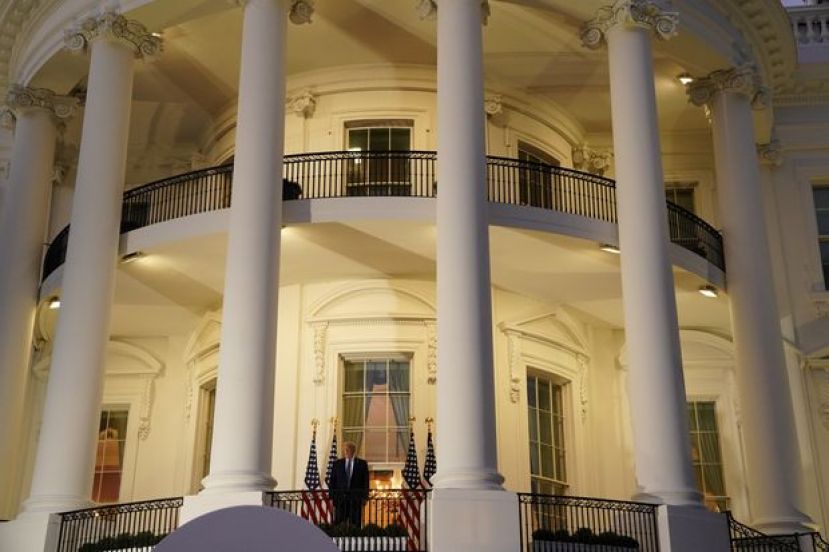 President Donald Trump was discharged yesterday from the Walter Reed National Military Medical Center, where he was receiving treatment for COVID-19.He came back to the White House shortly around 7 p.m. on Sunday , where he took off his mask and gave a thumbs up from the balcony.
President Trump, who has been under treatment at the hospital since Friday evening, posted a series of videos to show that his coronavirus infection treatment was going well and to put the public at ease.
"I am looking forward to the debate on the evening of Thursday, October 15th in Miami," Trump tweeted today and he added. "It will be great!"
Symone Sanders, a senior campaign adviser to Biden spoke to CNN on the upcoming TV Debate. "We are looking forward to the debate on Oct. 15 in Miami," He  said that he is hoping that President Trump will be well enough to attend.
The President compared COVID-19 to the flu on Tuesday morning and he said  Americans "have learned to live with it, just like we are learning to live with Covid."
In the video he posted on Twitter earlier President Trump said, "This is an interesting journey. I have learned a lot about COVID."
President Trump, who is 74 years old, was being treated with dexamethasone, which is a type of cortisone. Dexamethasone is a corticosteroid used in the treatment of the most severe coronavirus infection cases. Trump was also intravenously receiving a five-day course of an antiviral drug called remdesivir.
With less than one month before the presidential elections in the U.S., the infection of Trump and some of his close colleagues with COVID-19 makes the reelection of the president more difficult.