President Biden: "America is Rising Anew"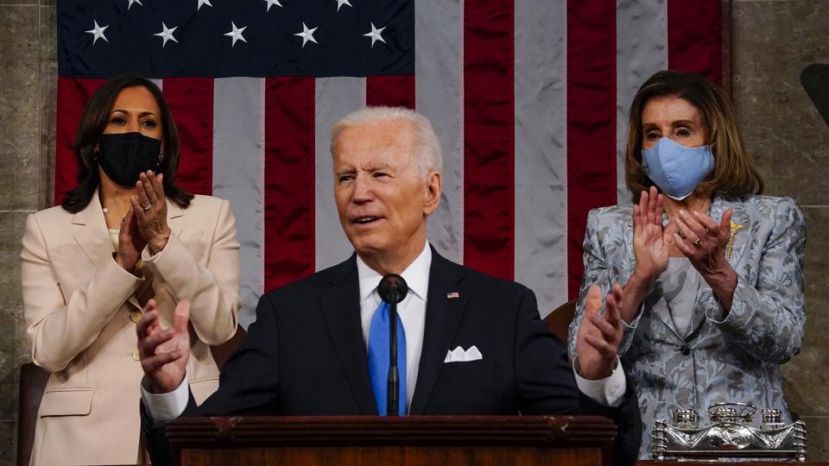 The U.S. President Joe Biden has addressed a joint session in Congress for the first time since taking office. President Biden declared that "America is rising anew" in his speech, in which he highlighted his economic plans.

The U.S. President has started his speech by saying, "It has been 100 days since I inherited a nation in crisis. I can tell you this after 100 days: America is advancing again by turning peril into possibility, crisis into opportunity, setbacks into strengths."

Highlighting the process made regarding the fight with the pandemic since his taking office, Joe Biden said, "Less than 1% of the seniors were fully vaccinated when I was sworn in. Approximately 70% of the seniors are vaccinated after 100 days." He also called for those who have not been vaccinated so far to get the vaccine.

-He explained the details of the family support plan.
-"Middle class" emphasis: "It is time for the wealthiest 1% of the American population to begin to pay their fair share."
-"We must prove America's adversaries wrong." said President Biden. He also stated that they have to prove the U.S. democracy works, solves the public's problems, and gives results.
-George Floyd and the police reform message
"We must work together to eliminate systemic racism in the criminal justice system and to restore the trust between the police and the people they serve," he said.

A message for China


Relations with China were also on the agenda of U.S. President Biden. He said that he clearly stated in his talks with Chinese President Xi Jinping that they do not want conflict with China and they will defend America's interests across the board.

"We can end cancer."
President Biden underlined that America should lead the world in the field of health and science. "I can think of no more worthy investment," said Biden. "Let's end cancer. It is within our power," he stated.

"Gun violence is an epidemic in America."


"I know how hard it is to make progress on this issue. I will do everything in my power to protect the American people from this epidemic of gun violence. But it's time for Congress to act as well." he said.

A first in American history

Behind the President of the U.S. for the first time sat two senior female government officials, Vice President Kamala Harris and the Speaker of the House Nancy Pelosi.

About 200 people watched President's speech due to the pandemic.
Polls after the President Speech:
CBS News-YouGov: 85% of viewers said they approved of Biden's speech
A CNN-SSRS : 78% of respondents had a very or somewhat positive reaction to Biden's speech
President Biden's first Congressional speech  drew 26.9 million viewers, according to figures from ratings company Nielsen. 45th President Trump's first speech at Congress had 47.7 million viewers in 2017.
Journalist, Ali Cinar
Last modified onWednesday, 30 June 2021 14:43