Pro-Palestine and pro-Israel protesters clash in New York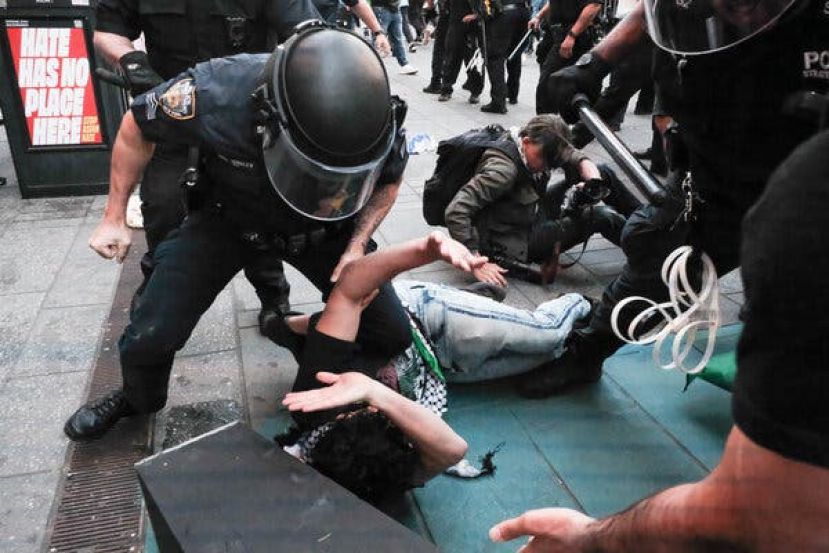 The verbal dispute between supporters of Palestine and those of Israel soon turned into a fight in New York's Times Square. Several protesters, including policemen, were injured, while many demonstrators were taken into custody.
The pro-Israel group supporting Israel and the pro-Palestine group protesting against Israel's attacks in Gaza and East Jerusalem clashed in New York's Times Square.
Pro-Palestine protesters suddenly got involved in the supporters of Israel's demonstration in Times Square. While there were only a handful of supporters of Palestine at the beginning, hundreds of people rushed to the square with Palestinian flags in minutes.
The extreme safety measures of the New York City Police Department failed to prevent the clash between the two groups. While one side was chanting "Free Israel" and the other side "Free Palestine," the tension escalated in the blink of an eye. Insults turned into physical assaults.
"Takbir, Allahu Akbar," cries echoed in Times Square. Black Americans were, in particular, among the supporters of Palestine in addition to Muslim groups. The Jewish community and Indian groups came to the square to support Israel.
The Israeli flag was burned during the incidents. Many protesters were taken into custody after the New York police warned the two groups in order to ease the tension.
Sniffer dogs were also on duty in the square where the police used pepper gas to end the fight. Bike and mounted police officers alongside undercover police officers and helicopters were used to catch the protesters who started to flee the scene after the initial police response. A number of streets, including the 54th street where the Manhattan Police Station is located, were closed, and extensive security measures were taken. There were many injured in the incidents, at least four of them being police officers.
Incidents ended when the group dispersed after Palestine supporters held a mass prayer in Times Square.
Journalist, Ali Cinar
Last modified onWednesday, 30 June 2021 14:42