Ali Cinar: "Journalism is best when it aims to have a lasting impact"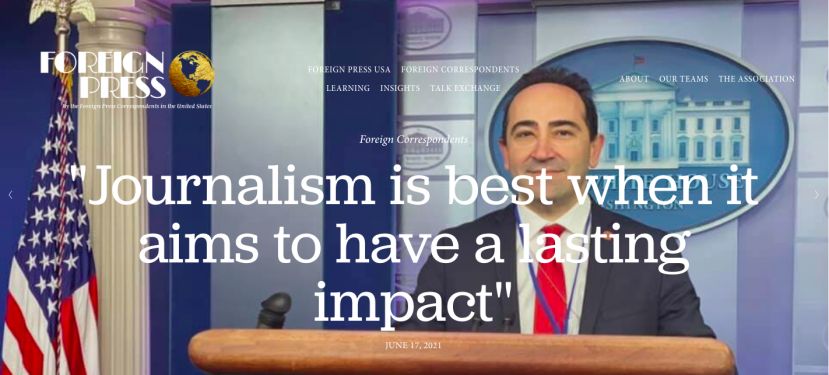 Turk of America Senior Diplomatic Journalist Ali Cinar member of the Association Foreign Press Correspondents (AFPC-USA), gave a live tour from the inside of the White House.Cinar is accredited journalist by White House since 2019.
 "I'm just so happy to be here," Ali Cinar explained as he set up his tripod in preparation for his interview as a foreign correspondent and member of the Association of Foreign Press Correspondents in the USA.
Cinar suggested broadcasting live from the White House so members of the AFPC-USA could see how the press covers the president. He even provided us with an impromptu tour. He has been covering the White House for the Turk of America since 2019. "So I was able to cover the last year of the Trump administration, and this year of the Biden [administration]," he explained. 
He stated that both presidents had different approaches to press covering the White House in regards to COVID-19.  "During the Trump administration, because of the [pandemic], it was strict but not that strict," he explained. "At the beginning, the Biden administration was much more strict about wearing masks. So I've been able to compare and see how their systems work." 
He started his career in journalism in 2002, after spending some time as a marketing representative for fortune 500 companies in Europe and the Middle East.  "When I was a student doing my master's degree, I was always writing. I started working with a Fortune 500 company, and I still write for them now. Turk of America magazine."
Cinar has been with Turk of America since its inception in 2002. It is the first and only Turkish magazine in circulation in the United States. "I was a reporter in the beginning … I was writing articles and became a correspondent. I've done special interviews with the United Nations senior officials, the New York City mayor, and so on," he explained. 
Now, Cinar is regarded as a foreign policy expert. He has been featured on various news networks to speak about Turkish-U.S. relations. And Cinar credited his expertise on the subject to the countless hours of reporting he's put in over the years. "I am always in the field," Cinar said. He expressed the importance of in-person reporting. "I'm not just sitting at the office and writing articles. I am in the field … I'm talking and attending press briefings every week," he recalled.
Additionally, Cinar has been able to sit down for interviews with many different representatives. He explained that interviews are essential for gaining an understanding as a journalist. "I've had the chance to interview top admirals, generals, and ambassadors. This is a good reference for me to have good interviews and to cover different stories," he explained. 
According to Cinar, the connections that journalists can make in the field are arguably the most important of your career. As a foreign correspondent with broadcast and print work, Cinar stressed the importance of making connections. "For journalists, we don't know what's going to happen next year," he said. "I might go work with a different publication or agency, but keeping a good network is very important. You build your network. You meet a lot of people, and they see all the hard work that you do." 
He continued, "When it comes to foreign policy, I have American colleagues that work for CNN, Fox, and others. When it comes to Turkish news, they come to me for developments." "So it's really the number one is networking, and number two is opportunities," he stated. 
For Cinar, the best thing a journalist can have is the desire to have a lasting impact. 
"Making a difference, I think, is the most important part for the journalist. Be the frontrunner, be the first to share the information with the public," Cinar advised. 
Reference:https://foreignpress.org/news/journalism-is-best-when-it-aims-to-have-a-lasting-impact
Last modified onFriday, 25 June 2021 12:42