President Biden signs the 2022 defense bill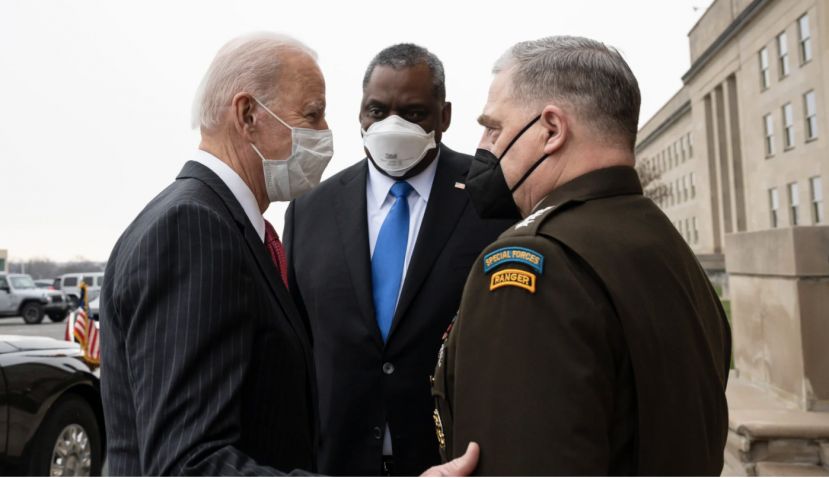 U.S. President Joe Biden signed the National Defense Authorization Act (NDAA), which includes defense expenditures for the fiscal year of 2022 and was approved by Congress last month.

The $768.2 billion NDAA -signed into law by Biden- provides $740 billion for the Department of Defense (Pentagon), $27.8 billion for defense-related expenditures in the Department of Energy, and $0.4 billion for other defense-related activities.

The NDAA passed the House of Representatives on December 7, and the Senate approved it on December 15.

What does the bill include about Turkey?

Amendments to investigate and report on the utilization of drones in the Nagorno-Karabakh war and to remove the exception which blocks the aid to Azerbaijan were added to the NDAA.

The word "Turkey '' was mentioned once, and Azerbaijan was mentioned four times in the 2,165 pages long NDAA.

- Page 1089: A United States diplomatic strategy for 19 Syria, including a description of the desired diplomatic objectives for advancing United States national interests in Syria, desired end-goals, and a description of the intended diplomatic and related foreign policy means to achieve such objectives, including engagement with key foreign actors operating in 2 Syria such as Russia and Turkey

- $522 million Counter ISIS program in Syria and Iraq ($177 million support for YPG/PKK in Syria)

"U.S. - Greece Defense and Interparliamentary Partnership Act" introduced by Menendez and Senator Marco Rubio (R-Fla.) was also added to the NDAA.

The bill envisions full support for the military modernization of Greece,
approves and accelerates the sales of new U.S. military equipment and fosters cooperation between Cyprus, Greece, Israel, and the U.S.

The bill includes articles that authorize the President of the U.S. to expedite the supply and delivery process of F-35s if Greece decides to buy them from the U.S.

The bill also includes numerous articles about sexual assault in the Army, extremism, and fighting against racism. It also consists of a 2.7 percent increase in basic military pay.

The bill increases the minimum required time for someone who retired from the U.S. Army to become the Secretary of Defense from 7 years to 10 years. The requirement to become secretary-general is similarly increased from 5 years to 7 years.

The bill increases the annual military support to Ukraine from $250 million to $300 million. It also mandates $4 billion in funds for the anti-Russia European Deterrence Initiative and $100 million in military support to Baltic countries.

The bill stipulates that China's military moves in the region should be closely monitored. It requests the continuation of the defense cooperation with Taiwan as necessary and calls to ensure that the Taiwanese Army stays modern.

The bill calls for the formation of the independent Afghanistan War Commission, which will examine the 20-year war waged by the U.S. in Afghanistan following its withdrawal.
Last modified onTuesday, 28 December 2021 11:02