Secretary Blinken: 'Sweden and Finland have more than enough to become NATO members.'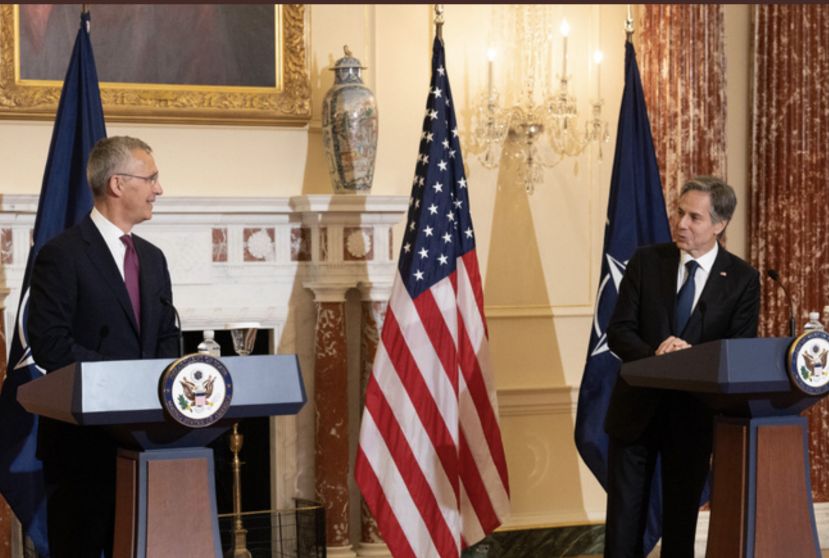 Secretary of State Antony Blinken held a joint press conference Wednesday morning with NATO Secretary-General Jens Stoltenberg.
Secretary of State Anthony Blinken said they exchanged views on NATO's preparations for present and future threats. He stated that there are different topics, from hacking attacks on the internet to China's increasing armament, from security issues that emerged with climate change to the new situation in Europe after Russia's attack on Ukraine.
Blinken reminded that the US had sent 20,000 soldiers to strengthen NATO's eastern flank since the start of Russia's attack on Ukraine and pointed out that, similarly, NATO member countries have maintained their military presence in the region.
Stating that the US continues its military support to Ukraine with the new aid package, the US Secretary of State noted that they aim to enable Ukraine to defend itself more intensely and to sit on the table more strongly against Russia in the next meetings. President Joe Biden made the same point in his column in the New York Times today.Secretary Blinken also said that Ukraine has guaranteed that it will never use the weapons it bought from the United States to target Russian territory other than to defend its territory.
Touching upon Sweden and Finland's application for NATO membership, Secretary Blinken, said, 'These countries applied for NATO membership not because their leaders imposed it, but because their citizens wanted it.'
'The United States strongly supports Finland and Sweden becoming NATO members. These countries have more than enough qualifications to become members of the alliance as soon as possible. NATO will become stronger with the participation of these countries. Like the United States, we expect Finland and Sweden to become members of this strongest alliance in history,' he said.
Turkey, Finland, and Sweden delegations will meet in Brussels.
NATO Secretary-General Jens Stoltenberg also drew attention to the support given by the US to Ukraine and said that the help of the US continues to make a difference for Ukraine every day at the front. Stoltenberg also expressed his satisfaction with the new military aid package announced by the United States to Ukraine today.
NATO Secretary-General pointed out that NATO has already strengthened its presence in Europe with more than 100,000 troops in the air and at sea and has prevented Moscow from making wrong calculations.
Stoltenberg said that Russian President Vladimir Putin set out to have less NATO presence, but at the point reached today, he is facing more NATO troops and more NATO member countries in Europe.
Describing Finland and Sweden's applications to become NATO members as historic, Stoltenberg said that the membership of these two countries would further strengthen NATO.
Turk of America Journalist Ali Cinar interviewed by Haberturk TV and Bloomberg HT after the joint conference.
Last modified onThursday, 02 June 2022 13:43