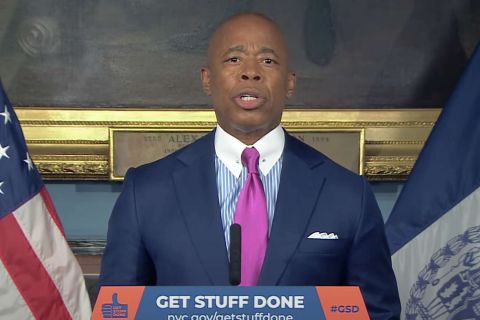 New York City Mayor Eric Adams has an interview with the Daily News Editorial Board. "It's difficult to move forward while climbing up the ground with all of these things on your back. I'm so excited about 2023. We got some good stuff in the pipeline. I love doing my job," Mayor said. 
Editorial Board asked the Mayor to give himself a grade during the interview, and Mayor Adams said, "I'm a hard grader on myself and I think I'm a straight B+ because I've gotta leave room for improvement. I'm a solid B+."
NYC Mayor Accomplishments and Significant Steps in 2022.
New York City Mayor's Office released a list of achievements for New Yorkers this year. Mayor Eric Adams and his team have worked to 'Get Stuff Done' since January 2022. Mayor Adams' first year has focused on delivering results for New Yorkers and tackling New York City's most pressing challenges. 
"We inherited a city in crisis, with spiking COVID rates, increasing crime, and lackluster job growth — but at the end of my rookie year, New York City isn't just coming back – we're back," said Mayor Adams.
Critical Highlights from Mayor Adams administration include:
Making New York City Safer: As a result of the Adams administration's focus on public safety, shootings are down 17 percent year to date and homicides are down by 13.1 percent year to date. Further, the NYPD has removed more than 7,000 illegal guns from New York City streets this year and made over 4,500 gun arrests — a 27-year high. Additionally, November 2022 saw major crimes drop from where they were in November 2021, showing efforts are working across the board, and subway crime in that same month dropped by 12.8 percent compared to the same month last year, leading to more than 1 billion passengers using the MTA's subway system this year.
Creating Opportunities for Young New Yorkers: During the summer of 2022, Mayor Adams expanded summer youth job opportunities, serving over 100,000 young people — that includes approximately 90,000 jobs through the Summer Youth Employment Program and approximately 10,000 through other city programs, the largest in the city's history. The city operated the largest summer academic and enrichment program in New York City history, Summer Rising, serving 110,000 elementary and middle school students. The administration also expanded the Fair Futures program so that all youth in foster care, ages 11 to 26, and youth in juvenile justice programs, are connected with dedicated coaches or tutors. Additionally, Mayor Adams launched the Career Readiness and Modern Youth Apprenticeship program, connecting 3,000 students with paid multi-year apprenticeships.
Launching Dyslexia Screenings for Public School Students: Building off Mayor Adams' own experience as someone with dyslexia, all 100,000 New York City educators are now trained in dyslexia awareness through Made by Dyslexia. The 80 elementary schools, 60 middle schools, and 20 high schools with the highest rates of dyslexia risk will have additional experts at their sites, and all students at risk of dyslexia in kindergarten through 2nd grade will be screened to meet the needs of these children.
Securing Billions to Provide Quality, Equitable Childcare to Working Families: Mayor Adams secured $4 billion in the state budget for childcare, helping working families manage these rising costs. Mayor Adams also cleared the childcare voucher waitlist, allowing families of 36,000 additional children to apply for affordable and highly-subsidized childcare. These efforts, along with additional tax credits and abatements, moves the city closer to providing all working families with the quality childcare they deserve.  
Expanding the Gifted and Talented Programs for Public School Students: Mayor Adams added 100 kindergarten seats and 1,000 third-grade seats to Gifted and Talented schools, expanding both entry points to all districts and serving every community citywide for the first time in history. The city also expanded early childhood special-education seats across the five boroughs, putting the city on track to provide a seat for every child with a disability by February 2023.
Putting Hundreds of Millions of Dollars Back in New Yorkers Pockets with the Earned Income Tax Credit for Families: Mayor Adams secured an enhancement of the Earned Income Tax Credit, with a $250 million annual commitment from the city and a one-time state payment estimated at $100 million — reaching 800,000 New York City residents. Single parents will see a 400 percent increase in their benefits, for a total of $905. A married couple with two children will see a 200 percent increase, for a total of $897.
Creating the New York City Housing Authority (NYCHA) Preservation Trust to Deliver on Promises to NYCHA Residents: Mayor Adams got the NYCHA Public Housing Preservation Trust bill signed into law, which will deliver repairs to 25,000 NYCHA families through an innovative 100 percent public model, with residents scheduled to begin voting in 2023. 
Connecting People in Need to Stable Housing: Since the beginning of the year, the Adams administration has connected nearly 3,000 households to supportive housing, well surpassing the number of New Yorkers connected to supportive housing in 2021, and putting the city on track to meet its goal of connecting 4,000 households to supportive housing by mid-2023.
Providing Free Internet and Cable to Hundreds of Thousands in NYCHA: Mayor Adams launched Big Apple Connect to provide free high-speed internet and basic cable TV to 300,000 New Yorkers living in more than 200 NYCHA developments by the end of 2023.
Reviving New York City's Tourism Industry: New York City is estimated to receive 56 million visitors in 2022 — a 70 percent surge from 2021, and a return to 85 percent of pre-pandemic levels. Additionally, New York City had the highest hotel occupancy amongst the top 25 markets. 
Making New York City Streets Safer: Thanks to Mayor Adams' advocacy, the city was able to transition its 2,000 automated speed cameras to operate 24 hours a day, seven days a week on August 1. Speed cameras and automated traffic enforcement are proven, effective safety tools shown to reduce speeding by 72 percent. Additionally, the city has completed safety improvements at 1,400 intersections, exceeding an initial goal of 1,000. As a result of all this work, New York City has recorded 88 pedestrian fatalities, among the fewest to date in the city's recorded history. 
Building More Housing: Since the beginning of the year, the city has approved approximately 12,000 new homes through 40 packages of zoning changes, including approximately 7,500 income-restricted homes. In November, Mayor Adams also announced a plan to build 2,500 units of 100 percent affordable housing (the city's largest 100 percent affordable housing new development in four decades) and the city's first Major League Soccer stadium in Willets Point. This all built on the city's financing, this past fiscal year, of the creation and preservation of 21,951 affordable homes, including 16,042 affordable homes financed by the New York City Department of Housing Preservation and Development, as well as securing financing for the upgrade and repair of 5,909 public housing apartments. NYCHA also completed renovations for over 2,600 public housing units.
Making New York City the Center of Life Science Jobs: Mayor Adams announced an agreement to create the Science Park and Research Campus Kips Bay, an innovation hub that will generate approximately $25 billion in economic impact for the city over the next 30 years; create 10,000 jobs, including 2,000 permanent jobs; and transform Hunter College's Brookdale Campus on East 25th Street and First Avenue into new, state-of-the-art teaching and commercial facilities.
Supporting Immigrants Coming to New York City: New York City has led the nation's response to the influx of asylum seekers through an interagency operation that managed the arrival of buses; opening approximately 70 emergency shelters and humanitarian relief centers; and establishing the first-in-the-nation Asylum Seekers Resources Navigation Center and, subsequently, 10 additional centers, to provide comprehensive services, including access to health care, educational enrollment, and legal assistance, among other services. Additionally, the Adams administration responded to international emergencies with the Ukrainian and Haitian Response Initiatives to provide legal services to Ukrainian and Haitian refugees. 
Getting Stuff Clean: Mayor Adams announced a $14.5 million sanitation investment to help build a cleaner, more welcoming city across all five boroughs that targeted more than 1,000 areas that have long been neglected. Mayor Adams also invested a record $22 million in new funding for litter basket service, with baskets now emptied approximately 50,000 more times per week citywide when compared to 2021. New Yorkers are tired of seeing overflowing litter baskets, trash under overpasses, and an out-of-control rat population, so the Adams administration intends to deliver a more functional and more well-kept city for all.
Creating Largest Composting Initiative in the Nation: Mayor Adams announced the nation's largest curbside composting program as weekly collection of compostable materials became automatic and guaranteed for every resident in Queens. 
Clearing the Backlog of Unpaid City Contracts: More than $5.3 billion in money owed to non-profits has now been unlocked through the 'Clear the Backlog' initiative, resulting in 3,303 previously unregistered, retroactive contract actions being registered or submitted for registration — helping 624 providers of essential community services get paid.
Staying Ahead of COVID-19: Mayor Adams launched a first-in-the-nation Mobile Test to Treat program to provide immediate access to COVID-19 antiviral treatment pills, which are proven to reduce hospitalization and death. The city also handed out more than 75 million free at-home COVID-19 test kits to ensure New Yorkers would have accurate test results right away when needed. 
Building an Equitable Cannabis Industry: Mayor Adams launched Cannabis NYC, a first-of-its-kind initiative to build a legal and equitable cannabis industry that supports entrepreneurs, especially those disproportionately impacted by the criminalization of cannabis, and their workers as the industry develops. Through a two-week pilot program, the Adams administration also helped to protect justice-involved individuals who were promised the first opportunity at new cannabis licenses by conducting enforcement against unlicensed establishments selling cannabis — resulting in the seizure of more than $4 million worth of products being sold illegally and the issuance of more than 550 summonses.
Cutting Red Tape for Small Businesses: The Adams administration made reforms to 118 city regulations as part of "Small Business Forward," which will save New York City small businesses approximately $8.9 million annually. 
Protecting Vulnerable Workers
Mayor Adams delivered first-of-their-kind new protections for New York City's more than 60,000 app-based restaurant delivery workers to raise labor standards and promote better working conditions in the food delivery industry. The Adams administration also launched the historic Medallion Relief Program+, which has provided more than $316.5 million in debt relief for over 1,200 medallion owners.
Expanding Services for LGBTQ+ New Yorkers: Mayor Adams announced a $6.7 Million investment in new and expanded services for LGBTQ+ New Yorkers, including a first-of-its-kind funding for capacity building of transgender and gender non-conforming (TGNC)/non-binary (NB)-led nonprofits, legal services, and support for homeless youth.   
Supporting Minority- and Women-Owned Businesses Enterprises (M/WBE): Mayor Adams helped secure legislation in Albany allowing the city to increase discretionary spending for M/WBE businesses and organizations from $500,000 to $1 million. Mayor Adams also achieved the city's 10-year goal of awarding $25 billion in contracts to M/WBEs three years ahead of schedule.
Making New York an Inclusive City for All Ages: Mayor Adams launched the City Cabinet for Older New Yorkers, a first-of-its-kind multiagency collaboration created to seek coordination and efficiency across departments, leverage resources, and shape current and future services to better serve older adults.
Expanding Weekly Programming at Recreation Centers by 1,400 Additional Hours: The Adams administration supported New York City youth by announcing that the New York City Department of Parks and Recreation (NYC Parks) would expand recreation center hours by 1,400 hours at nine locations across the city. In October 2022, with an investment of $7 million, NYC Parks expanded hours and programming at nine recreation centers across the city, resulting in a 17 percent expansion of citywide recreation center hours. A total of 130 full time staff, including programming, maintenance, and security staff, were hired to support this expansion. Once fully-trained and onboarded, programming staff will deliver more than 1,400 additional hours of weekly programming.