United States and Turkey Mutually Suspend Visa Services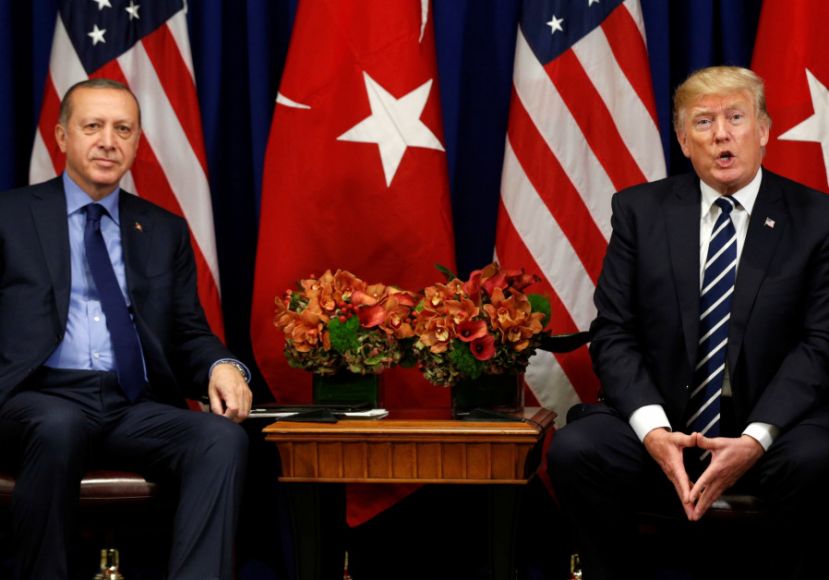 Both the United States and Turkey have suspended all non-immigrant visa services for travel between the two countries, after last week's arrest of a US consulate employee in Istanbul.
With some exceptions, the move effectively blocks Turks from travel to the United States, and vice versa, indefinitely. "Recent events have forced the United States government to reassess the commitment of government of Turkey to the security of US mission and personnel," the statement by the US mission in Ankara said.


Just 24 hours after the announcement by the United States, Turkey retaliated through its embassy in Washington, issuing a statement that effectively mirrors the one released by the United States -- only the countries' names were reversed. "Recent events have forced Turkish Government to reassess the commitment of the Government of the United States to the security of Turkish Mission facilities and personnel."

The Turkish embassy said the measure, effective immediately, would "apply to visas in passports as well as e-Visas and visas acquired at the border." The US move, meanwhile, means that Turks will not be issued visas to visit the United States unless they plan to move there.

When CNN attempted to access the e-visa process through the Turkish government's visa application website, a message denying eligibility appeared. "Unfortunately, nationals of the country that you selected are not eligible for e-Visa. Kindly visit the nearest Turkish mission to apply for a visa application." The message added a link for a list of Turkish embassies and consulates.
More than 37,000 US nationals traveled to Turkey in 2016, down from 88,301 in 2015, according to Turkey's Ministry of Culture and Tourism. The majority of US nationals visiting Turkey buy their visas at the border, usually at international airports such as Istanbul's Ataturk Airport.

Turkey is not part of the US visa waiver program; Turkish nationals are required to apply for a non-immigrant visa through US missions. Non-immigrant visas include those for business, tourism and study, as well as more specialist visas, including journalist and diplomatic visas. The US Department of State had no updated information regarding Turkish visa applications, and appeared to still be offering interviews for visa applicants. The US' National and Tourist Office doesn't provide a breakdown of the total number of Turkish visitors to the US on its website. Direct flights to the US from Turkish cities remained purchasable from Turkish airlines; there are no US carriers that fly direct to Turkey.

'Deeply disturbed'
The US said it was "deeply disturbed" by the consulate employee's arrest, named in Turkish state media as locally hired Metin Topuz, after he was charged over alleged links to Pennsylvania-based opposition cleric Fethullah Gulen. He was remanded in custody over "terror charges" by an Istanbul court last week, state media Anadolu said. Topuz is the second US government employee in Turkey to be arrested this year.

Turkey, a NATO member, has pushed for the United States to extradite Gulen, who it blames for last summer's failed coup, although Gulen himself denies any involvement.
Turkey's ambassador to Washington, Serdar Kılıç, told reporters in July that he sensed a "willingness" on the part of US officials to move forward on an extradition request against the US-based cleric, one year after the failed coup attempt the Turkish government has accused Gulen of orchestrating.

However Kılıç also expressed frustration with the slow pace of those proceedings, and suggested the US administration could take further steps outside the extradition process to censure Gulen.
Ankara has previously jailed US citizens it accuses of having Gulenist sympathies. American pastor Andrew Brunson was detained a year ago, following the coup, on charges of trying to overthrow the Turkish government and its constitution. Brunson denies the charges.

US President Donald Trump raised the issue of Brunson's imprisonment in Turkey three times during a meeting with the Turkish president in May when the two leaders met for the first time, according to the American Center for Law and Justice (ACLJ). The two countries' diplomatic ties have been fraught lately, hitting a low point in May with an incident involving Turkish President Recep Tayyip Erdogan's security detail assaulting protestors outside the Turkish ambassador's residence in Washington, DC. The bloody brawl sent nine protestors to the hospital.
The Turkish lira slumped as much as 6.6% against the US dollar on Monday after Sunday's tit-for-tat visa spat intensified, before stabilizing to trade down about 2.8% versus the dollar. (CNN)


Last modified onTuesday, 10 October 2017 04:19