40 Under 40 Most Influential Turkish-Americans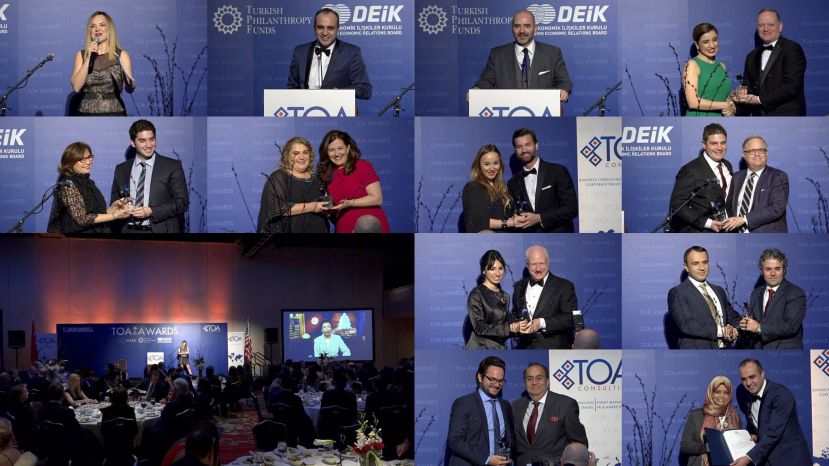 On March 17th was the third annual TOA Awards in New York City. TOA Awards was organized by TOA Consulting. Together with their Philanthropic Partner Turkish Philanthropy Funds, and event partners TAIK (Turkey US Business Council) and DEIK (Foreign Economic Relations Board) for the evening, TOA was able to shape an unforgettable event for the Turkish American community of not only New York, but also California, Washington DC and many other states.


Comodo Group, a group of companies providing computer software technologies with offices in the United States, United Kingdom, Ukraine, Romaine, China, Turkey and India, was the Gold Sponsor of this memorable evening. The ceremony awarded 40 Turkish- Americans under 40, individuals who are the most successful in their own fields; from real estate to art, and technology to finance. The event took place at the Marriott Marquis Time Square's Broadway Ballroom. Besides drawing attention to the achievement of 40 young Turks, the event was also successful in being able to collect a large sum for the Turkish Philanthropy Funds through a live auction which Cuneyt Gurkan, Chief Operating Officer of TOA Consulting performed on stage. Turkish Philanthropy Funds is an organization seeking to maximize the impact of giving, with a particular focus on Turkey and an aim of taking philanthropy beyond the "feel good" into significant and measurable impact.

The evening, after the cocktail reception, commenced with Cemil Ozyurt, Co Founder and Editor in Chief of Turk of America Magazine, making the opening remarks, followed by Cuneyt Gurkan's speech welcoming the awardees and honorees of the night. The attendees were presented with a video of Congresswomen Yvette Clarke, congratulating the awardees and the TOA Team for their efforts in making such an evening possible to praise the achievements of young Turkish- Americans. During her opening speech, Perihan Inci, Board Member of Inci Holding drew attention to the achievement of women in particular and the role played by education and families in one's upbringing and further setting the stage for applaud-able achievements. William Parker, COO of the East West Institute and retired US Navy Officer, was among the opening speakers with a remarkable speech. As Parker emphasized the role Turkey plays in connecting the East and West, he pointed out the epical history of the nation.

Among the most influential speakers of the night was Jessica Walker, President of the Manhattan Chamber of Commerce, and Emine Perviz Erdem, KAGIDER & GENPA Board Member.