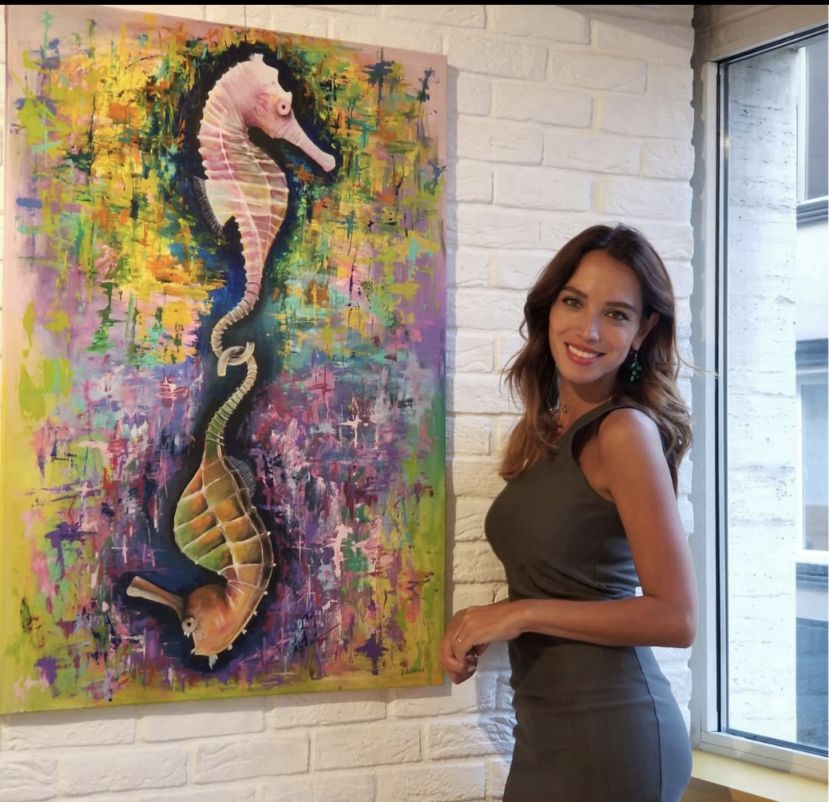 Burcin Gokcen is an artist based in Istanbul. She got her bachelor's degree from the Cinema-TV department of the Faculty of Communication Sciences at Marmara University, and She received her Master's in Communication and Promotion.
Journalist Ali Cinar interviewed Artist Gokcen for Turk of America magazine.Gokcin told Cinar that  " Studying communication was something I set my mind on as a child. I was lucky: I had made the right decision at the right time. I think communication is excellent in every area of life, regardless of your profession."
Interview Questions: 
-When did you start painting? Where were your exhibitions held?
It is interesting that I can't remember a day of my childhood I didn't spend painting. I didn't need to have a canvas in front of me. Curtains, tables, walls, chairs, windows, and important books from my parents: Everywhere and everything was a place for me to paint. My family has been my biggest supporter despite my limitless imagination and misbehavior.
I can't remember any painting contest that I didn't attend in my middle and high school days. Getting top ranks and prizes in competitions and having an American firm (Cargill) add me to its 2001 calendar significantly influenced my motivation.
I have never received any training in painting because all my life, I have acted thinking that my real job has always been painting. So I chose communication, worked on two disciplines simultaneously, and took advantage of that.
The pandemic was also a productive period for me. When corporate life slowed, I spent more time on canvases. I attended four group exhibitions in Istanbul. I continued painting walls for places. I took time for my commissions.
-How would you describe your style? What type of paintings do you do? What are your sources of inspiration?
I don't particularly appreciate limiting myself to just one style. However, symbolism and surrealism are the trends I find very close to myself. Sea creatures, women, nature, music, dreams, and chaos are the topics from which I get inspiration. I cannot give up using colors. The most striking elements in my paintings are these colors.
I can describe it as a little distant but mischievous, like a singular but pluralist, colorful but sometimes cold. I wrote my undergraduate thesis on David Lynch and film noir. Lynch doesn't like talking about his movies; the audience figures them out or not. I let my works into the hands of the audience, too. My paintings take the form they desire, the way they wish to understand and feel. It becomes that and belongs to them from that point on.
-What should be done to introduce Turkish art abroad in a better way?
There are so many undiscovered talented people in Türkiye. These talents should be included while creating different collections. These people should be reached. It is essential to provide platforms to new artists besides those we all know who hold exhibitions abroad regularly. I think galleries should give more thoughts to this issue.
 -What are your future plans?
I think planning isn't my thing. I am on a journey; I live, create, and take tremendous pleasure in that. There is a quote I like by Picasso that I find relatable. It says, 'You can never stop searching; because you will never find it.' I know I will never give up painting. The rest is a mystery. I have this endless curiosity inside of me, and I am waiting.
-Any final thoughts you would like to add?
Each discipline of art is a different amusement park. Creators and their works should be supported, not feared. We must respect every story.
Her Instagram account: https://www.instagram.com/artbyburcindian/?hl=en