From Athens' Kitchens to New York's Plates: Vasiliki Vourliotaki's Culinary Expedition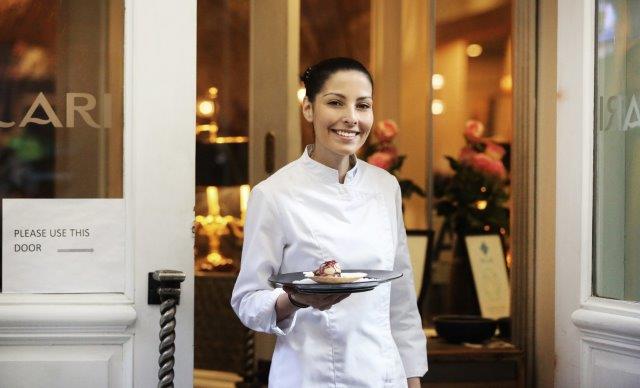 Vasiliki Vourliotaki, a 36-year-old talented chef, was born and raised in Athens, Greece. She discovered her passion for cooking at a young age and pursued her culinary education in Athens. After completing her studies, she started working at a restaurant in Rhodes, Greece, which was part of a hotel. Initially, she began with simpler tasks like preparing salads but soon found her true calling in cooking on the line, specializing in sautéing and grilling. While there are no professional restaurateurs in her family, cooking has always been a shared love and talent. From her great grandmother to her father, mother, and even her brother-in-law, the art of cooking runs deep within their blood.

Vasiliki's desire to explore and learn beyond her homeland led her to Germany, France, and eventually the United States. In 2013, she had the opportunity to work at the prestigious Oceana restaurant in New York City. After completing her one-year visa, she briefly went to France but felt a longing for the vibrant energy of New York City and decided to return.
During her culinary journey, Vasiliki has been exposed to various cuisines, but her true passion lies in Mediterranean cuisine as a whole. She finds the fusion of flavors and the blend of healthy and tasty elements captivating, and that's what she aims to bring to her dishes.

When asked about the Americanization of Greek food in the United States, Vasiliki acknowledges that most Greek restaurants have adapted their recipes to cater to the local palate. However, they strive to maintain the essence of Greek cuisine and offer an authentic experience to their guests.

Vasiliki's journey led her to Kellari, a renowned Greek restaurant in New York City. After working at Oceana, she took a brief break and worked in the front of house at a restaurant to understand the entire workings of a restaurant, not just the kitchen. One day, she visited Kellari and met Mr. Stavros, one of the owners, and they connected over a glass of wine. That's how she joined the Kellari family.
Kellari has been open for 17 years and is known as one of the finest Greek restaurants in town. Vasiliki feels fortunate to work with an amazing team at Kellari and acknowledges the significant responsibility she had when she first started, being young and entrusted with the kitchen. Despite the challenges faced as a woman in a male-dominated industry, Vasiliki embraces the opportunity to break barriers and leave her mark.
Kellari serves a significant number of dishes throughout the day, with approximately 200 to 250 covers for lunch and 250 to 300 covers for dinner. Their customer base is diverse, including Greek regulars, tourists eager to explore Greek cuisine, and professionals visiting during their lunch breaks.

The restaurant is open seven days a week and employs around 66 talented individuals for one shift in the kitchen, with an additional crew of three dedicated individuals for preparations.
The average cost for lunch for two people at Kellari, excluding alcohol, varies depending on the menu selection. The prefix menu is priced at around $37 per person, while a salad or sandwich without alcohol would cost around $25 to $30 per person.

During the pandemic, Kellari faced challenging times and had to temporarily close its doors. However, they continued to offer delivery services, preparing delicious food for takeout orders. Vasiliki acknowledges the difficulties and the tough decisions that had to be made during that time.

Vasiliki has been working at Kellari for about 11 months, joining the restaurant during the pandemic. Prior to that, she was in Russia exploring the culinary scene there.

When it comes to ingredients, Kellari has a network. She was previously in Russia exploring the culinary scene there. The current location of Kelari, next to the Harvard Club in New York, has positively influenced its popularity.
Vasiliki believes that the trend of Mediterranean food continues to grow and there is still room for its expansion, even with the rise of Mediterranean fast-food chains. Kelari sources its ingredients from a network of reliable vendors, with some specific items being imported directly from Greece.

The restaurant employs around 50 staff members to ensure a great dining experience. In addition to seafood, Kelari also serves steak dishes to cater to various preferences. Vasiliki believes that the majority of customers come for the seafood, but there is still demand for steak.

Vasiliki aspires to open her own restaurant in the future, focusing on Mediterranean cuisine and seafood. She understands that successful restaurant management requires teamwork and effective communication between the kitchen and front of the house staff. She manages the stress of being a chef by channeling her passion for cooking. She has been cooking professionally since she attended culinary school at 18, and even before that, she enjoyed cooking with her grandmother. Due to her busy schedule, the Young Chef rarely finds time to cook at home and prefers exploring the diverse culinary offerings of the city. Aside from Greek cuisine, she appreciates Turkish and Italian cuisines.

Kelari used to serve Dolma in the past but it's not currently on the menu. Vasiliki acknowledges that traditional Mediterranean dishes often require longer preparation times and emphasizes the importance of dedication and time in creating good food. While her brother and sister are also involved in the restaurant business, she believes that a genuine love for food and hospitality runs in their family.

Vasiliki views restaurant ratings from platforms like Zagat, Michelin, Google, and Yelp with some skepticism, as they may not always accurately reflect the dining experience. She values genuine feedback from guests and personal connections more than reviews. She believes that well-known publications like The New York Times and The Wall Street Journal provide a different perspective, focusing more on the food itself and its worth.
She finds it interesting that Mexican chefs are prevalent in many Greek kitchens, but she believes having a deep connection to the cuisine adds value to the dining experience. She acknowledges that the American market has influenced traditional food culture, resulting in fusion and Americanized versions of dishes, but emphasizes the importance of maintaining roots and traditions. The most famous dish at Kelari is the whole grilled fish, which is highly appreciated by customers along with grilled octopus and calamari. In the next five years, Vasiliki envisions herself continuing to work with different establishments and acquiring more experience before opening her own restaurant, emphasizing the importance of patience and personal growth in the process. She believes that the variety of Greek restaurants in New York is a testament to people's love for Greek cuisine and that each establishment offers a unique experience without real competition.
 Photos by Koray Kasap 
Last modified onMonday, 14 August 2023 01:39