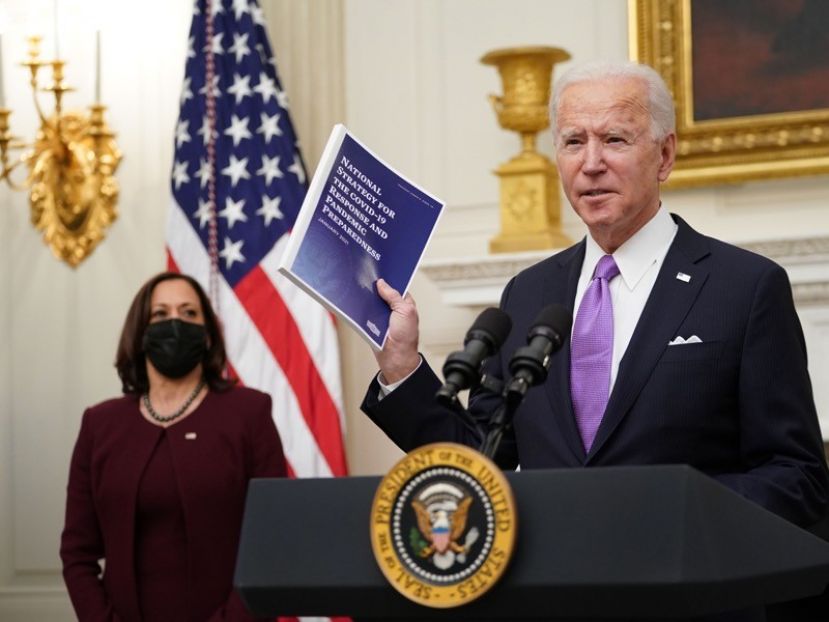 Describing the vaccine distribution process in the U.S. as a wartime work, President Joe Biden said, "Our plan will take time. Although our intention is good, we will face some obstacles in the process," reminding the public once again that mask-wearing and social distancing rules are to be followed in the process.
President Biden: "Vaccines show great hope, but their distribution in America has so far failed". He added "It's not hard to see that we are in the middle of a once-in-several-generations economic and public health crisis. Deep human suffering is in plain sight, and we have no time to waste. We have to act now."
President Biden's plan includes a national-scale vaccination program, efforts to control the Coronavirus, ensuring the safe opening of schools, establishing mass vaccination areas across the country, increasing the number of tests and contact tracing efforts, eliminating material shortages, granting paid sick leave, eliminating inequalities in the field of health. and the opening of most of the primary and secondary schools within the first 100 days of his presidency.
One of the essential points of the plan is direct emergency aid to families. It was stated that more than 10 million Americans are currently unemployed and 4 million of them were unemployed six months or more in the past year, and 1 out of 10 black workers and 1 out of every 11 Latin workers are unemployed. The statement has also remarked that an additional 140 thousand jobs were also lost in December and that 20 thousand public educators and 400 thousand restaurant employees were unemployed. It was stated that the budget to be allocated for this part of the plan would be 1 trillion dollars.
"More transparent information sharing."
Meeting with state governors, Joe Biden's administration is also starting a process where state governments will be informed more transparently about the vaccination strategy. In this regard, the estimated number of vaccines for the next three weeks will be shared with states and regions.
US Department of Health and Human Services will be sharing the number of doses allocated to each state over the three week period.
200 million more doses of vaccination will be purchased
Biden administration plans to purchase 200 million more doses of vaccination to be delivered by this summer and increase the vaccination supply of the US by 50 percent.
Accordingly, 100 million more doses of vaccines will be purchased from both Pfizer and Moderna - the two vaccines authorized for emergency use by the US Food and Drug Administration (FDA).
Under the plan, the US expects to have enough doses to vaccinate 300 million people by the end of summer.
The US ranks fifth in the world for vaccination.
The US ranks fifth in the world in terms of the number of vaccines administered in proportion to a country's population. According to Oxford University, Israel, the United Arab Emirates, Britain, and Bahrain are ahead of the US.
Covid-19 Status in the US.(As of January 28th-Worldmeter)
Total Death Toll:442,000
Total Cases:26 million
The U.S. has administered 25.6 million doses
President Biden's National Strategy for the Covid-19 Response and  Pandemic Preparedness  https://www.whitehouse.gov/wp-content/uploads/2021/01/National-Strategy-for-the-COVID-19-Response-and-Pandemic-Preparedness.pdf