Jackson Hole Diner: A Legacy of Exceptional Burgers and Star-Studded Patrons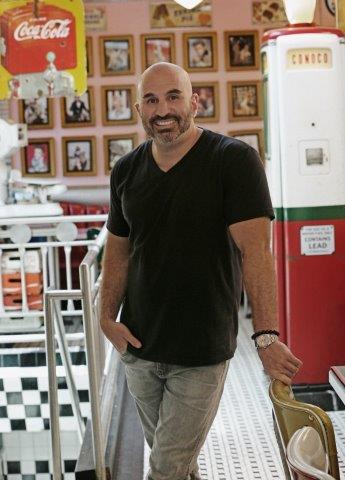 Jackson Hole Burgers chain were started by brothers Jimmy and Chris Meskouris at 232 East 64th Street on the Upper East Side of Manhattan in 1972. The name "Jackson Hole" was selected for the restaurant because they found a National Geographic article on Jackson Hole, Wyoming under the floor when they were renovating and they also happened to live in Jackson Heights, Queens.
In a recent interview with Alexander Meskouris, the owner of Jackson Hole Diner, we delved into the history and legacy of this iconic restaurant chain. Alexander, a third-generation Greek-American, shared his family's journey and their dedication to preserving the unique charm of Jackson Hole.

Born and raised in New York City, family-run establishments serve up some of the best burgers in the country. Some of its celebrity regulars over the years include Jerry Seinfeld, President Trump, The Clintons, Denzel Washington, Derek Jeter, John McCain, Ed Sheeran, Harvey Keitel, Wyclef Jean and Diane Sawyer – as well as Jennifer Aniston and John Ortiz, who both worked for the Jackson Hole Diner.
Alex, who was around 14-15 years old at the time, still fondly remembers his memories with the legendary actors of Goodfellas, Joe Pesci, Ray Liotta, and Robert De Niro, as they filmed a scene of the movie in Jackson Hole in 1990.

Alexander's grandmother hailed from the island of Chios in Greece and immigrated to the United States through Ellis Island in the late 1920s. She played a significant role in raising Alexander and his siblings while his father worked.

His father was the first to venture into the restaurant industry. Many Greeks in those times were involved in the fur business, but when the fur industry collapsed in the 1950s, Alexander's grandfather lost his pension, leaving his father, then in his early twenties, to find a new path. In 1972, his father and uncle opened the first Jackson Hole Diner in Manhattan, inspired by the rustic charm of Jackson Hole, Wyoming.
The diner's unique design, reminiscent of an old Western town, pays homage to classic cowboy movies, a passion shared by Alexander's father. His father was not formally educated in design but possessed a natural talent for it. In the 1970s and 1980s, many diners underwent renovations that altered their original look, but Alexander's father took it upon himself to restore the diners to their 1950s aesthetic. Alexander and his brother learned the art of restoration from their father and continue the tradition to this day, preserving the nostalgia and authenticity of the diners.

Jackson Hole Diner's popularity grew through word of mouth and the support of loyal customers. The restaurant became a go-to spot for celebrities, with Sylvester Stallone even visiting during the filming of "Rocky." Alexander proudly shared that the business has expanded to include two locations in Manhattan, one in Englewood, New Jersey, and one in Queens.

Running a diner is no easy task, and Alexander acknowledges the challenges that come with it. He sees it as a lifestyle rather than just a job. He enjoys engaging with customers, ensuring their satisfaction, and maintaining the diner's upkeep. However, he also highlighted the importance of having a dedicated and trustworthy staff, many of whom have been with the diner for a long time.
Alexander expressed his hope for his children to be involved in the business, as it provides them with a grounded perspective and the ability to connect with people. He emphasized the importance of being able to connect with others and the value of interpersonal skills. Meskouris recounted an incident involving his three-year-old son, who already displayed the ability to greet and shake hands with customers, exemplifying the importance of early exposure to the business.

Reflecting on the future of the diner business, Meskouris expressed a somber perspective, likening the diner to a museum that serves food. He believes that the traditional diner concept is gradually fading away, giving way to new trends and dining experiences.

Meskouris noted that his establishment attracts a wide range of customers, including multiple generations of families. He shared anecdotes of having grandfathers, sons, and grandsons visit his diner, highlighting the sense of tradition and connection that has been established over the years.

Sharing his experiences with other restaurant concepts, Meskouris revealed that he had previously ventured into higher-end establishments but found greater financial success in operating a classic 1950s-style diner like Jackson Hole. He noted that the diner scene in Manhattan has significantly diminished due to high real estate costs, making it challenging for diners to sustain profitability.

When asked about the possibility of opening a similar diner in his home country, Meskouris expressed reservations. He believed that the Greek mentality, including the preference for a siesta and a laid-back lifestyle, would hinder the success of such an endeavor. Instead, he expressed interest in expanding to other locations within the United States, particularly Miami, if the right opportunity arose.
Meskouris revealed, in one interview, they asked Trump. They asked his wife what his likes to do, he said, 'Watch movies and eat Jacksonville burgers.''
The mention of "Jackson Hole burgers" evoked a sense of excitement. Meskouris had mastered the art of creating a burger that surpassed expectations, leaving customers craving for more.
The Jackson Hole Diner had become more than just a place to eat; it was a cultural institution, where locals and celebrities converged to relish exceptional food and create unforgettable memories. Photos by Koray Kasap 
Last modified onMonday, 14 August 2023 05:01