Raquy Danziger: Powerful Female Percussionists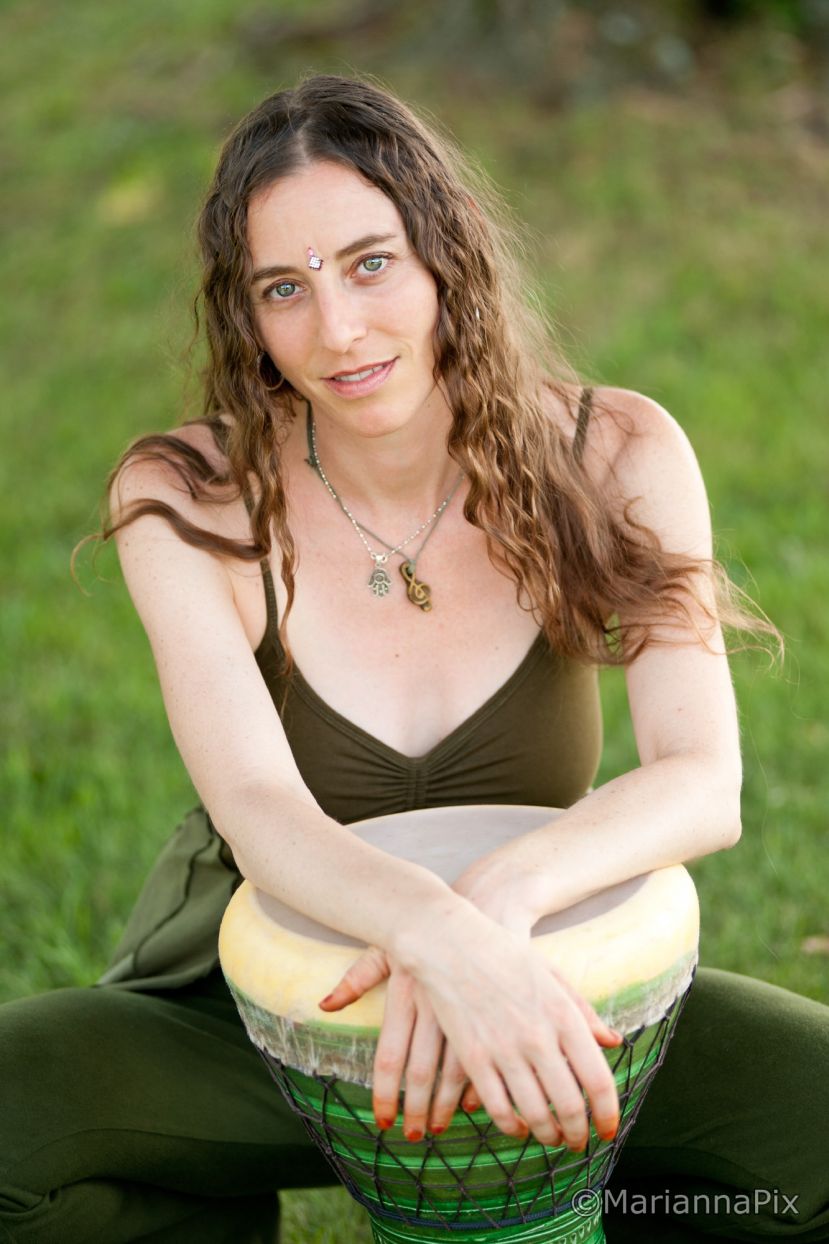 In 2005, she started seeing the Turkish darbuka players on youtube and hearing the music.
Raquy Danziger is a celebrated performer, teacher and composer known for her expertise on the darbuka, the Middle-Eastern goblet drum. Raquy has performed and taught around the globe from the great concert halls of Egypt to remote towns in Siberia, spreading love and excitement for darbuka drumming.  Her unique and systematic approach has helped elevate this ancient drum to be a shining solo instrument fit for a concert hall. Raquy specializes in the split hand technique, which is a fast and elaborate drumming style. She also plays the mystical twelve- string King Kemenche Tarhu, a rare and exotic bowed instrument.


Raquy has performed in Egypt as a soloist with The Egyptian "King of Tabla" - Said El Artist, and his drumming orchestra in the great concert halls of Egypt. She has appeared at Lincoln Center, at CRR concert hall in İstanbul, and in many festivals. In 2005, she was the recipient of the Meet the Composer grant. Raquy has appeared on Good Morning Egypt, Leila Kebira, O TV, the Culture Channel, Turkish Television, Arabs Got Talent, and has been interviewed on Al Gezira. 

Raquy's infectious enthusiasm for Middle Eastern music has gotten her invitations to teach all over the globe. Besides teaching at her İstanbul school, The Darbuka Ofis, she offers drumming immersions, university master classes and workshops.

Raquy has invented a unique notation system for the darbuka that many people are using today. She has produced five instructional methods, and now all of her teachings are available through her Online Darbuka School. She has created her own line of custom-designed drums that are available through her online store - The Raquy Drum Store. Raquy has composed over 50 melodic compositions as well as countless drumming pieces which can be head in her concerts and in her 13 albums. Raquy is proud to be an active disciple of: Bünyamin Olguncan – Darbuka and Imamyar Hasanov – Kemamche.

She plays Arabic style darbuka. In 2005, she started seeing the Turkish darbuka players on youtube and hearing the music. She decided that she needed to go to İstanbul to learn this style.  In 2009 she made her first pilgrimage to İstanbul to study. Her friend Okay Temiz helped her find her teacher, the leader of Harem rhythms group, Bünyamin Olguncan. She began taking lessons from him, and at the same time fell in love with İstanbul, the culture and the lifestyle.

She has been living in İstanbul for the last 7 years. When she is in İstanbul she is mostly training. She has a Darbuka Ofis near Taksim Square where she practices every day with Bünyamin.  She has given a few concerts in İstanbul. For example, she performed in Okay Temiz's birthday concert in CRR Hall. She has recently played a concert of Azeri music at Ahmet Tanpınar Müze Kütüphane.  She is attaching a couple articles she wrote about her experience in İstanbul and Life at her Darbuka Ofis. 

''For American friends visiting Turkey: Visit the Süleymaniye Camii, eat beans there and find the bozacı. Spend as much time as possible in the Sultan Ahmet neighborhood.  Its like an open air museum! Have a chai at the chai garden amphitheater behind the Galata Tower. Take a day trip to the Prince Islands by ferry. Go for dinner at a meyhane in the Balık Pazar off of İstiklal,'' she says. Raquy's favorite city is İstanbul. "My favorite hotel is Büyük Londra Hotel and favorite restaurant is Vegan Community Kitchen, Tophane," she adds. (FRIEND OF TURKEY IN MUSIC)