New York Turkish Apparel Center (TAC) Is Aspiring to Be The New Marketplace for U.S. Buyer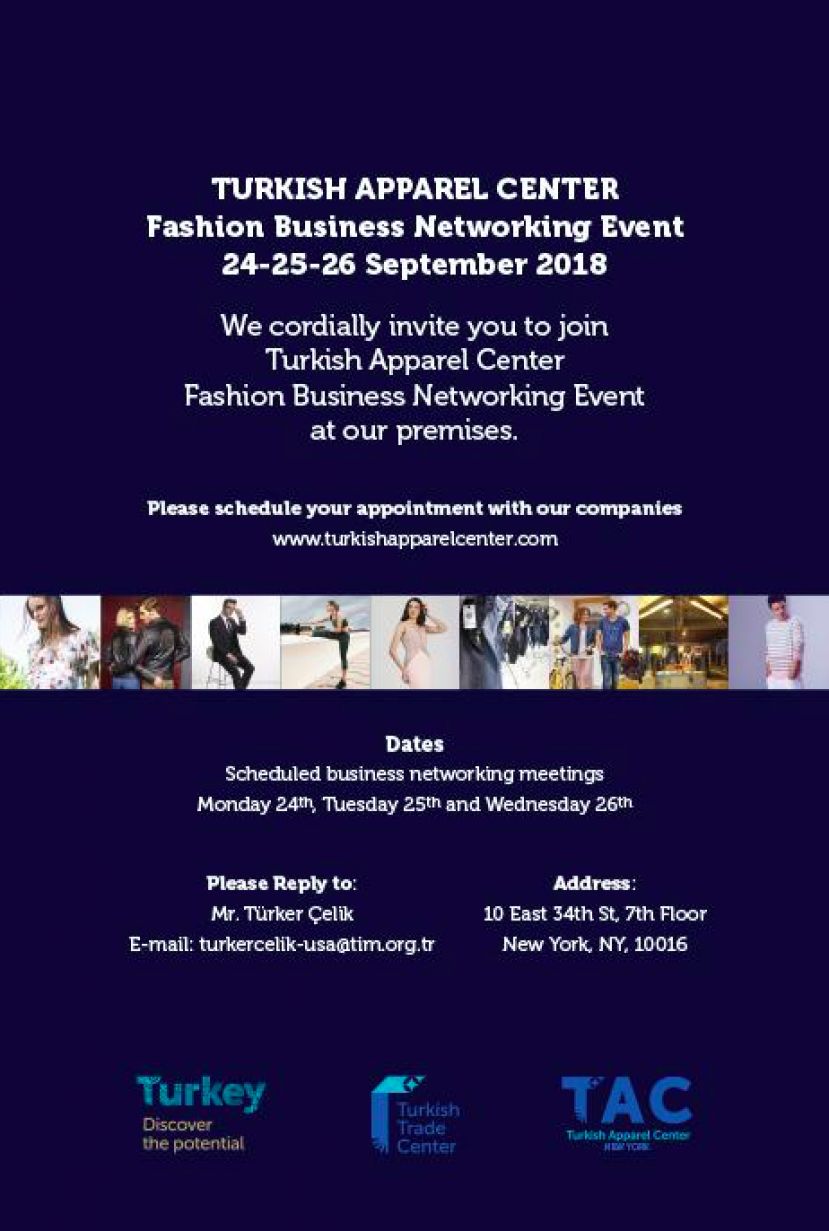 Turkish Apparel Center (TAC), where Turkish apparel and fashion manufacturer / exporter companies have showrooms, will show their new design and collections at TAC Premises in New York, with an exclusive three days fashion business networking event between and a welcome cocktail for the press and its customers due September 25th, starting at 1pm.
New York, world's leader marketplace for apparel buyers, manufacturers and designers from all over the world, raised its potential for Turkish professionals when Turkish Apparel Center (TAC) has opened its doors in New York world last year.

Istanbul's reputation as the growing center for global fashion capital is a showcase at TAC New York. Currently ten showrooms with different brand names and design collections, TAC is the candidate to be the new sourcing center for New York fashion world with an elegant Turkish touch of design and quality.

The dates between 24-26 September is the time for presenting the newly designs and collections of TAC Companies in their place in 10 East 34th Street, Manhattan, a region af liated with fashion throughout centuries thanks to famous Garment District and New York Fashion Week.
Turkey, the largest apparel producer in Europe, has long been a leader in manufacturing fashionable apparel, owing to the industry's talented workforce and historical expertise. In recent years the country's evolution into branding and retail management with fast fashion, lead delivery to the buyers and customers and quality / design / fashion infrastructure for the global fashion industry is remarkable.

Fashion has increasingly become an integral part of Turkey's place in the global economy, exporting $17 billion of apparel annually, totaling 12% of its exports. Turkish apparel industry now both manufacturing to major brands including Hugo Boss and Balmain leveraging Turkey's 'best of both' blend of fair pricing and quality production, as well as opening retail shops worldwide to meet the its own brands with the world customers reacting Turkish approach to fashion.

Chairman of Istanbul Apparel Exporters Association (İHKİB), Mustafa Gültepe, underlies the importance of the presence of TAC as the voice of Turkish Apparel Industry in New York saying:

"Turkish apparel industry, by selling its 75% of its exports to the European buyers and consumers proved itself all around the world as the base of not only quality production, as well as design, logistics and fast fashion.

Today, Turkish apparel industry is the 5th biggest exporter in the World. The potential of the US market for Turkish apparel goods is far less than its potential level of 1.6 billion $, the record level of Turkish apparel exports to the US in history. Now Turkish apparel exporters are ready to show their designs, collections and brands at U.S. which is the biggest apparel importer of the World.

TAC is hereby located in New York to present Turkish quality design and fashion products to the appreciation of the US market. I believe that American consumers will know and appreciate the Turkish fashion and design products in very different categories within a short period of time."

TAC Companies are ready with their showrooms each working day in New York to meet with American buyers to present their own collections. Turkish fashion and design products that give East - West synthesis an important place on designs can have a stronger space in the American Fashion market where concepts such as diversity, inclusiveness are on the rise.

TURKISH APPAREL CENTER (TAC)
FASHION BUSINESS NETWORKING EVENT BETWEEN 24-26 SEPTEMBER 2018 WELCOME COCTAIL FOR PRESS AND ITS CONSUMERS ON SEPTEMBER 25TH, STARTING AT 13 PM.
ADDRESS:
10 EAST 34TH ST, 7TH FLOOR NEW YORK, NY, 10016
Last modified onSunday, 23 September 2018 17:39