Islamic Relief USA and The American Red Cross Renew 5 Year Memorandum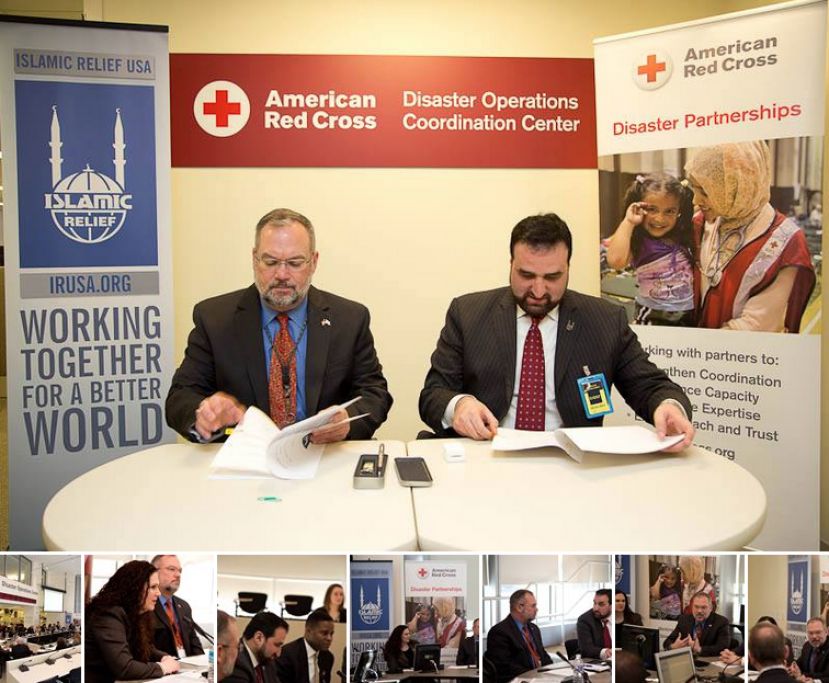 The American Red Cross and Islamic Relief USA signed the first national Memorandum of Understanding. The American Red Cross and Islamic Relief USA have been working closely together on disaster response and preparedness for nearly three years "This agreement will advance the shared goal of Islamic Relief USA and the Red Cross to engage and serve diverse communities across the country, prepare individuals and communities for disasters and increase resilience.
Alexandria, Va. –Formalizing what has already been a very productive and rewarding nine-year working relationship in preventing human suffering and providing community support, Islamic Relief USA (IRUSA) and the American Red Cross renewed a five-year memorandum of understanding to continue collaborating on disaster relief projects throughout the United States.
IRUSA has frequently assisted the Red Cross in assessing damages in neighborhoods devastated by natural weather events, such as hurricanes, tropical storms, wildfires, and tornadoes. Most recently, the two organizations worked together in Lake Charles, LA., which had been inundated by hurricanes.
"We value this partnership with the American Red Cross. They are a trusted partner who has provided Islamic Relief USA tremendous support, including with our recovery project in Texas, said Araif Yusuff, disaster response manager for Islamic Relief USA. "We seek to continue cultivating this relationship, helping communities in need, alleviate suffering, and strive to make the world a better place. Our partnership can help strengthen communities and share valuable information on best practices."
"IRUSA has been a wonderful partner over the last nine years. By working together, we have strengthened our coordination, increased our capacity, and extended our reach in local communities. We are both committed to serving diverse communities affected by disasters and increasing the preparedness and resilience of communities across the country," said Mary Dewitt Dia, national partnership manager for American Red Cross – Disaster Cycle Services.
While the MOU will focus on many items, the highlights include:
*Enhancing communications by sharing information;
*Developing plans for local disaster response in areas where the IRUSA Disaster Response Team have offices;
*Distribute information on each organization's disaster preparedness programs;
*Discussions about readiness, and community disaster response;
*Working with other groups to identity locations where emergency supplies can be distributed;
*Using a learning management system for disaster training;
*Collaboration on recovery and rebuilding activities
Last modified onMonday, 08 March 2021 03:19