Washington D.C. Celebrates the 20th Anniversary of the Annual Turkish Festival this October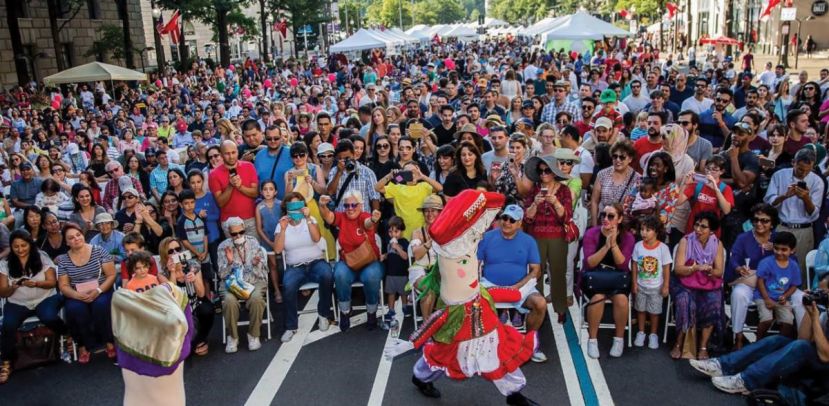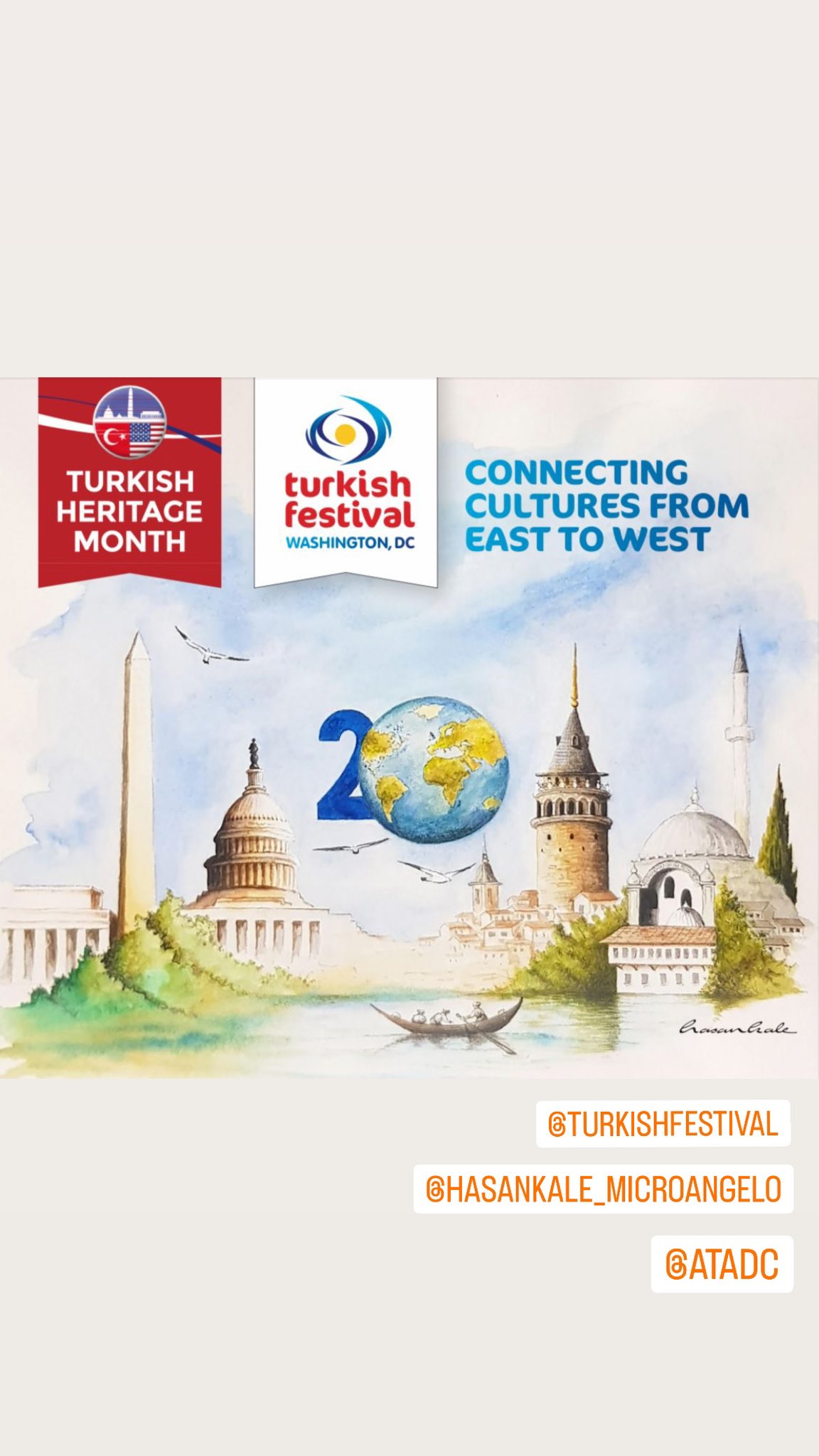 Washington D.C. (October 5, 2022) - Renowned for building bridges between Turkish and American people for 57 years, The American-Turkish Association of Washington DC (ATA-DC) is pleased to celebrate the 11th Turkish Cultural Heritage Month and mark the 20 th anniversary of the award-winning Annual DC Turkish Festival. Receiving an official proclamation from the Washington D.C. Mayor Muriel Bowser, the month-long festivities will include a series of cross-cultural events and fun workshops throughout October.
The volunteer-led non-profit organization is excited to invite all Washingtonians to explore Türkiye's region's historical, cultural and culinary treasures in the heart of nation's
capital. The 20-year old Annual Turkish Festival, which aims to connect cultures from East to
West in the heart of the heart of the capital, will take place on October 16 th from 11 a.m. to 7 p.m. on Pennsylvania Ave. NW between 3rd and 7th Streets. The premier cultural celebration will once again bring together numerous Turkish-style artists, local artisans and authentic food vendors along with more than 20,000 attendees. With its 57 years of legacy, ATA-DC's mission has been to cultivate the diversity in the city through its cultural, social and educational programs since 1965. In addition to the Festival, ATA-DC will take Washingtonians on a magical tour of Türkiye with a variety of events showcasing Turkish culture, traditional arts, cuisine, and movie screenings during October.

Newly Designed 20 th Anniversary Artwork Unveiling Event on October 7 th
The unveiling of the special 20th anniversary artwork designed by Microangelo Hasan Kale, a world-renowned micro art master, will be shared live on ATA-DC's social media channels on October 7th for the first time in celebration of the big milestone.
"ATA-DC founded in 1965, is a non-profit organization whose mission is to promote cross-
cultural understanding between the Turkish and non-Turkish communities in the Washington DC area". said Patsy Jones, the chair of the festival committee. "We have been organizing the community-supported Turkish Festival in the heart of the nation's capital for 20 years to share our cultural heritage with our American friends. Our organization is also thankful for Mayor Muriel Bowser's official support in marking importance of Turkish Heritage Month to build bridges and strengthen friendships among Turkish and non-Turkish Americans. In honor of the anniversary celebrations, we will bring local communities together through fun cultural events and invite all Washingtonians to join us during our annual festivities this October."
The 20th Turkish Festival will offer a day of free activities including folk dances, live music, authentic Turkish cuisine, fashion, arts & crafts for children. Selected as the "Best Festival" and "Best Cultural Festival" by Washington City Paper readers in the past 10 years, this premier event draws tens of thousands of Washingtonians to the streets to experience Turkey's rich cultural history, its culinary delights, and a variety of live Turkish music and engaging folk dance performances. The festivalgoers will enjoy delicious Turkish food and traditional Turkish coffee, while browsing at the Turkish Bazaar, and watching mesmerizing stage performances. The Annual Turkish Festival's 20 th Anniversary is officially recognized by DC Mayor Muriel Bowser.

Festival highlights include:
Turkish Cuisine, Turkish coffee and Fortune Reading:
• Turkish cuisine from local Washington DC Turkish restaurants: Kabobs, vegetarian dishes, pastries, and desserts will be available for purchase.
• Turkish coffee will be offered at the ever-popular Turkish coffee house, and fortune-tellers will read fortunes from coffee grinds.
• World famous Kahramanmaraş ice cream: Kahramanmaraş ice cream is a creamy, smooth dessert with an elastic texture and is made in different flavors such as vanilla, red currant, peach, and pistachio.

Cultural Exhibitions:
• "The Culture and Tourism Tent" will host exhibitions as well as demonstrations of Turkish arts and culture.
• Mini Grand Bazaars: More than 40 arts and crafts vendors will showcase Turkish jewelry and hand-woven textiles at the Turkish bazaar.
Arts & Crafts for Kids:
• Kids' Tent will present Turkish culture with hands-on activities, offering children and their parents the opportunity to create unforgettable memories. Meet Turkish children's book author and book signing.
Stage performances:
• As always diverse live performances by local and visiting performers emphasizing Türkiye's role as a cultural bridge will mesmerize the visitors. While Tuana Art and Dance Club from Ankara will present breathtaking traditional and modern dances from across Türkiye, oud master Necati Çelik will share the most soulful examples of classical Ottoman music. Among the local performers, DC Cafe Aman will perform popular songs from the region in Arabic, Greek & Turkish and 80ROCK Band will present Anatolian Turkish Rock from the 80s. Other esteemed local performers include Gulder USA, Kardelen Turkish Dance Ensemble, Nomad Dancers, Silk Road Dance Company, Red Microphone, El Turco Band and Carolina Hernandez Dance Group.
Business + Cultural Pavilion:
• These pavilions were designed specifically for Turkish companies that come from Türkiye to promote and sell their goods and services. For Turkish Businesses, municipalities (local governments), health services, and tour operators.
Line Dance for Peace:
• All Washingtonians are invited to join us in honoring the diverse colors and cultures of our city with traditional dances, which symbolizes peace and cultural interaction for centuries. Our volunteer-led organization cannot think of a better place to be than Washington DC, one of the most diverse cities in the United States, to create a circle of friendship to create and promote peace and tolerance. The "Line Dance for Peace" will take place around 2:30 pm in front of the main stage (please check the festival web site for the final schedule).
2022 Turkish Heritage Month - Events Calendar:
OCT 05 Show: Man #12 / Erkan Kolcak Kostendil's one-man play
OCT 08 Turkish Festival Fundraising Event- Annapolis
OCT 09 Book Signing Event
OCT 11 Turkish Film Screening
OCT 16 Annual Turkish Festival
OCT 16 Turkish Standup Show: Kaan Sekman
OCT 18 Film Screening
OCT 21 Turkish Coffee Tales Documentary Screening / Qatar America Institute for Culture
OCT 22 Turkish Heritage Month Reception, The Hepburn DC, Sky Lounge
OCT 23 Turkish Book Fair
OCT 29 Turkish Republic Day Ball, The Westin Hotel in Tysons
NOV 02 Turkish Music Concert: Nükhet Duru and Serkan Caglar
Turkish Festival Chair Patsy Jones and festival committee members will be available to speak
about the Turkish Heritage Month and the Annual Turkish Festival. For more information, please visit our website at: www.turkishfestival.org
Thanks to Our Supporters:
DC Commission on the Arts & Humanities
Turkish Culture and Tourism Ministry
Last modified onSaturday, 08 October 2022 22:02