Inaugural Hollywood Turkish Film Festival Held on October 20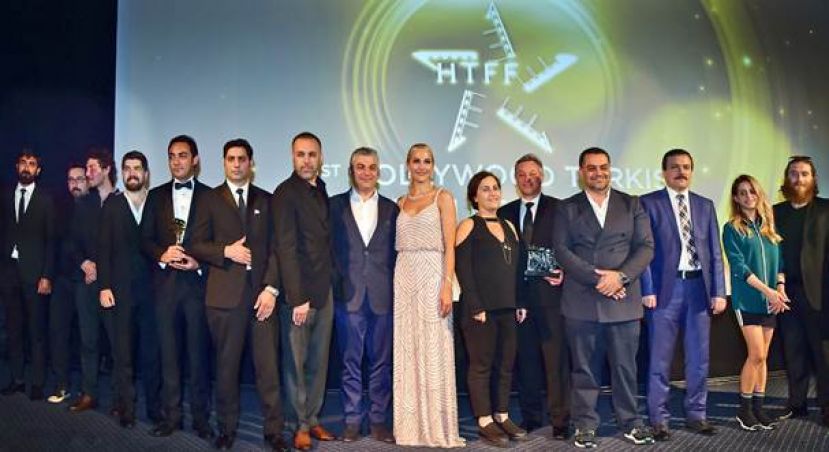 LOS ANGELES (October 23, 2017) – The inaugural Hollywood Turkish Film Festival (HTFF), sponsored by the Turkish Ministry of Culture and Tourism, General Directorate of Cinema and Turkish Airlines was held from October 20-22, 2017 in Los Angeles' Paramount Pictures Studios with a special viewing of the critically acclaimed Turkish film Ayla. The best of Turkish cinema was showcased in a three-day program, bringing together filmmakers, actors, cinema enthusiasts, critics and industry influencers. The film festival aimed to recognize the diversity, significance and contributions of the Turkish film community.

 
The Hollywood Turkish Film Festival kicked-off with an exclusive Opening Ceremony event at Paramount Pictures Studios on October 20th. The event included a red carpet, cocktail reception and a screening of Ayla which was recently selected as Turkey's official candidate for "Best Foreign Language Film" at the 90th Academy Awards.
 
Ayla is based on a true story of the meeting between a Turkish veteran who had joined the Korean War and a Korean orphan girl who eventually reunite after 60 years. The film was directed by Can Ulkay and produced to celebrate the 60th anniversary of Turkey-South Korea diplomatic relations.
 
"We're proud to have shown Ayla at our opening evening and to have this film represent Turkey as a candidate at the 2018 Oscars," says Festival President Barbaros Tapan. "It shares a message of friendship across borders and embodies hope through stunning and creative cinematic storytelling."
 
The Hollywood Film Festival's 3-day program featured carefully selected features and shorts, behind-the-scenes studio tours at Universal Studios, Warner Brothers and Paramount Studios, and interactive seminars and workshops led by renowned filmmakers.
 
"As an honored supporter, our goal is to support HTFF and create a platform and voice for Turkish filmmakers creating important and compelling work," says Sedat Gönüllüoğlu, Director of Turkish Culture and Tourism Office. We want to garner a deeper understanding of Turkish culture through film and celebrate the diversity within Turkey's own filmmaking community."
 
The festival culminated with an Awards Ceremony to honor and acknowledge the festival's top filmmakers. Winners included TOPRAK for the Jury Award and SIRAYET for the Audience Award.
 
"Releasing many award-winning titles in recent years, the Turkish cinema industry is gaining momentum and attracting widespread attention throughout the world. Providing a perfect venue to showcase the latest accomplishments of our country's moviemakers, this festival reaches out to the U.S. which holds a great growth potential for Turkish Airlines," says Senior Vice President, Corporate Communications of Turkish Airlines, Seda Kalyoncu. "As an airline bridging countries, continents and people, fostering understanding and embracing different cultures through art is essential for Turkish Airlines."
 
For additional information on the Hollywood Turkish Film Festival, please visit http://hollywoodturkishfilmfestival.org/.
###
 
The Hollywood Turkish Film Festival (HTFF) was established in 2017 to promote Turkey and Turkish culture through Turkish cinematography. The festival aims to unite Turkish filmmakers with the Hollywood film industry through an inclusive, engaging and entertaining three-day event. The festival was founded by Barbaros Tapan who is currently the Turkish representative for one of the world's leading media organizations, the Hollywood Foreign Press Association, and was recently presented a 2017 award by Turk for his contributions to Turkey and Turkish culture in America. Festival Director Tekin Girgin works closely with Tapan to produce and promote the festival, with his own first feature film, Proud sponsors of HTFF include the Turkish Ministry of Culture and Tourism, General Directorate of Cinema and Turkish Airlines.