The Russian Arts Theater and Studio Presents "The Rise And Fall Of Macondo"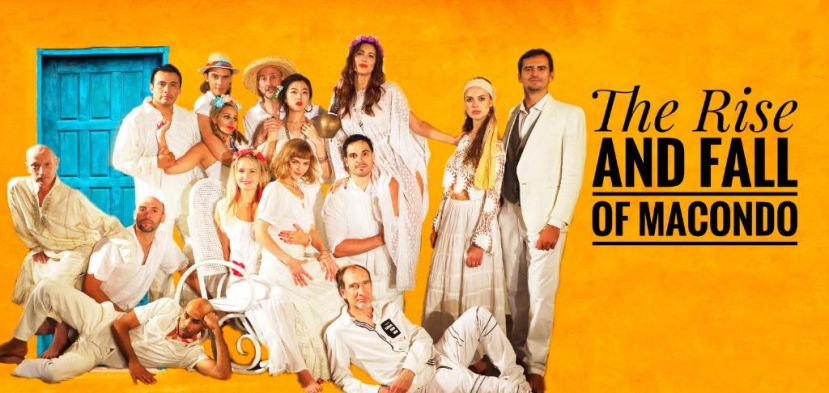 The Russian Arts Theater and Studio presents "The Rise And Fall Of Macondo", a theatrical performance inspired by Gabriel García Márquez's magnum opus One Hundred Years of Solitude. Staged by acclaimed director Aleksey Burago and featuring the studio ensemble, embark upon a magical and sleepless journey in South America and see the birth and death of the mythical town of Macondo through the history of the Buendía family. Turkish actress Desen Uygur, grand daughter of Nejat Uygur, renowned Turkish actor and comedian, is also starring at the play. She plays one of the lead character " Amaranta". The play will be performed in English from on October 30th to November 24th at Pushkin Hall, 165 West 86th Street Second Floor New York, NY 10024. To purchase ticket please visit at http://russiantheater.org/ 
Featuring: Jaime Carrillo, Michael Donaldson, Roman Freud, Kristina Korop, Alex Malyi, Luisa Menzen, Ariel Polanco, Paulo Quiros, Riccardo Ripani, Tom Schubert, Lana Stimmler, Desen Uygur, Oleksiy Varfolomiyev, Naira Zakaryan and Di Zhu.

ABOUT DESEN UYGUR
Desen Uygur is an actress and drama instructor for kids. She was born in Istanbul, Turkey. At early age she was backstage with her grandfather, the famous master Nejat Uygur. She graduated MSM Conservatory and afterwards began her studies Stanislavski Method school. She received first place honors from the Conservatory. She was intrigued by classical ballet in 1991 and trained for seven years in Turkey.She has been in Berlin theater tour in 2012. Other theater credits include The Odd Couple, Comedy Comedy , Don't make me Sick,Play With Me, Cats Musical, Actor School, Run For Your Wife, Master and Margarita, Seagull. She has also been seen in TV Shows and independent films in Turkey and New York. She has been worked with many children as a drama teacher in many public and private schools.

In 2003 she moved to New York and joined The Russian Arts Theater and Studio's. She took workshops Stanislavski Method With Aleksey Burago in New York. Her Upcoming Show Inspired by Gabriel Garcia Marquez , One Hundred Years of Solitude. 
Last modified onTuesday, 29 October 2019 05:49