Molos: Where Food Meets the Breathtaking Beauty of New York"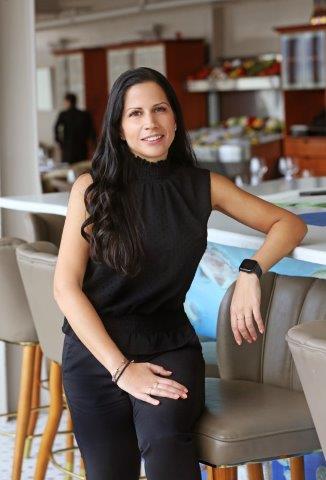 Immerse yourself in the world of Eliana Stefanitsis, the creative force behind the sensational Molos restaurant. Since its establishment in November 2013, Molos has emerged as a beloved destination, offering an exquisite seafood experience. Eliana, hailing from a family deeply ingrained in the restaurant industry, continues to elevate their culinary heritage with this remarkable endeavor. The roots of Eliana's family in the restaurant realm span generations, transcending time itself. With a warm smile, she shares, "My journey in the world of gastronomy feels like destiny. From our cherished family-owned diner, serving patrons for over 40 years, to various restaurants, the spirit of hospitality courses through our veins. As a proud first-generation Greek-American from New York, I embrace the opportunity to carry forward this treasured legacy." Her first job in the restaurant industry was when she was 16 years old, working in her family's restaurant. She gained experience in various roles, including waitress, bartender and hostess.
Drawing inspiration from the enchanting Kefalonia Island nestled along the captivating West Coast, Molos takes its name from this mesmerizing locale. Delving into the fascinating origins of Molos, I discover the driving force behind its location selection.
"Positioning ourselves as a Mediterranean restaurant with strong Greek influences since our inception, we take pride in embracing our Greek heritage while catering to a diverse clientele. Our doors welcome those longing for the flavors of the Mediterranean, especially the delightful experience of indulging in fresh, whole fish. However, our culinary mosaic extends beyond Greek cuisine, celebrating the richness of the entire Mediterranean region."

When inquiring about her involvement in the kitchen, Eliana chuckles and shares, "I reserve my culinary endeavors for the comfort of my own home; cooking at the restaurant is best left to the experts." She enthusiastically describes their talented chef, a young professional trained in Greece, who joined their team in July
2022. "Finding skilled chefs has been a stroke of luck for us," she explains. "Our current chef splits his time between the United States and Greece, bringing forth the authenticity and expertise we cherish."

The average amount a couple pays for a regular check without alcohol in the restaurant is approximately $175 per person. She doesn't eat out much locally and often visits restaurants in New York since she is from there. However, she believes they are comparable and even competitive.
Then discussed the decision to open the restaurant in New Jersey despite being born in New York and having family there. Eliana mentioned that they found the location in New Jersey and her father scouted the place. It took almost two years of negotiation with the building owner, who preferred a small business over a franchise. Finally, they were allowed to open the restaurant, and they have been operating for 10 years with hopes of continuing for another 30.
As for expanding the business, they have plans to open in New England, Boston, and potentially Florida, but those discussions are ongoing.

When asked about being a woman in the restaurant industry, Eliana acknowledged that it used to be a bit harder in the beginning, but her experience has made a significant difference. She has learned a lot from her father and family, earning respect as a woman in this environment.
Eliana has an undergraduate degree in philosophy and a graduate degree in teaching education for Fordham University, which is quite different from the restaurant industry. She briefly mentioned working as a teacher in Greece before returning to open Molos.
Molos opens seven days a week. Approximately 50% of their customers are locals, including professionals living in nearby buildings, as well as residents of Hoboken and Jersey City. The other half consists of people who visit for special occasions, including those from New York City and other parts of New Jersey.
Molos offers a unique view on top of the water, which is not commonly found in other New Jersey restaurants. She emphasized that it is a lifetime experience for tourists, as they often don't realize they can see such views from New Jersey. In contrast, Manhattan does not provide the same perspective.
Acknowledging that the initial year is often the toughest for any restaurant, she emphasized the importance of experimentation and finding the winning formula. From assembling the right team to ensuring guest satisfaction, every decision played a vital role in shaping their path. While the first year presented its share of hurdles, it was during the second and third years that Molos truly found its stride, establishing its presence as a beloved culinary destination.
When discussing the team behind Molos, Eliana proudly shared that their restaurant boasts a dedicated workforce of 65 individuals. Unlike establishments that often rely on temporary or student staff, Eliana emphasized the long-term commitment of their team members. While some changes may occur over time, the aim is to foster a core group of passionate and loyal employees. Eliana revealed that approximately half of their staff has been with the restaurant for five years or more, enabling them to witness their growth and become integral to the business. The other half consists of individuals who joined around five years ago, and Elina is committed to providing them with opportunities for a long-term career at Molos, supporting both their personal and professional aspirations.
As for her own plans for the next five years, Eliana envisions a bustling restaurant, with every table occupied daily. She aspires to expand the Molos brand to new locations while maintaining the core values and atmosphere that have made it a success. However, she clarified that franchising is not part of her future plans, as she aims to uphold the unique and authentic Molos experience.
Regarding their other restaurant, Eliana mentioned it is called "The Yacht Club." It is a more casual seafood restaurant, suitable for families, brunch, and happy hour. There are two bars, one inside and one on the deck outside, and it offers a beautiful dining experience. Elina expressed that Mediterranean food has a strong future in America, especially with the recent emphasis on the Mediterranean diet and its health benefits. She believes that authentic and healthy food will always be preferred over non-authentic options.
When asked about her favorite restaurant besides Mediterranean cuisine, Eliana mentioned enjoying Italian restaurants in Manhattan and authentically Greek ones in Astoria. Stamatis and Agnanti were mentioned as her favorites, as they offer traditional Greek cooking reminiscent of home-cooked meals.
She mentioned that their restaurant has been recognized by Wine Spectator for seven consecutive years. They source fish from all over the world, including the Mediterranean region. They have a wide variety of fish, including North Atlantic Salmon, Dover sole, and king prawns from Madagascar, Africa.
Regarding their unique dish recommendation, Eliana highlighted two appetizers: the octopus and the veggie chips. These dishes are highly popular among their customers and are frequently ordered.
She highly recommends the younger generation to consider running their own business in the restaurant industry. It is a rewarding job where they get to meet new and wonderful people every day.
Eliana mentioned that they have had some celebrity customers, including Dr. Oz, who frequents the restaurant. They have also hosted filming sessions due to the restaurant's scenic views, attracting famous individuals. Local celebrities living nearby in the Brownstone buildings also visit the restaurant. Photos by Koray Kasap 
Last modified onMonday, 14 August 2023 00:37