Turkey's operation in Syria's Afrin: The key players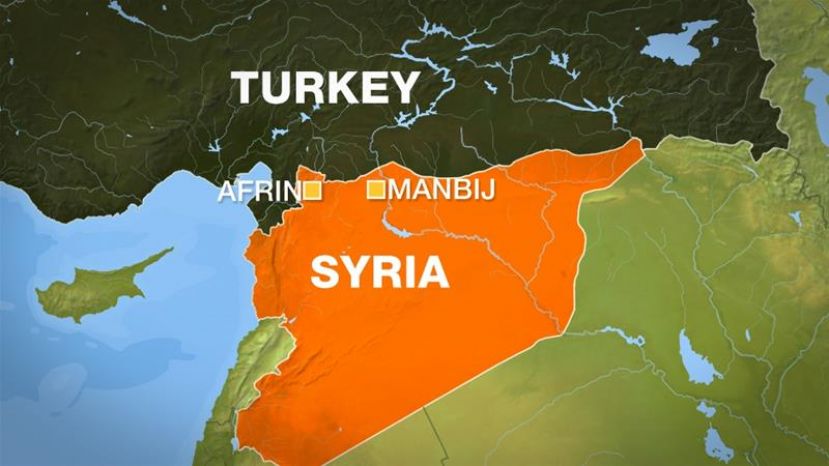 On Saturday, Turkey launched an operation in the northern Syrian enclave of Afrin aimed at rooting out armed Kurdish groups, which Ankara considers a threat to its security. Turkish ground troops followed a day after, crossing the border into Syria alongside thousands of Free Syrian Army (FSA) fighters, as part of the so-called Operation Olive Branch. Turkey's President Recep Tayyip Erdogan had said that the operation in Afrin would be followed by a push into the northern town of Manbij, which the US-backed Kurdish forces captured from the Islamic State of Iraq and the Levant (ISIL, also known as ISIS) in 2016.

Al Jazeera's Stefanie Dekker, reporting from the Turkey-Syria border, said different regional players are "trying to carve up different parts of Syria, expanding their spheres of influence".
Here are some of the major players in the Afrin operation:

TURKEY
Turkey has been battling armed Kurdish fighters for decades in the southeastern part of the country. Among those groups Ankara is fighting is the Kurdistan Workers Party, or PKK, which had separatist roots, and later pushed for more autonomy from the Turkish central government.

The violence has left 40,000 thousand civilians, soldiers and armed fighters dead, costing the country hundreds of billions of dollars. Turkey considers the PKK a "terrorist organisation", and sees the armed Syrian Kurdish groups as an extension of the PKK.

Justifying the military operation, President Erdogan said the PKK and the Syrian Kurdish group "are all the same", and changing their names "does not change the fact that they are terror organisations".  

Turkey fears the establishment of a Kurdish corridor along its border. Going into Syrian territory, Turkey says it wants to establish a 30km "safe zone" in Afrin to prevent such a Kurdish corridor from being established.

SYRIA
The Syrian government forces have been losing territory to the opposition and various armed groups, including ISIL, since the beginning of the conflict in 2011. But the Russian intervention in 2015 turned the tide in President Bashar al-Assad's favour. At the end of 2016, the Syrian army took Aleppo, one of the main battlegrounds in the conflict.

The Syrian government forces fought against the opposition fighters in Idlib province in eastern Syria while its forces continued to battle ISIL in the west.
 
By 2018, the forces loyal to President Assad regained most of the Syrian territory, but the biggest area remaining out of its reach was under the Syrian Kurdish control in the north of the country.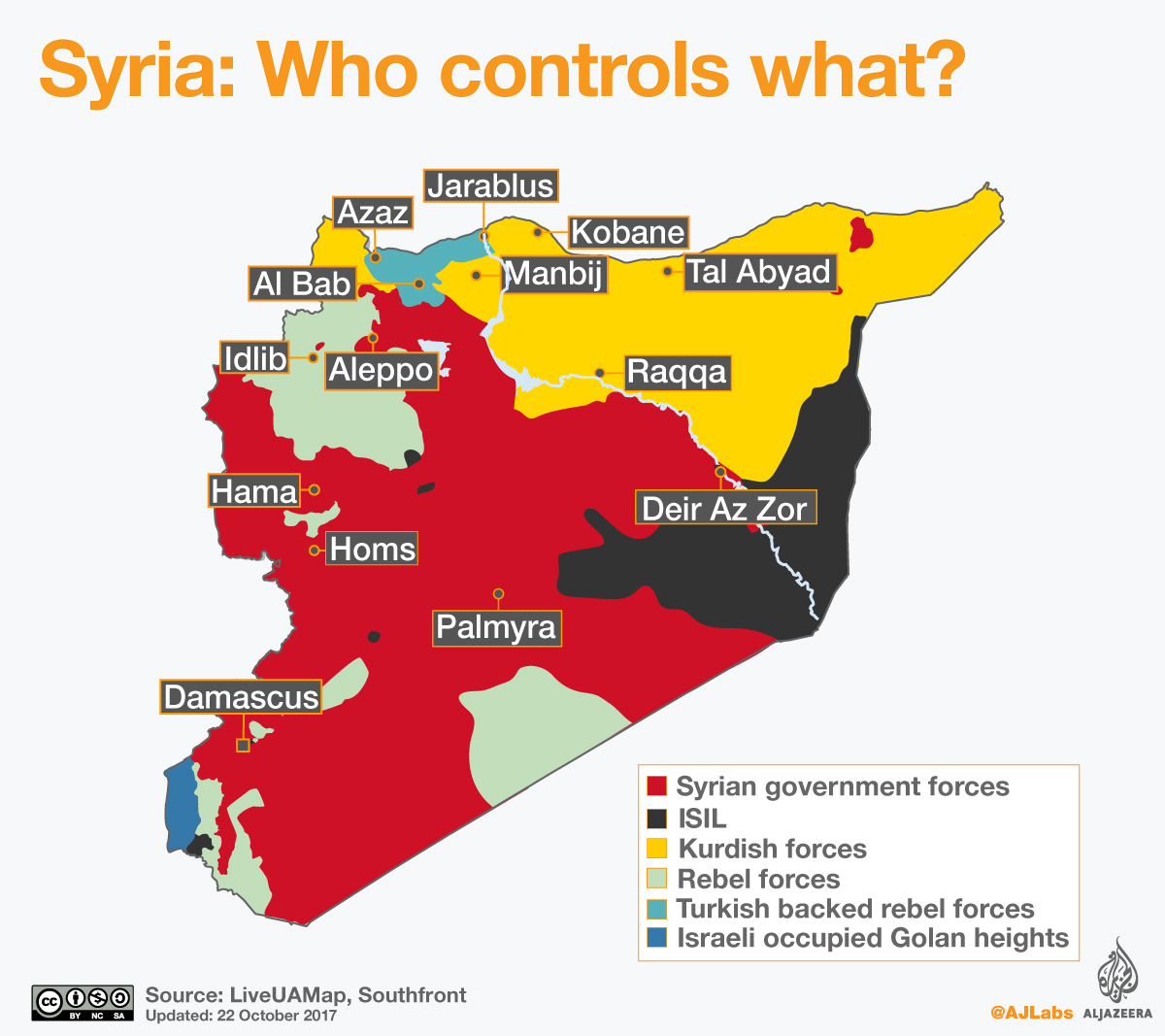 For days leading to the Turkish operation in Afrin, Damascus warned that Syrian air defences stood ready to defend against an air attack. But since the operation was launched, Syrian defence has not materialised.

RUSSIA
Russia officially announced intervention in the Syrian conflict in September 2015 to support President Assad. With the Russian air support, the Syrian government has regained most of the territory lost to ISIL, as well as other Syrian opposition forces.

Russia controls the airspace over Afrin entrusted to it by Damascus, but ahead of the Turkish operation, it withdrew hundreds of its soldiers deployed near the city.

Last November, Assad thanked Russian President Vladimir Putin for "saving" the country. A month later, Putin claimed military victory in the war-torn country and announced that a "significant part" of the deployed force could return home. However, Moscow kept its Khmeimim airbase in Syria's Latakia and a naval facility in the Mediterranean city of Tartus.

Russia complained earlier in January that the US was trying to split Syria by establishing a Kurdish-controlled entity in northern Syria.

UNITED STATES
The US has an estimated 2,000 troops stationed inside Syria, according to the Pentagon. That does not include classified mission and special forces personnel. Recently, US Secretary of State Rex Tillerson said Washington, DC intends to maintain an open-ended presence in Syria, not only to fight ISIL and al-Qaeda, but also to counter the influence of Iran, one of the strongest allies of the Syrian government.

Since the conflict began in 2011, the US has sought to remove the leadership in Damascus by supporting different opposition and rebel groups. That effort, however, failed. But it was more successful in leading a coalition against ISIL.

The US is allied with Turkey against Syria's Assad. But it has also aligned itself with Turkey's adversaries, the Kurds. Recently, it was revealed that the US was working to create a border security force in northern Syria consisting of 30,000 mostly Kurdish armed personnel. But Tillerson walked back on that plan, after igniting outrage in Ankara.

Most of the American troops are believed to be in Manbij, where the US-allied Syrian Kurdish armed fighters have a large presence. Turkey has vowed to target Manbij after Afrin, creating a potential flashpoint between Turkey and the US.

YPG/PYD
The People's Defense Units is more popularly known by its Kurdish acronym YPG. It is the armed wing of the Democratic Union Party (PYD), an opposition political party in Syria. The YPG and its other Syrian Kurdish affiliates control a swathe of land in northern Syria, and was credited for defending the Kurds from ISIL and al-Qaeda.

The YPG was also instrumental in retaking of the ISIL stronghold of Raqqa.

In Afrin alone, there are between 8,000 to 10,000 Kurdish fighters, according to estimates. Kurdish fighters in Manbij also number in the thousands.

Turkey considers both the YPG and its political wing PYD "terrorist groups" with ties to the banned PKK. The YPG also has a all-female unit known as the YPJ.
Free Syrian Army (FSA)

First established in 2011, the opposition Syrian armed group FSA, sought to bring down the government of Syrian President Assad. Its founders were composed of Syrian military officers who defected from the Syrian Armed Forces.

Since its establishment, it was considered as the best hope for Syrians against the government in Damascus. But it was also ridden with infighting, and many of its fighters were suspected of abandoning it in favour of other more extreme armed groups.

When Turkey joined the Syrian conflict in 2016, an alliance of Turkish-backed fighters under the Free Syrian Army name was established.

In the latest operation in Afrin, Turkey mobilised thousands of FSA fighters within Turkey as well as in Syria to fight the Kurdish fighters.

Source: https://www.aljazeera.com/news/2018/01/turkey-operation-syria-afrin-key-players-180121060919195.html