Why is Russia Helping Turkey in Afrin?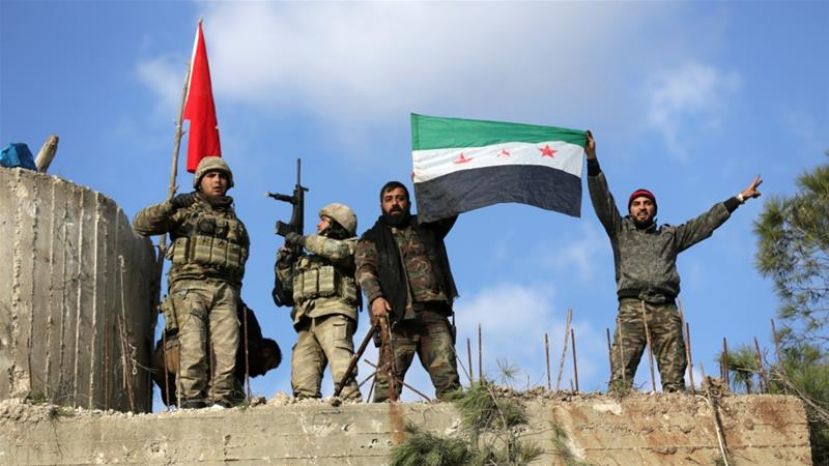 Turkish troops and Free Syrian Army fighters hold flags on Mount Barsaya, northeast of Afrin, Syria on January 28 [Reuters/Khalil Ashawi]
* By Leonid Issaev - On January 20, Turkey launched an air and ground offensive, which it called "Olive Branch", against the Kurdish-controlled enclave of Afrin in northern Syria. As the offensive progressed rapidly, it became obvious that such an ambitious operation could not have been possible without Russia's explicit approval. First of all, the operation required the Turkish Air Force to enter Syria's airspace - something Ankara could not have done without consulting Russia. Furthermore, before rechannelling Turkish-backed Free Syrian Army (FSA) forces to Afrin, Ankara needed assurances from Russia that Bashar al-Assad would not take advantage of the situation and attempt to seize Turkish-controlled positions in the province of Idlib.


The Syrian Democratic Forces (SDF), the US-backed alliance of Kurdish and Arab fighters in Syria, also knew that it would be impossible for Turkey to start the operation "Olive Branch" without coordinating with Moscow. As a result, SDF representatives hastily expressed their disappointment with Russia's stance on the issue.

General Sipan Hemo, a commander for the Kurdish Peoples' Protection Units (YPG), the leading Kurdish force within the SDF, said Russia has "betrayed the Kurds". He added that "there will come a day when Russia will apologise to the Kurds for this lack of principles."

With the start of the operation, Russia clearly became a Turkish accomplice in the eyes of the Kurds. It is difficult not to agree with the Kurdish assessment, but a close examination of last year's developments shows that the cooperation between Moscow and Ankara regarding the future of Afrin, at the expense of the Kurds, started long before Turkey launched its operation against the enclave.

The seeds of the operation "Olive Branch" were planted last summer, during talks between Russian Defence Minister Sergei Shoigu and Turkish Chief-of-Staff Hulusi Akar in Istanbul. As result of these talks, Moscow gave consent to the partial use of Syria's airspace by the Turkish air forces, paving the way for Turkey's offensive on Afrin.

Ankara began building up its military presence near the Kurdish enclave over a month ago, after reaching an agreement with Moscow on the delineation of the de-escalation zone in Idlib.

Moscow's approval of the operation Olive Branch became even more clear on the day the hostilities began, when the Russian Ministry of Defence announced the withdrawal of Russian troops from Afrin.

Also, in the brief statement it issued about the operation on January 20, the Russian Ministry of Foreign Affairs confined itself only to a duty of "concern" that was interpreted as a "green light" to Turkey's actions.
Russia's end game

Despite the indignation of the Syrian Kurds, cooperation with the Turks on the issue of Afrin is much more beneficial for Russia than confrontation.

Russia's relationship with the Kurds has never been based on long-term, strategic cooperation. On the contrary, throughout its history, Moscow has used "the Kurdish card" only when it needed to reach a compromise with the countries in the Middle East, especially with Turkey.

And in the case of Afrin, Moscow does not owe the YPG much. Throughout the Syrian crisis, the group allied itself with the US and, de facto speaking, placed itself on the opposite side of the conflict. The Kurds rejected Russia's offer to transfer the territory under their control in Afrin to the Syrian regime, in exchange for security guarantees. Washington was unable to help its YPG allies, and this gave Moscow an additional opportunity to once again demonstrate the illusory nature of US security guarantees.

In addition, cooperation with Ankara is of primary importance for Moscow at the moment. Turkey is one of the co-organisers of the Congress of Syrian People, which is being held on January 29-30 in Sochi.

The forum has domestic political significance for the Kremlin, since it is not only a personal initiative of Vladimir Putin, but also coincides with the beginning of his election campaign. The Russian president wants to approach the presidential elections in March 2018 as a peacemaker and a victor. He wants to offer his electorate a victorious conclusion of the military conflict in Syria, and then position his government as the key player which would bring peace to the war-torn country.

Also, by cooperating with Ankara on Afrin, Moscow has created an opportunity that would allow it to solve the situation in Idlib without military escalation. Russia knew that a military confrontation in Idlib would have been costly for Damascus and its allies, as it would have led to a new humanitarian catastrophe similar to the one that occurred a year ago in Aleppo. Not to mention that such a conflict would have exhausted the already weak Syrian army, forcing Russia to return to the Syrian war front.

Russia's tacit approval of the operation Olive Branch, on the contrary, led to reciprocal concessions from Ankara in Idlib. The same day Turkey launched its operation, the Syrian regime announced that it had seized the opposition-controlled Abu Duhur airport in Idlib without any hindrance.

Finally, Turkey has another, important bargaining chip against Russia: the Turkish Stream gas pipeline. Moscow has pinned high hopes on the project and it does not want anything to hinder its construction.

Moscow's consent to a Turkish operation in Afrin coincided with a statement from Gazprom CEO Aleksei Miller, confirming a long-awaited agreement on the construction of a second gas line passing through the territorial waters of Turkey.

This makes it unlikely for Ankara to suspend the project in the near future, as it did in 2015. If the construction continues without hindrance, the Turkish Stream can be completed in 2019 as planned.


* Leonid Issaev is a Lecturer at the Higher School of Economics
Last modified onTuesday, 30 January 2018 22:58