Bonnie Joy Kaslan Serves 35 Years for Turkey as an Advocate, Educator, and Facilitator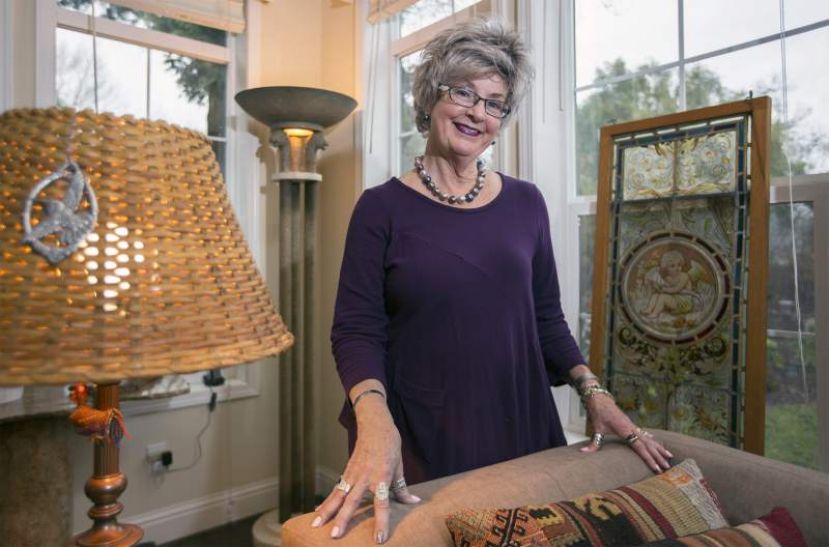 Photo by Robbi Pengelly / Index-Tribune)
Her first trip to Turkey was the summer of 1980 to meet and care for her father in law Dr. Cevat Demil. Since than she is an advocate of Turkey.
Serving as the San Francisco Bay Area's Honorary Consul General for the Republic of Turkey for 35 years, Bonnie Joy Kaslan was a loyal advocate and frequent visitor to Turkey. She considers Turkey her second home and she is proud to have served for over 35 years as an advocate, educator and facilitator between the peoples of Turkey and the United States. Although officially retired she continues to give presentations regarding Turkey and the subjects she holds dear.
She like many Americans did not have much knowledge of modern Turkey beyond the cursory study of the Ottoman Empire.  As a student at U.C. Davis, with an Indian and a Pakistani roommate, out of nowhere, she was drawn to Turkish cuisine (and still is!).  This was her only encounter with anything Turkish. That was about to be forever changed with her marriage to Attila Kocaaslan (Kaslan) thus beginning a lifelong love and study of Turkey, her people and culture.

Her first trip to Turkey was the summer of 1980 to meet and care for her father in law Dr. Cevat Demil. She explored all of then quaint and charming Birinci Levent, walked everywhere, absorbed as much as she could by bus, alone and with her new family and their friends.  It was a wonderful experience, but political tensions ran high and having been forewarned of impending changes, she left Istanbul for France on September 7, 1980.

Once back home, she became aware that students and their families who used to like here were becoming more aloof if not outright critical of her marriage to a Turk.  What could have happened? After all she was still the same person as before so ever curious and the consummate student she set out to learn what might have gone wrong.  This led her to write op-ed pieces, essentially stating that the Turks were relative new comers to the US and should be met, liked or disliked on their own merits, not what former Ottoman Empire passport holders and their descendants had to say. Then it began … the assassinations of Turkish diplomats and their families worldwide. And so did her increased involvement in all things Turkish, particularly her advocacy for the Turks in America to be recognized and heard.

In the meantime, her writings came to the attention of the Turkish government and on the second visit of Ambassador and Mrs. Şükrü Elekdağ, a new career was borne, that of Honorary Consul General of Turkey in the San Francisco Bay Area in 1984.

When asked to recount a memorable event she found that so much of what has transpired over the past 35 plus years has left its impression on her as Honorary Consul General as well as a member of the Board of Directors and the Board of Trustees of the Assembly of Turkish American Associations (ATAA). Consequently, she will highlight issues and events that immediately come to mind.
A retrospect of memories includes:
Serving ATAA as the first woman Vice President (now called President -elect);
Representing Turkey as the first woman and second longest serving Honorary Consul General;
As an ATAA Board member participating in our citizen diplomacy delegations to Ankara, East and Southeast Turkey, Germany, Bulgaria, Greece and Israel;
Giving testimony before the U.S. Foreign Relations Committee on the status of Turkish- U.S. Relations as well as testimony that appeared in the Congressional Record on the Topalian case;
Battles with the California and other State Departments of Education regarding their biased and prejudicially mandated curriculum to the exclusion of differing historical evidence on what has become known as Armenian Genocide Studies on the secondary level;
Presenting to Turkey's National Security Council in Ankara my findings of the first ever study of how Turkey has been portrayed in each State Department of Education's Curriculum Standards and History/ Social Studies Framework;
Walking out of a World Affairs Council discussion on Cyprus when the Turkish Cypriots were prevented from participating and presenting their side of this ongoing and still unresolved issue;
After initial rejections, successfully arranging for a meeting on trade issues with the California apricot growers with Turkish Parliamentarians one of whom is Turkey's present Foreign Minister;
Laying the wreath and presentation of Ataturk's words at ANZAC commemorations every year since 1988;
Education Consultant to and travel with the Turkish Cultural Foundation's Teacher Study Tours. This in my opinion had more impact regarding teaching students and teachers to think analytically and critically about Turkey than many heavily expensed PR campaigns.  


"It is so difficult to highlight a favorite hotel or city. However, food everywhere in Turkey is fabulous with it regional twists and spices.  Since my UC Davis days, the study, preparation and enjoyment of Turkish cuisine has been one of my favorite hobbies. It is so gratifying to see how many Turkish restaurants we now have in the US, many receiving high recognition in their local community," she says.  When asked what she would suggest to Americans who wish to visit Turkey for the first time, she says that knowledge is power and Turkey has many rich, interesting and complicated facets that research and reading is a must for a truly in depth adventure to Turkey.  "The primer that comes to my mind is Andrew Finkel's 207 page Turkey, What Everyone Needs to Know.  Published in 2012, it is a good overview and has a "Further Reading" section.  Tom Brosnahan, former Peace Corps teacher of English in Turkey is the founder of Turkey Travel Planner which is an outstanding reference for travel to Turkey. Last but not least, if there is a Turkish American community in the area, try to meet with members of the community for that one on one insider information," she says.