Turkish Airlines launches flights to the city of Newark, USA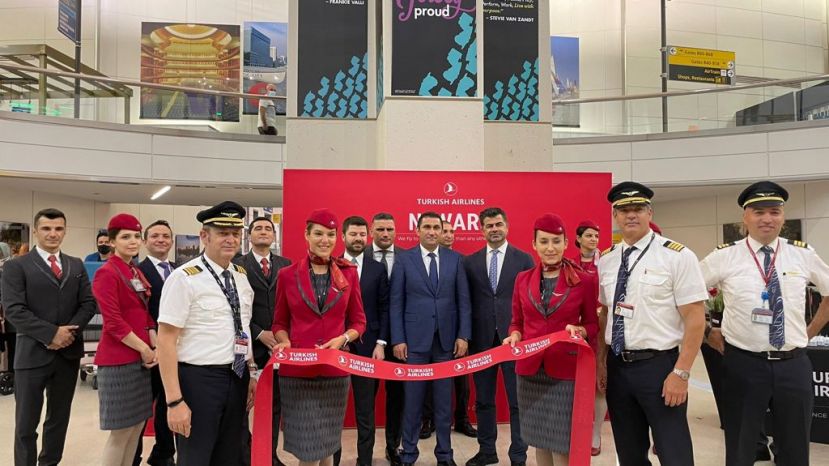 THY launched flights to Newark Liberty International Airport located in the state of New Jersey. THY will fly to Newark four times a week on Mondays, Wednesdays, Fridays, and Sundays until June 13, 2021. Flights will be scheduled every weekday after June 13, 2021.
Newark, the largest city of the State of New Jersey and one of the closest cities to New York City, will be an alternative transportation line for passengers traveling to New York with the flights initiated by Turkish Airlines.
Passengers will buy a round-trip ticket to Newark with prices starting from $655, including all taxes.
Yahya Üstün (THY Press), Abdülkadir Çay (deputy chief human resources officer), Cenk Öcal (THY New York General Manager), and Reyhan Özgür (New York Consul General) participated in the opening ceremony in the terminal and celebrated the new THY destination.
Newark Liberty Airport :
It is located about 24km southwest of Midtown Manhattan and 97 km northeast of Philadelphia, serving both metropolitan areas. Newark Airport was the first major airport in the United States. Newark Airport, along with JFK and LaGuardia Airports, combine to create the largest airport system in the United States, the 2nd largest in the world in terms of passenger traffic, and largest in the world in terms of total flight operations. In 2019, EWR Airport served 46,336,452 passengers. The word "Liberty" wasn't added to the airport's name until 2002. It was added to honor the United Airlines Flight 93 that left from Newark on September 11, 2001 and crashed into a field in Pennsylvania after it was hijacked by terrorists.During WW II, the airport was shut down for commercial use and was instead operated by the U.S. Army Air Corps for logistics operations.Newark Airport is the 3rd-largest hub for United Airlines, after Chicago O'Hare and Houston-Intercontinental airports and it also works as a hub for FedEx Express and United Airlines.There are 30 different airlines that service Newark Airport's three terminals.There are over 65 restaurants, shops, and kiosks inside of airport terminals.
Last modified onMonday, 24 May 2021 13:10