President Erdogan's Four Hour Meeting with President Trump at White House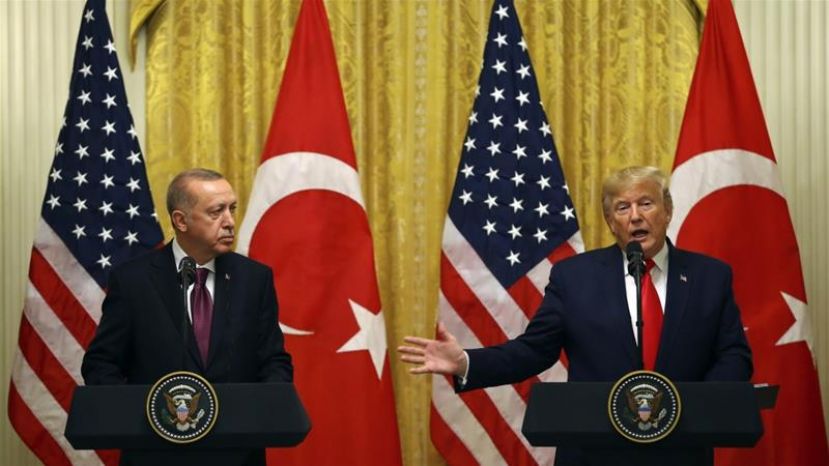 By Ali Cinar -  President Trump welcomed President Erdogan at the White House over four hours for bilateral discussions on a range of important issues despite concerns from Congress over Turkey's military operation into northern Syria. Trump's face-to-face meeting with Erdogan  was a very significant step in resolving disagreements. Both leaders seemed in reducing tensions and finding a way forward which benefits both sides. There are many areas of interest and benefit to both nations, from the economy to education, energy, and technology, and the previously discussed trade goal of $100 billion was part of their conversation when the two leaders met.
The following topics were discussed at the meeting: S400 F35,Syria,YPG-PKK,Trade Agreement, NASA Employee Serkan Golge, Anti-Turkish Resolutions at the Capitol Hill.
 
President Trump said "The American and Turkish peoples have been friends and allies for many, many decades." And he believes that Turkey's cooperation is crucial to protecting United States interests in the region and beyond. In addition, The United States-Turkey relationship has benefitted both of our countries for more than 90 years.

President Trump said a tentative cease-fire is holding in northeastern Syria and thanked Erdogan for "his cooperation." He said the two leaders "made tremendous progress" toward more than quadrupling bilateral trade — to $100 billion — and "hopefully will be able to resolve" a conflict over Turkey's S400 purchase from Russia. President Trump thinks that The United States and Turkey work together on numerous security issues in the Middle East and around the globe.

President Trump said the followings during the joint press conference : " I'm a big fan of the President, I have to tell you that.  And I know that the ceasefire, while complicated, is moving forward and moving forward at a very rapid clip.  There's a lot of people that want to see that work after so many decades and so many centuries, you might say. "

Once President Trump finishes his speech, President Erdogan made an opening remarks:

"We are the only NATO Ally, as Turkey, who has fought Daesh in a very resolved fashion.  And until so far, we have detained 7,680 foreign fighters and we have sent them back to their countries of origin.  And we have been entry to 77,000 individuals who are considered to be affiliated with Daesh terrorist organization.  And, right now, in our presence, a total of 1,216 Daesh members are incarcerated, coming from 40 different countries.  We have quite recently detained 287 individuals, including women and children who have fled the prisons that PKK and YPG used to control."

President Erdogan also criticized the House's passage of an anti- resolution officially designating the so-called Armenian genocide. Erdogan insists that historians should be involved with this issue not politicians.

MEETINGS WITH SENATORS:
President Trump has invited some well-known Republican senators to attend a meeting with President Erdogan.

Sens. Lindsey O. Graham (S.C.), Ted Cruz (Tex.), James E. Risch (Idaho), Rick Scott (Fla.) and Joni Ernst (Iowa) had a meeting with Erdogan and Trump in the Oval Office.

"We're having a very good discussion," Trump said. President Erdogan seemed happy to discuss with the Senators who are against Turkey's S400 Purchase from Russia and Turkey's Syria's operation. President Erdogan showed 4 minutes video to President Trump and Senators during the meeting.

Senator Graham "The purpose of this meeting is to have an American civics lesson with our Turkish friends."

Senator Scott :"We're in a better position where we're better allies; where we understand exactly what's going to happen with the S-400; so it's not -- so Turkey is heading in the direction of the United States, not heading the direction of Russia."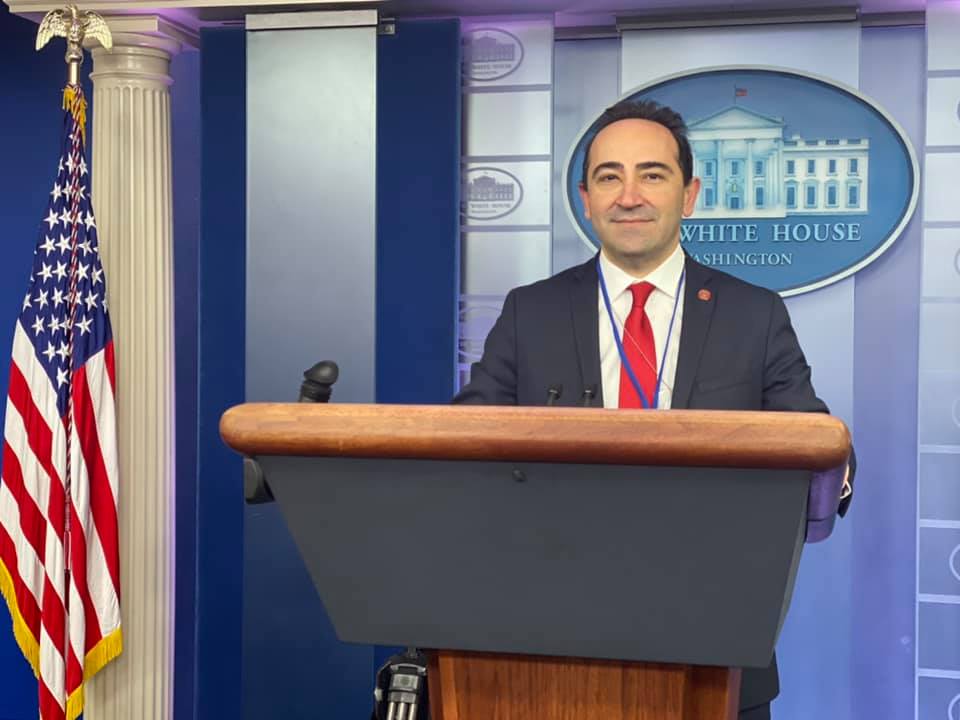 Senator Ernts : "You are very important to us.  So we want to bring you back into that fold.  We want to discuss the S-400. "

Senator Cruz: "Turkey and the United States are friends, are allies.  We have many shared strategic interests and we look forward to continuing that friendship and alliance. "

SIDE NOTES:
- Impeachment: Many reporters were asked about the Impeachment process that was initially started on November 13th. Trump said he's 'too busy to watch' public impeachment hearing
- Joint Committee for S400: President Trump "We've asked our secretary of state and ministry of foreign affairs and our respective national security advisers to immediately work on resolving" the problem.
- Mr. Kurd:  K24 Representative asked a question to President Erdogan and President Trump.
- Letter: President Erdogan said that he had brought the Oct. 9 missive to Washington with him and given it back to Trump.

FINAL COMMENT:
The strong friendship of Turkish-American relations is extremely important, not only for the two countries, but for the entire world.  Turkey had an opportunity to have good PR at White. President Trump provided him a platform from White House to explain where Turkey stands on many issues in the Region. The World TV channels broadcasted his remarks uninterruptedly for 20 minutes.

It is a very critical time for the NATO Allies. Turkey will not give up on S400 and U.S. is very crystal clear on sanctions if Turkey insists on S400. Open dialogue between two leaders are very important however many issues remain on the table.