THO hosts " Turkey Today" in New York with SETA DC and Sabah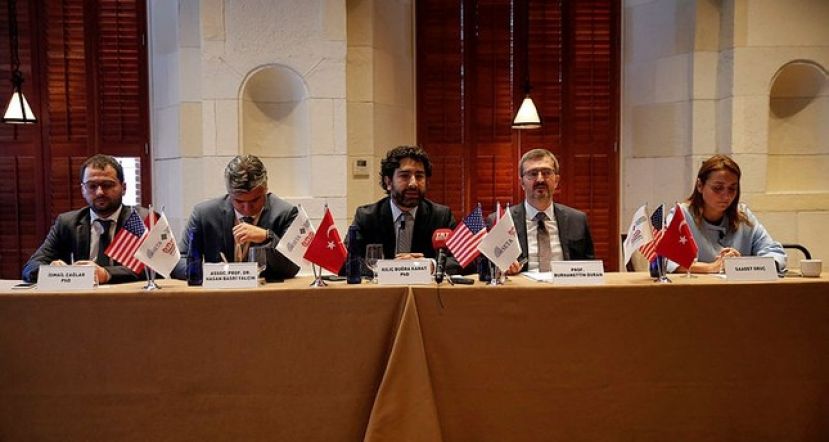 AA Photo
On September 24, 2018, Turkish Heritage Organization (THO) hosted the panel " Turkey Today" in New York with the collaboration of the Foundation for Political, Economic and Social Research (SETA), and the Sabah Columnists Club, hosted a panel discussion "Turkey Today". The discussion served to examine recent events in Turkey and how they have affected it's standing in the world.   


At the panel, different key issues were discussed regarding the new presidential system, the July 15 coup attempt, and factors leading to the tensions between the U.S. and Turkey. The panelists even elaborated on how Turkey is handling the Syrian refugee crisis, by continuing to provide humanitarian aid and support to Myanmar, Syria, and parts of Africa.
THO Holds Roundtable Discussion with Treasury and Finance Minister, Berat Albayrak and Trade Minster, Ruhsar Pekcan.

On September 24, 2018, Turkish Heritage Organization hosted a roundtable discussion along with the U.S. Chamber of Commerce's U.S.-Turkey Business Council and the Union of Chambers and Commodity Exchanges of Turkey, to discuss Turkey's Financial Reforms and the Turkish Economy.

During the meeting, members from Turkey highlighted that the Turkish economy continues to be better than other emerging markets. After the announcement of the New Economic Program (NEP), Turkish experts also discussed the new plan which is set to help the nations economy become stronger and reliable. Additionally, the new economic plan aims to keep Turkey at an advantageous position regarding debt management.

Please check our website turkheritage.org for more details and event summaries.