Business World in New York Gets Together at This Summit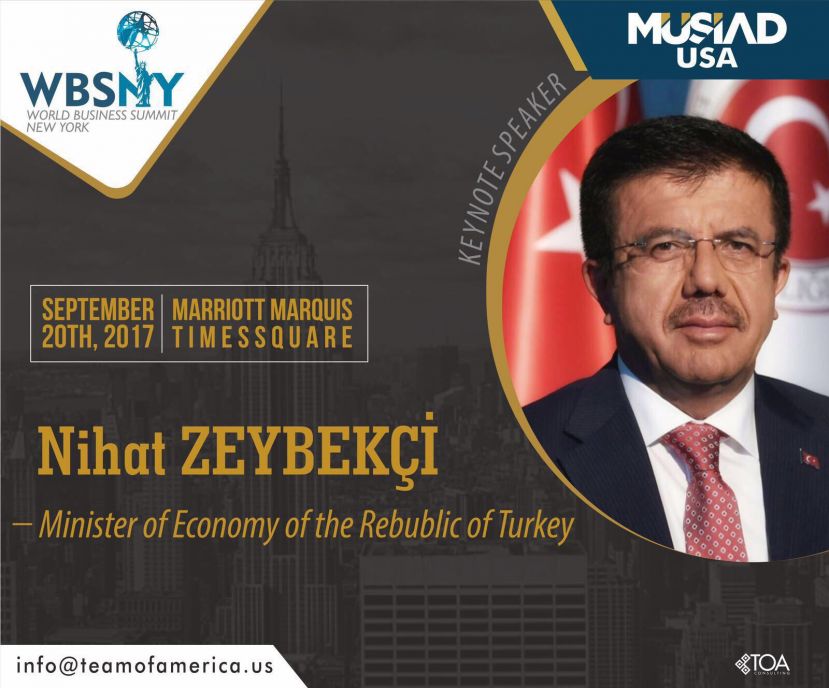 During the week when the attention of the world is directed to the 72nd UN General Assembly, New York City will be hosting a World Business Summit. Hosted by MÜSİAD USA and partnered by the New York based consulting and organization firm TOA Consulting, the Summit will bring together prominent representatives of finance, media, technology, real estate and construction sectors of America. The Summit will be held at Marriott Hotel for the whole day on September 20. Nearly 30 high profile speakers will deliver speeches at four different sessions of the Summit. Along with Turkey's Foreign Minister Mevlüt Çavuşoğlu, the Summit will be attended by several other high profile public figures, including Brooklyn mayor Eric Adams, East West Institute's COO William Parker, CEO of Orchard Platform Matt Burton, executive partner of Westwood Capital Daniel Alpert, ABC anchor Kendis Gibson, former CIO of White House Carlos Solari, Pepsi Co.'s Vice President Ümran Beba.
In addition to names such as the head of Manhattan Chamber of Commerce Jessica Walker and Glen Gillmore, who was introduced by Forbes as one of top 20 most effective professional of social media, many speakers and participants from other countries, including France, Italy, Azerbaijan, Macedonia, and Saudi Arabia, aside from Turkey and the USA.
Expressing pleasure over supporting the Summit that will be organized in New York for the time, MÜSİAD USA's President Mustafa Tuncer stated that it is quite significant for a business summit with an international aspect like this to be held in New York - the heart of the world's financial and business fields – while all world leaders will be in the city. "The Summit has a structure that is aligned with the international vision of MÜSİAD", Tuncer said.
Saying they will be bringing together representatives of the business world at four different sessions – on sectors of finance, media, technology, and construction – this year, high level executive of TOA Consulting, Cüneyt Gürkan, also mentioned that their firm plans to organize this event as a grand annual meeting.
Gürkan emphasized that they have aimed to invite a number of politicians and business people by choosing the date of the Summit on a day during the week of the UN General Assembly. "Our biggest goal is to ensure that this business summit in New York becomes part of the agenda of the people that come for the General Assembly meeting every year".


The program details are as follows:

WBSNY WORLD BUSINESS SUMMIT NY
MARRIOTT MARQUIS TIMES SQUARE 1535 BROADWAY NEW YORK, NY 10036 6th floor
SEPTEMBER 20th 2017 Wednesday 9am-5pm
08:00 AM - 04:00 PM     Registration
08:00 AM - 09:00 AM     Networking breakfast
09:00 AM - 10:00 AM     Welcoming remarks & keynote speakers
10:00 AM - 11:00 AM     Session 1 Investment + Banking + Finance
11:00 AM - 12:00 AM    Session 2 Media + Communications
12:00 PM - 02:00 PM     Luncheon & Keynote speakers
02:00 PM - 03:00 PM     Session 3 Technology + Entrepreneurship
03:00 PM - 04:00 PM     Session 4 Real Estate + Construction
04:00 PM - 05:00 PM     Networking reception

KEYNOTE SPEAKERS:
Nihat Zeybekci | Minister of Economy of the Republic of Turkey
Mevlut Cavusoglu | Foreign Minister of the Republic of Turkey
Abdurrahman Kaan | MUSIAD President
Mustafa Tuncer | MUSIAD USA President
Omer Cihad Vardan | DEIK President
Eric Adams | New York Brooklyn Borough President
Sezgin Baran Korkmaz | SBK Holding CEO
William J Parker III | Ret. US Navy Officer & COO of East West Institute
 
PANELISTS:
SESSION 1 INVESTMENT + BANKING + FINANCE
Jennifer Miel | US Chamber of Commerce
Ahmet Ihsan Erdem | VP Republic of Turkey Prime Ministry Investment Agency
Daniel Alpert | Westwood Management Managing Partner
Paolo von Schriach | GPI President

SESSION 2 MEDIA + COMMUNICATIONS
Kendis Gibson | ABC News Anchor
Glen Gilmore | FORBES 20 Most Influential Social Media Person & Travel Expert
Tara Kargarlou | CNN Correspondent
Sarah Gallo | 5 Foot Traveler
Jimmy Cuneyt Gurkan | TOA Consulting (Moderator)

SESSION 3 TECHNOLOGY + ENTREPRENEURSHIP + INNOVATION
Carlos Solari | Comodo VP/Cyber Security
Matt Burton | Orchard Platform CEO
Umran Beba | PepsiCo VP Human Capital

SESSION 4 REAL ESTATE + CONSTRUCTION
Mike Sarimsakci | Alterra Worldwide CEO (Moderator)
Kenneth Colao | CNY Group CEO
Barbaros Karaahmet | Herrick Partner
Joseph Yacovone | JLL Managing Director

SPECIAL GUESTS:
Ramil Hasanov | Azerbaijan Ambassador
Gligor Tashkovich | Minister of Foreign Investment for the Republic of Macedonia (Ret.)
Demet Sabancı Cetindogan | DEMSA Board of Directors
Jessica Walker | Manhattan Chamber of Commerce
Fatih Derbazlar | Just English CEO
Susan Sadigova | US Azerbaijan Chamber of Commerce Executive Director