Producers of Beloved Immigration Musical Amerike -- The Golden Land Announce Extension of Off Broadway Run Through August 20th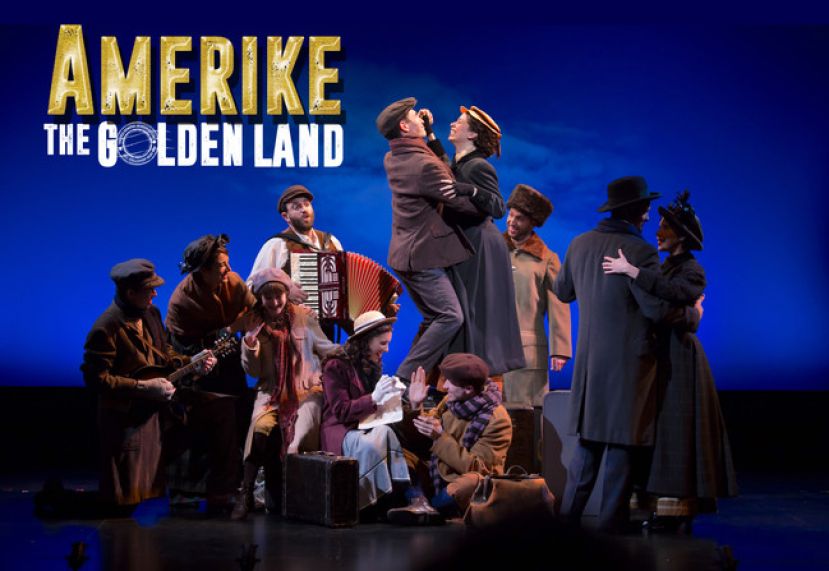 Photo by Victor Nechay /Proper Pix
NEW YORK, July 17, 2017 /PRNewswire/ -- Due to overwhelmingly positive reviews to-date and unprecedented advance sales, the National Yiddish Theatre Folksbiene (NYTF) has just announced that they will be extending their Off Broadway run of Amerike— The Golden Land, through August 20th. This timely and relevant 90-minute musical commentary on immigration, repression, and assimilation plays at the Museum of Jewish Heritage, across from the Statue of Liberty and Ellis Island.

Directed by Drama Desk Award nominee Bryna Wasserman, and choreographed by current Chita Rivera Award nominee Merete Muenter, the re-conceived production of Zalmen Mlotek and Moishe Rosenfeld's 1984 musical blends popular songs from the 1880s to the mid-20th century into a lavish score that demonstrates how America both absorbs and reflects back the cultures of its immigrants.

Coinciding with Amerike, NYTF will present New York's first-ever Immigration Arts Summit, hosted at the Museum of Jewish Heritage. The Summit Monday, July 17, and concludes on Tuesday, July 18 with a free concert in Robert F. Wagner Park, opened by pop/R&B sensation and American Idol finalist Kimberley Locke, who will sing Irving Berlin's rarely-heard music adaptation of Emma Lazarus' poem "The New Colossus," with music selections from the cast of Amerike, and performances by NYC's multicultural arts community. Noteworthy Summit participants include movie star, author, and comedian John Leguizamo, nationally-known television personality and journalist Ann Curry, Grammy Award winner Frank London, and an extraordinary line-up of New York's multicultural theatre and performing arts support organizations including Pan Asian Repertory; Repertorio Español; Irish Repertory Theatre; the Kairos Italy Theater; the Irish Arts Center, and the Turkish American Repertory Theatre, as well as such museums and cultural organizations as El Museo del Bario; the Lower East Side Tenement Museum; the Museum at Eldridge Street; Israel's Office of Cultural Affairs in the USA, the Museum of Jewish Heritage, and the Cumbe Center for African and Diaspora Dance.

"We're making this extension announcement as we prepare to open the Immigration Arts Summit," says Christopher Massimine, NYTF's CEO. "We are hearing resounding approval for our willingness to let this immigration story stand for all immigrants, and to serve as a stark reminder not just of the opportunities America offers, but also the challenges and injustices faced."

Established 1915, the Drama Desk-winning NYTF brings a rich cultural heritage to life on stage—one that was nearly destroyed some 75 years ago. Now in its record-setting 103rd consecutive season, NYTF is a producer of Broadway's Indecent, winner of two Tony Awards including direction.
Amerike— The Golden Land tickets are $35 to $60; Immigration Arts Summit tickets are $10 for Panel Discussions or Keynote Address, $15 for both Panel Discussions & Keynote. Tickets can be purchased at www.nytf.org and by phone at 866-811-4111.

The Immigration Arts Summit is supported by the NYC Mayor's Office on Immigrant Affairs; New York Foundation for the Arts; NYC Department of Cultural Affairs; Battery Park City Parks Conservancy.
Last modified onTuesday, 18 July 2017 03:51