"Eksi Bir" Is Announced as Grand Prix for Best Feature Film at Chelsea Film Festival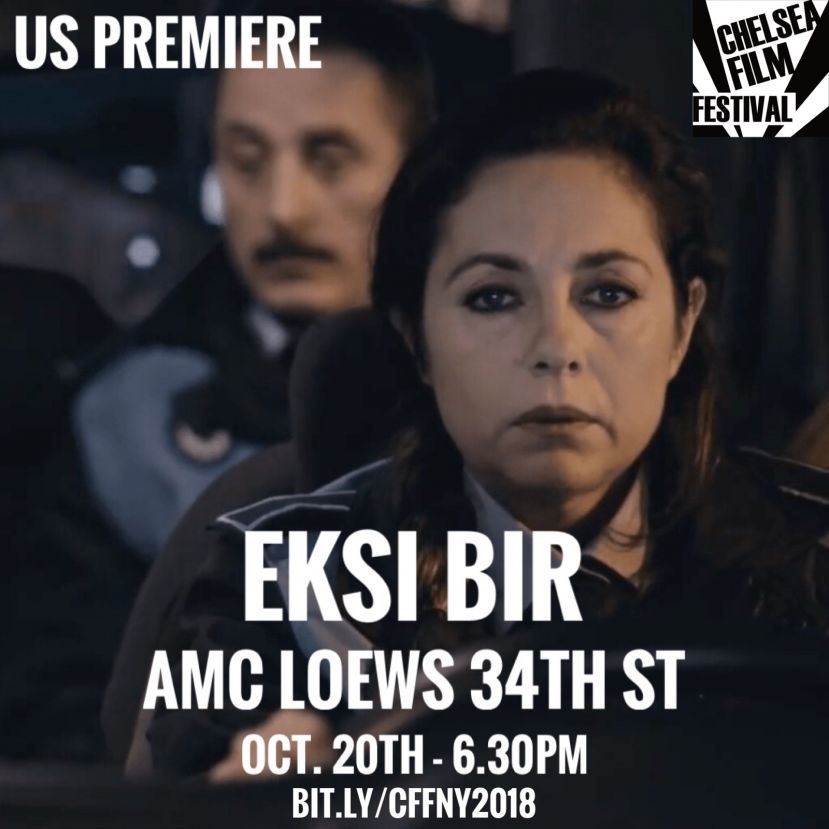 Chelsea, NY — The Chelsea Film Festival closed its 6th Annual Edition on Sunday, October 21 after having presented 87 Films from 21 countries at AMC Loews Theatre 34th St. The list of winners were announced by the 2018 Jury Members (Laura Gómez/Jury President and Adam Mirels) on Sunday, October 21st at AMC Loews Theatre 34th St. at 9.30pm.


FEATURE FILM AWARDS
Grand Prix for Best Feature Film - EKSI BIR by Orhan Oguz
Special Jury Award - NEW YORK SCHERZO by Shaan Couture
Best Documentary - ONE ANGRY VEGAN by Gil Golan
Best Cinematography - Cihan Yesiltarla for EKSI BIR
Best Screenplay - Eyüphan Erkul, Orhan Oguz for EKSI BIR
Best Director - Nagmeh Shirkhan for MAKI
Best Actress - Jazmin Monee' Brehaut for THE BROKEN ROSE
Best Actor - Metin Belgin for EKSI BIR
Best Supporting Actress - Adeline Horand for DELENDA
Best Supporting Actor - Jonathan Tindle for DELENDA
Special Mention - CARNAVAL DE CUBA by Roberto Monticello
 
SHORT FILM AWARDS
Petite Prix for Best Short Film - THOMAS by Laura Smet
Special Jury Award - CLUB RAT$ by Jeni Jones  
Best Documentary - WHISPERERS AND WITNESSES by Alan Kaplan
Best Cinematography - Gaëtan Borne for GOYAVE
Best Screenplay - Laura Pellegrini & Stefano Da Fre for THE MOON IN DEEP WINTER
Best Director - Derek Shane Garcia for THE EXPERIENCE
Best Actress - Ofuku for OFUKU-MOTHER
Best Actor - Trevon Exeter for BROOKLYN BLUEZ
Best Supporting Actress - Cassandre Joseph for BROOKLYN BLUEZ
Best Supporting Actor - Hugues Fausten for GEORGE LETRELL'S BROOKLYN KNIGHTZ
Special Mention - DEATH OF LOVE by Larry Rosen

VR AWARD WINNER
SANCTUARIES OF SILENCE by Adam Loften, Emmanuel Vaughan-Lee
CFF was founded by actresses Ingrid & Sonia Jean-Baptiste to give voice to the unheard by providing a platform to independent films and discovering new talents.

Chelsea Film Festival Board of Directors consists of renowned industry insiders: Paul Calderon, Elizabeth Kemp, and John Patrick Shanley.

The Advisory Board includes: Adi Stein, Adrienne Stein, Bruno Chatelin, Georges Leclere, Jeff Bandman, Pascal Chemin, Michel Abramowicz, Michael Ruotolo, Pascal Bonifay, Patrick Braoudé, Patrick Timsit, Ron Agam, Richard Stein, Thandeka Zwana, Thembi Mtshali-Jones, Wissam Chahine and more.

The Chelsea Film Festival program highlights local & international feature-length, short films, documentaries and virtual reality from independent or emerging filmmakers.
 
Last modified onTuesday, 23 October 2018 15:45