Mayor Bill de Blasio and NYPD Chief Harrison Visited Muslim Community after the Terror Attack in New Zealand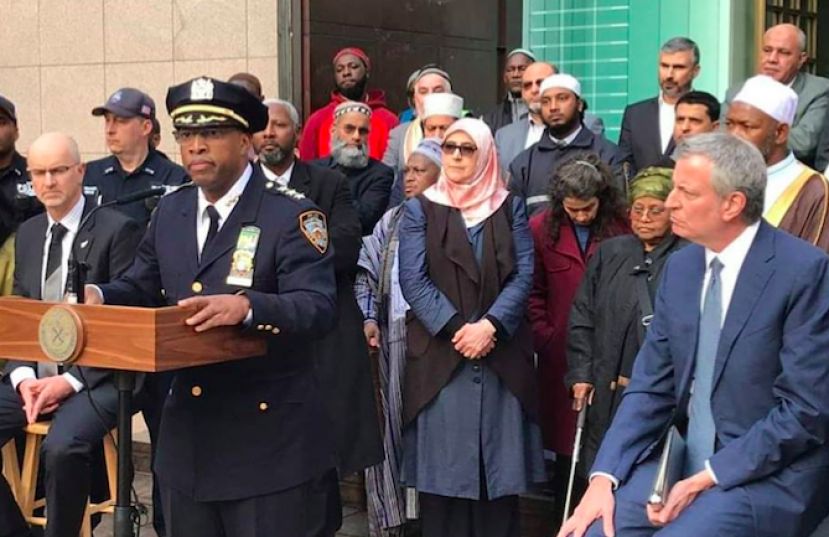 By Ali Cinar - Mayor Bill de Blasio , NYC International Affairs Commissioner Penny Abeywardena,  Permanent Representative of New Zealand to UN Craig John Hawke and NYPD Officials visited the 96th Street Islamic Cultural Center in Manhattan to deliver remarks and meet with members of  Muslim community after the terror attack in New Zealand. NYC Mayor Blasio was welcomed at the Cultural Center and talked w many Muslim Members before the speeches. Mayor Blasio said:"I stand here today as a leader of this city to send a clear message to all our Muslim brothers and sisters that we stand with you in solidarity. We understand the pain you're feeling at this moment and the loss you are feeling, and we are here to ensure that this community is respected and embraced and protected."
NYPD Chief of Patrol Rodney Harrison also made some remarks and shared NYPS's support to the Muslim Community. Chief Harrison said:"We stand with the people of New Zealand and the Muslim Community. Everyone in the NYPD is working hard to make sure that hatred and bigotry take no lives in New York City & that everyone here can worship without fear"

New York City Faith Leaders denounce horrific New Zealand shooting, call for greater unity against hate.Following the abhorrent attacks on Muslims in New Zealand, the NYPD was doing all in its power to protect the community in NY.

NYPD Mideast and Turkic Society made a statement and shared the following message:"Our thoughts and prayers go out to the families and friends who lost their loved ones in this tragic event."

In addition, former NYPD official, Brooklyn Borough President Eric Adams gather  with a dozen politicians, religious leaders and community members came together outside the Makki Masjid Community Center in Brooklyn.

NYPD has increased the security  at the mosques in New York City and all other Boroughs in response to the mass shootings in New Zealand.
Last modified onThursday, 11 April 2019 12:19