"The Dynamic Duo: Hayrettin and Tolga's Journey from Viral Projects to Career Transformations"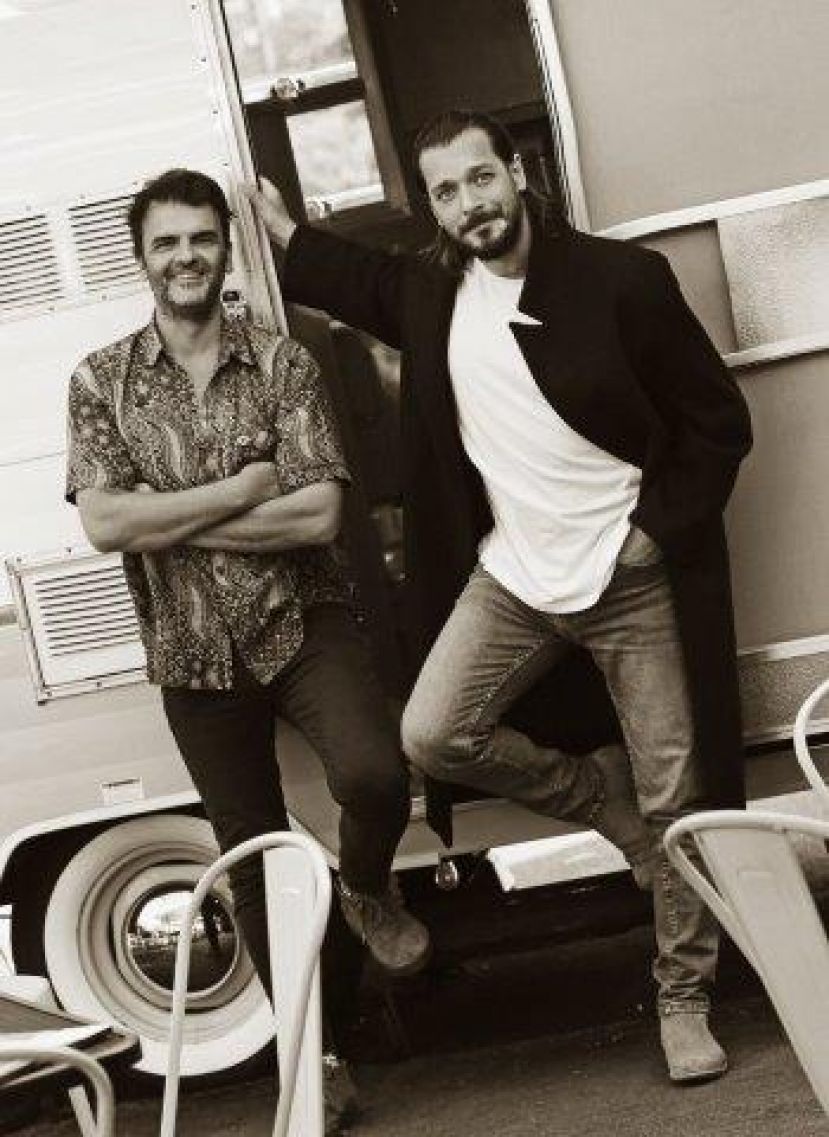 One of the recent viral videos on social media features a group of Americans cruising the streets of Manhattan in a TOFAS-branded Doğan SLX, with comedian Hayrettin behind the wheel and Americans in the backseat jamming to Cengiz Kurtoğlu, a Turkish musician, record producer, lyricist, songwriter, composer, and pianist. In Times Square, they enjoy döner kebab next to their Doğan SLX. Ali Zivalioğlu, who brought the TOFAS SLX to America, is originally from Giresun and is a truck driver residing in New Jersey. The car is his childhood love as well. Comedian Hayrettin has become one of the most talked-about names on social media thanks to such content. Behind his success stands the mastermind, manager Tolga Doğruer. Shooting videos while touring the streets of Manhattan in an old model car imported from Turkey has become one of their recent fascinating projects.
Hayrettin's journey to fame actually started during his university years when he started filming and uploading videos to YouTube. Shortly after, he had a two-year-long TV program and made a movie. During the five years when YouTube didn't consider us as important, we continued creating content, and many of our videos became trending during this period. However, our biggest breakthrough for YouTube in Turkey was Johnny Depp. He imitated Johnny Depp in a luxury car in Beverly Hills, Los Angeles, a video that garnered over 10 million views.
His breakthrough in Turkey came when he was likened to "Turkish Jim Carrey" in an interview. A company that aimed to shoot a commercial with Jim Carrey turned to Hayrettin after failing to reach an agreement with the famous actor.
The meeting of the duo was also a coincidence. Tolga Doğruer, originally a graduate of Istanbul University's Faculty of Mining, had been organizing concerts in Turkey and international from 2002 to 2009 but couldn't achieve the desired success. He returned to his hometown, Izmir, to be with his family. During those years, Hayrettin, a university student at the time, gained national attention with a viral video. He starred in his first commercial without discussing the payment and only received 2,000 liras afterward. This incident made him realize the need for a good manager.
A mutual friend introduced Hayrettin and Tolga. "We became well-known through this video, and people started reaching out to us for different projects. Would you be our manager?" They asked Tolga, and thus began his journey back to Istanbul. He persuaded his father with great difficulty and settled into an empty house inherited from his father, determined to try their luck again.
Tolga found a major company for advertising. With newspaper-covered windows in their furnitureless rooms, Tolga offered 500,000 liras. It was an unimaginable amount for them. Hayrettin warned Tolga not to say it, saying, "We'll lose the job, look, we don't even have curtains on our windows." After negotiations, they settled on 430,000 liras. That agreement changed the course of their lives. They bought their first car. The company, unable to reach an agreement with Jim Carrey, completed their project by giving Hayrettin 430,000 liras instead of paying Jim Carrey 5 million dollars.
They performed stand-up shows in 45 different cities across Turkey, meeting university students through Tolga's organizational skills. They participated in various advertising projects, hosted television programs, and continued to create content online, gaining popularity and increasing their number of followers. Hayrettin initially mentioned how people didn't take YouTube seriously when they started making videos and even made fun of them. However, he emphasized that the situation changed over time, and YouTube became popular in Turkey. "If one of our videos receives 10 million views, we strive to make an even better one. We invest our efforts, time, and money," he explained. The duo recently shot a video series in Thailand.
Tolga says, "Most YouTube content is ephemeral, meaning people don't rewatch the content today, but ours will always be watchable. It will be remembered even after 10 years." He emphasizes, "We were the ones who started creating viral advertisements in Turkey."
In 2013, the duo came to Los Angeles to learn English. During that time, they shot a video imitating Johnny Depp, which garnered millions of views. They shot many videos alongside Johnny Depp, and they received a good number of views. They enabled a YouTuber living in T-Türkiye to shoot content abroad for the first time and became a guiding light for many people in this regard.
As a video production company, the duo also works on music videos and launch shoots. Their biggest dream is to shoot a feature film in America, telling a story that connects Turkey and the United States. Hayrettin highlighted the rapid consumption of content and the need for continuous content production. Tolga, on the other hand, expressed that their popularity increased on platforms like Instagram and YouTube. When discussing the YouTube content environment in Turkey, Tolga emphasized the importance of the country's population size and the number of people they reach with Turkish content. However, he mentioned that making money was challenging and content creators often worked to stay relevant.
Tolga believes that everyone aims to become an influencer, and he believes this trend could lead to a decrease in traditional professions like doctors, lawyers, and engineers in the coming years.
Tolga mentioned their quick actions to convince viral individuals on social media and how they immediately reach out to someone who has become famous. He boldly states, "I claim that there is no one faster than me in reaching someone in Turkey. We can find and contact a famous person within three hours."
Follow them on Instragam @hayrettin @tolgadogruer @doganslxusa
Last modified onMonday, 14 August 2023 06:31