Molyvos: A Family Legacy Transformed into a Timeless Fine Dining Experience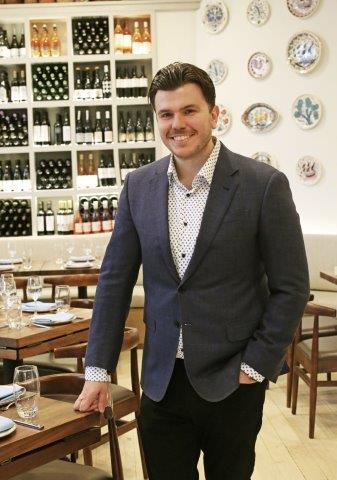 Molyvos, a culinary gem nestled in the heart of New York City, stands as a testament to the extraordinary legacy of the Livanos family. Dating back to 1957, when John Livanos embarked on an inspiring journey from Greece to the United States, the family's involvement in the restaurant business began. Starting as a humble dishwasher in Manhattan, he took his first steps towards success. In 1960, he made a significant leap by purchasing his inaugural restaurant. Years later, in 1985, the elegant Livanos Restaurant in White Plains, NY, graced the gastronomic scene. Immersing ourselves in the enchanting history of the Livanos family, we delved into a captivating conversation with Enrico Livanos, the third-generation representative of Molyvos. Adorned with ancestral photographs, each telling a tale of the past, the ambiance resonated with the essence of their culinary journey.
Enrico revealed that their gastronomic odyssey commenced with his grandfather, a merchant marine in Greece. It was during one of his voyages that he and a few friends decided to seize the opportunity presented in New York. Thus, armed with a few dollars and an indomitable spirit, he embraced the classic American dream. The arduous journey began with a year spent toiling as a dishwasher, working 20 hours a day, eventually amassing enough funds to purchase his first luncheonette—a humble coffee and bagel establishment.
The Livanos family's ascent continued with each passing year. John Livanos, Enrico's grandfather, ventured into the world of diners—following the path carved by many Greek Americans at the time. After opening several successful diners, he established the iconic Arch Diner in Brooklyn, which propelled the family into the limelight.
Enrico's father, the eldest of John's children, started his foray into the family business at a tender age, working as a busboy at the Arch Diner. Witnessing his father's passion, he immersed himself in the culinary arts, attending the esteemed Culinary Institute of America in Hyde Park. The education he received at the institute became a cornerstone of his success.
Despite his grandfather's limited formal education—a high school graduate from the island of Rhodes—his original plan was to become a shipping vessel captain, serving as an apprentice to the captain. Meanwhile, Enrico's father pursued his culinary dreams, aligning himself with the vision of excellence that defined the Livanos family.
Enrico himself pursued higher education in the field of hotel and restaurant management at Syracuse University, followed by a culinary education at the Culinary Institute of America. While he entertained fleeting fantasies of exploring different career paths, he acknowledged that his destiny lay in continuing the family legacy. The allure of working alongside his father, grandfather, and siblings proved irresistible, firmly cementing his dedication to the restaurant business.
Enrico proudly proclaimed that Molyvos was arguably the first fine dining Greek restaurant in New York City. Prior to its establishment in 1997, Greek restaurants primarily revolved around diners. In 1997, a visionary idea took shape, igniting a passion to open a restaurant that would transcend expectations and embrace Greek culture. Molyvos, a name that pays homage to Enrico's ancestral village, became a vessel through which their roots and hometown could be represented with unwavering pride.
The late 90s and early 2000s marked a period of unprecedented prosperity for their restaurant group, John and his children, Nick, Bill and Corina, own and manage the critically acclaimed Oceana and Molyvos in New York City, as well as Moderne Barn in Armonk, NY, and City Limits in White Plains, NY.
Following the pandemic's disruptive force, Molyvos found its new abode, albeit smaller in size compared to its predecessor. The locale surrounding the restaurant has undergone a transformation, morphing into a vibrant tapestry of hotels, tourism, and theaters.
The restaurant group as a whole employ a dedicated team of over 350 individuals across their four establishments. The notion of expanding to second or third locations has always been an aspirational dream for Enrico and his brother, symbolizing the next chapter in their culinary legacy.
Having savored Molyvos' unparalleled dining experience since 1997, we marveled at the continuity of excellence over two generations. As the doors swung open to their new abode, an influx of devoted customers from Connecticut, Maryland, New York, New Jersey, and beyond paid homage to their beloved eatery. Guests embarked on pilgrimages, commemorated milestones, and reminisced about the countless cherished memories forged within Molyvos' embrace. Enrico, having been a young child when the restaurant first opened, finally grasped the indelible mark it had left upon the city's culinary landscape.
The restaurant welcomed patrons seven days a week, operating with two shifts per day, accommodating a diverse array of guests seeking an extraordinary dining experience. The average expenditure per person for a delectable feast, sans libations. A range between $55 and $70, ensuring that their culinary masterpiece remained accessible to a discerning clientele.
In the present, Molyvos thrived with 68 patrons inside the restaurant, excluding the patio—an intimate space that effortlessly fostered connection.
Intrigued by the intricacies of managing such an establishment, we inquired about the number of employees in their previous location.
Curiosity beckons us to explore the daily routine of a culinary virtuoso such as Livanos Enrico. "We are ever vigilant," he affirms, implying the ceaseless dedication that propels Molyvos towards greatness. Acknowledging the importance of attributing credit where it is due, Livanos commends his brother's contributions. Their unique skill sets complement each other flawlessly, as they draw from diverse backgrounds. While Livanos embraced the family legacy from the outset, his brother garnered experience working with other esteemed restaurant groups, bringing forth a modern perspective that breathes new life into Molyvos. Moreover, his brother's passion for beverages is evident, as he has ventured into the creation of his own Gin brand.
Amidst the mosaic of cultures that grace Molyvos, we delve deeper into the demographics of its patrons. When asked about the percentage of Greek customers, Livanos divulges that the figure fluctuates, particularly during festive occasions like Easter, where Greek clientele accounted for an astonishing 75%. On a typical night, however, the numbers are more balanced, with Greek patrons constituting a smaller portion.
In the realm of Molyvos, where culinary artistry dances hand in hand with warm hospitality, Livanos Enrico stands as a testament to a legacy built upon passion, innovation, and a commitment to deliver an experience that transcends the mere act of dining. With every tantalizing dish and heartfelt interaction, Molyvos etches itself into the hearts of its patrons, leaving an indelible mark on the tapestry of gastronomy. Photos by Koray Kasap