Interfaith Leaders Gather at NYC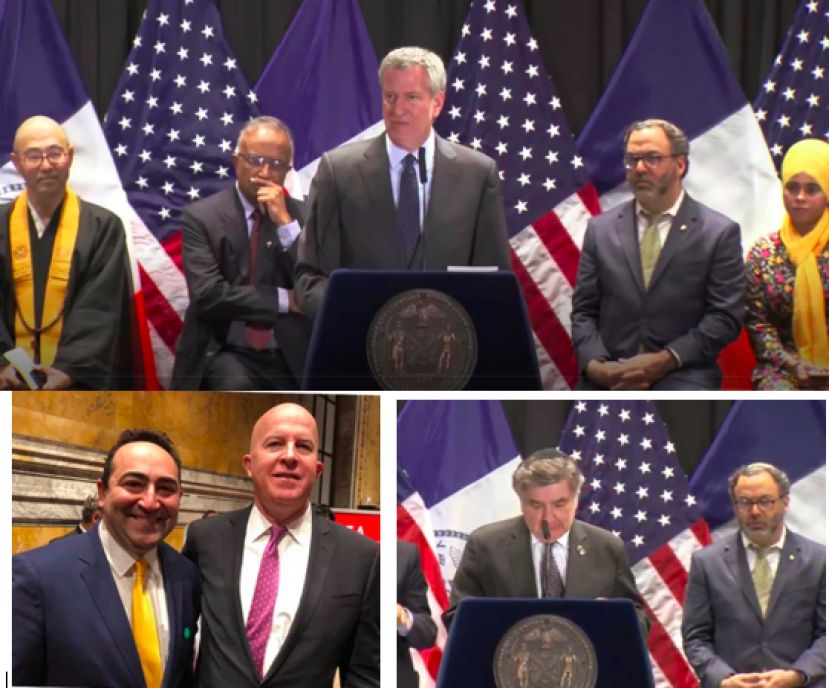 By Ali Cinar -  The annual Interfaith Breakfast brought together faith leaders from across New York City and aimed at helping our city's most underserved residents. NYPL President Tony Marx made the first opening remarks at the breakfast. NYPD Commissioner and many NYPD Officials James P. O'Neill  also attended the program to suppport the Clergy Leaders.
Mayor Blasio acknowledged the following organizations:  Christian Cultural Center
Council of Churches of the City of New York,New York Board of Rabbis, New York Disaster Interfaith Services, The Church of Jesus Christ  of Latter day Saints
UJA Federation of NY, Albanian Islamic Cultural Center, Jewish Community Relations Council of New York and Sephardic Community Federation, Catholic Charities, Archiocese of New York, Majlis Ash Shura, Islamic Leadership Council of New York NY Theological Seminary, Plaza Jewish Community Chapel.

The invocations were followed by remarks by: Imam Khalid Latif,Reverend Dr TK Nakagaki, Ramaswamy Mohan,Sarbjit Kaur,Reverend Susana Rivere Leon, Reverend Que English.

The following faith leaders made remarks before First Lady and NYC Mayor Blasio.
Archbishop Demetrios, Monsignor Kevin Sullivan , Reverend AR Bernard ,Rabbi. Sharon Kleinbaum

"Last year, more than 2,000 houses of worship in New York City joined our Weekend of Faith –more than 2,000 this year. This year, our fourth annual Thrive Weekend of Faith, we will focus on stress and depression. So I ask you to please join us the weekend of Thursday, May 16th to Sunday, May 19th. Dedicate your services to discussions about addressing stress and depression in our lives and in the people we care about" Fist Lady Chirlane McCray said.

NYC Mayor Blasio:"  I want to thank all the civic leaders, elected officials who are here for what they do to make this city greater. I want to thank the members of my administration who work so hard on behalf of the city. We know the people who work in public service mean it and they're committed.

Mayor Blasio also mentioned about his new insurance plan that will benefit 300,000 New Yorkers who dont have an insurance right now. He added that We will need you because we're saying we're going to make it easier than ever for people who don't have health insurance and are eligible to get it more affordable, simpler to navigate. We'll do whatever it takes to get them the insurance they need.
Last modified onTuesday, 22 January 2019 20:16