Sisters by Heart: Üsküdar, Brooklyn to Make Most of Commercial Exchange
Featured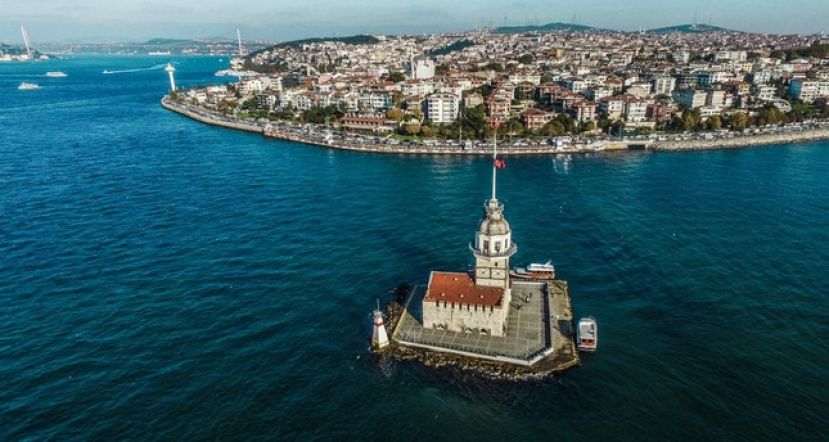 Istanbul's Üsküdar district signed a sister-city agreement with New York City's Brooklyn, which is described as the Istanbul of America by the borough's mayor Eric L. Adams.
Two years ago, Istanbul's historical district Üsküdar and New York City's largest and fastest growing borough Brooklyn struck a sister city deal with a view of promoting cultural and commercial ties between Turks and Americans. Since then, the miscellaneous projects and cultural events have knotted the friendship ties of the two communities to the extent that has inspired Brooklyn Mayor Eric L. Adams to "stake out to find a home in Turkey," as he put it in a meeting with Daily Sabah.

A primary goal of sister city agreements is to encourage trade and tourism, which was globally hit hard by World War II. Hence, after the war the modern concept of sister cities was developed. Today, it serves to expand the radius of formal state diplomacy to the public sphere where people from different cities around the world can engage in cultural exchange while carrying out mutual business operations. Within that framework, strong-willed to transfer the long-established alliance between Turkey and the U.S. to the public level whereby citizens of the largest cities can enjoy mutual involvement in the cultural life and businesspeople are able to utilize the trade opportunities in the best way, the mayors of Üsküdar and Brooklyn have been working to promote the sister city deal.

Sisters by heart: Üsküdar, Brooklyn to make most of commercial exchange

Visiting Turkey for the fifth time and narrating his plans to buy a home in Istanbul, Mayor Adams underscored that Istanbul is one of the few places he has ever seen so much energy, indicating the friendly nature of Turkish people. He also explained that the primary of the two municipalities is to bring the business men and women together and encourage them to expand their businesses while questing the business opportunities.

"Brothers fight, sisters love each other," the Brooklyn mayor said, highlighting the importance of the sisterhood deal which focuses on three major areas. The first, he said, is the cultural exchange which allows citizens to learn about local cultures and appreciate the diversity of their cultures as both Brooklyn and Üsküdar have been home to members of different communities for centuries. To that end, both municipalities have held annual cultural events where people have had a taste of food and music and will continue to do, the mayor informed.

The second item of agenda future is business. "We want the business community here in Turkey to see the business opportunities in Brooklyn and vice versa particularly in housing development," he said, explaining that both cities are profoundly populous and developing major housing projects in their bid to expand, adding that efforts will continue to ameliorate the commercial exchange.

"Lastly, we wanted young people to know each other and we have accomplished exchange programs with young people," Adams explained of the third leg of the sisterhood agreement. The youth initiative between the two municipalities launched allows young Turkish and American people to visit one another's country and learn from each other's experiences.

Reminded of the fact that the number of Turkish business figures looking for an E-2 visa in the U.S., which is offered to those who seek to make investments in the country, has surged 300 percent over the last five years, Adams said: "Brooklyn, where the Turkish community has small businesses, is a place where you can expand businesses," adding that Brooklyn is doing a lot of zoning changes, which always attracts higher developers. Expressing his wish for a Turkish trade center in Brooklyn as one has already been opened in Manhattan, the mayor also highlighted that the borough offers great business opportunities in residential housing and industrial business zones where technology is utilized and businesses can be incubated.

Drawing attention to the fact that Brooklyn harbors people from wide array of countries like Turkey, Pakistan, Russia, China and many Arab countries, Adam exemplified that when a member of these communities brings a product in Brooklyn to his or her home, it extends the global reach of the product when it reaches a Brooklynite. "The way that goes to Brooklyn goes to New York and the way that goes to New York goes to America, and then to the globe," Adams said to emphasize the city's capacity to improve global trade opportunities.

'Turkish Airlines is my way of flying'

Flying to Turkey on a Turkish Airlines (THY) flight, Adams expressed his contentment with the high-security measures the Turkish national flag carrier applies as well as the removal of the electronics ban imposed at the end of March.

"I think it was ill-advised to ban laptops, as airlines do know how to provide security. They do a great job, and right now our laptops, our technology is part of how we travel," Adams said, underscoring that particularly for a business traveler not having his or her laptop is like a pilot not having navigation tools.

"A laptop is no longer a luxury item, it is a requirement of a traveler, particularly a business traveler," he said, explaining that Turkey has been a great ally to the U.S. on the ground and there is no reason THY cannot perfectly ensure the security of its passengers. Adams further explained that every time he flies on a THY flight, the level of security is just remarkable. Stating that he not only travels to Turkey with the airliner, but that he also prefers it when flying to other parts of the world like India, he said: "Turkish Airlines is my way of flying."

The primary reason for his preference is the fact that THY is able to individualize the travel experience and is not rigid when catering to the needs of passengers. As a vegan, Adams said he is most comfortable with the flexibility of the airlines in addressing his dietary needs.

At the meeting with Adams, Daily Sabah's Editor-in-Chief Serdar Karagöz presented the mayor the report prepared by Daily Sabah Center for Policy Studies, "Evidence of Gülen's Involvement in July 15 Coup Attempt," which elaborates evidentiary documents how FETÖ plotted the failed coup attempt of July 15. Indicating his awareness of Gülen's followers and their activities in the U.S. and Brooklyn, Adams said his will to follow the issue.
Source: https://www.dailysabah.com