NDECC Looks for Ethnic Community Leaders
Featured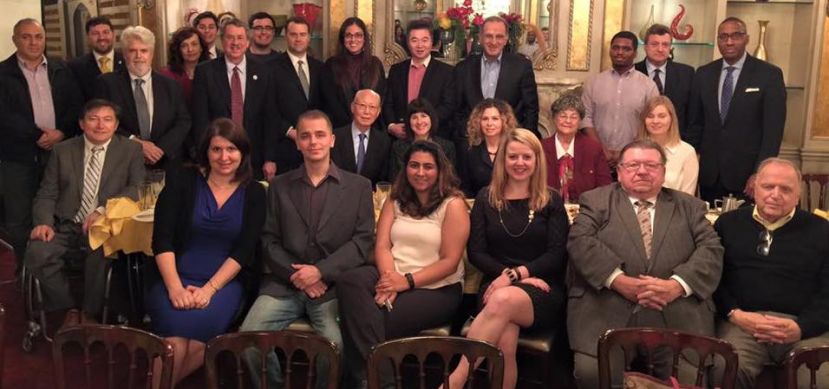 National Democratic Ethnic Coordinating Council (NDECC) is looking for ethnic leaders in some Congressional districts which dominate by Republican congressmen. If anyone in community are interested in providing leadership in Democratic efforts in any of these districts, send along contact information for anyone you can suggest to  Jim Zogby, This email address is being protected from spambots. You need JavaScript enabled to view it..


US Representatives from selected districts
Ohio
OH-01: Steve Chabot (R) – Cincinatti
OH-07: Bob Gibbs (R) – Canton
OH-10: Mike Turner (R) – Dayton
OH-14: David Joyce (R) – northeast of Cleveland

Illinois
IL-06: Peter Roskam (R) – west of Chicago
IL-12: Mike Bost (R) – southeast of St. Louis, MO
IL-13: Rodney L Davis (R) – northeast of St. Louis, MO; Springfield
IL-14: Randy Hultgren (R) – west of Chicago

Iowa
IA-01: Rod Blum (R) – Cedar Rapids; Dubuque; Grinnell
IA-03: David Young (R) – Des Moines

Pennsylvania
PA-06: Ryan Costello (R) – communities north and west of Philadelphia
PA-07: Paul Meehan (R) – suburbs north and west of Philadelphia (one of top 10 most gerrymandered districts in US, according to WaPo)
PA-08: Brian Fitzpatrick (R) – Bucks and Montgomery Counties, northwest of Trenton, NJ
PA-16: Lloyd Smucker (R) – Philadelphia/Wilmington suburbs; rural; Reading, PA

Nebraska
NE-02: Don Bacon (R) - Omaha

Kansas
KS-02: Lynn Jenkins (R) – Topeka and Lawrence
KS-03: Kevin Yoder (R) – Kansas City

Michigan
MI-01: Jack Bergeman (R) – Upper Peninsula and northern Michigan
MI-06: Fred Upton (R) – Allegan; Benton Harbor; Kalamazoo
MI-07: Tim Walberg (R) – Adrian; Charlotte; Lansing
MI-08: Mike Bishop (R) – Rochester Hills; Clarkson; East Lansing
MI-11: David Trott (R) – northwest of Detroit; Auburn Hills

Missouri
MO-02: Ann Wagner (R) – southwest of St. Louis

Indiana
IN-02: Jackie Walorski (R) – South Bend; Elkhart

Minnesota
MN-02: Jason Lewis (R) – south Twin Cities metro area
MN-03: Erik Paulsen (R) – suburbs south, west, and north of Minneapolis

ABOUT NDECC
The NDECC stands for the immigrant heritage of America. The NDECC reaches across all ethnic, racial, national origin, and religious identifications to encompass the common heritage that America's diverse constituencies share as immigrants to a pluralistic nation, committed to democracy, human rights, peace, opportunity, fairness, and freedom. The NDECC honors this immigrant heritage, our shared values, and America's rich ethnic diversity, in the spirit of the Democratic Party's proud and enduring tradition of community development, opportunity and empowerment. 
Last modified onThursday, 27 July 2017 22:18