Why is Turkey Buying the S-400 Russian Missile Defence System?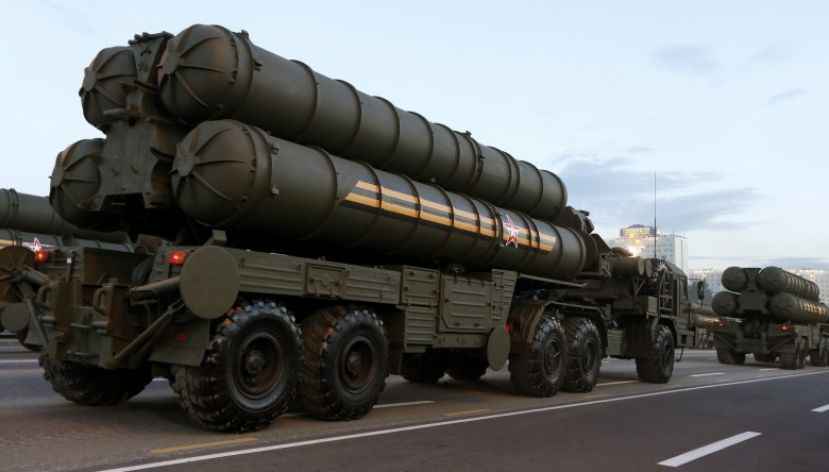 Reuters
S-400 Triumf was developed by Russian Almaz Central Design Bureau, as the successor to the S-300 missiles, and has been in service in Russian Armed Forces since 2007.
Turkey, which boasts the second-largest army in NATO, announced last week, on Tuesday, it had inked a deal to buy an S-400 (NATO version SA-21 Growler) missile defence system for $2-3 billion from Russia. The deal led NATO members to question Turkey's move and what it means for their alliance with NATO. The parties did not share the details of the S-400 agreement due to its sensitivity. But according to initial agreements, next year Turkey will receive two S-400 missile batteries from Russia and in the next two years will produce two batteries on Turkish soil. The agreement dates back to November 2016, however, at the end of April 2017, Turkish Foreign Minister Mevlut Cavusoglu made it clear that they were in talks with Russia regarding the S-400s and negotiations about joint production and costs have picked up steam since then.


Sergey Chermezov, CEO of Rostec Corporation, said Ankara was ready to buy the batteries with a loan provided by Moscow.

The company, Rosoboronexport OJSC, which produces and sells the S-400s, denied disclosing information on the details of the purchase.

Why is Turkey buying S-400s?

First, an air defence system is perceived as a 'must-have' for Turkey. S-400s can defend a large area and can hit targets as far as 250 miles away which can counterbalance threats from the region.

Secondly, Turkey is pursuing a more independent foreign policy through the purchase that aims to protect its airspace and counter threats beyond its borders as conflict rages on in neighbouring Iraq and Syria.

An added bonus for Turkey is that the S-400 is cheaper than other defence systems in the same league.

In 2013, Turkey launched a tender aiming to purchase defence systems. A Chinese company, (CPMIEC), suggested the most affordable price, but America forced Turkey to drop the deal by saying that the company had been sanctioned by the US for alleged missile sales to Iran.

That same year, German and Dutch Patriots (US-made missiles) were deployed to Turkey's Syrian border cities. The systems were removed in 2015 due to the assessment that the threat from Syria was over. Spanish Patriots took their place.

S-400 Triumf was developed by Russian Almaz Central Design Bureau, as the successor to the S-300 missiles, and has been in service in Russian Armed Forces since 2007. (Reuters)

Another reason for the purchase is that the Turkish government made it clear that they have long wanted to develop an indigenous defence technology.

In 2006, Turkey failed to make a deal with American companies to produce joint attack helicopters. The US refused to give Turkey the codes. This purchase will let Turkey acquire "know-how" and allow a transfer of technology.

Turkey does not want to be dependent on Western-originated weapons in the defence industry. Thus, it wants to create diversity in defence as well as in energy.

"They agreed to extend the deployment of the Patriot missile defence system, but as soon as they decided to move the system this leaves Turkey vulnerable to attack and redeployment can take some time, but how could you predict when an attack will take place," Merve Seren, expert for defence systems at SETA Foundation, told TRT World.

Turkey has invested billions of dollars to develop its defence industry and gain independence in domestic arms production. The partnership could boost Turkey's industry and serve the country's goal of diversifying its arms suppliers.

Lastly, the deal also allows Turkey to send a political message to its allies. Policy makers have often said that relations with Russia are not an ultimatum to either NATO or the EU, the actual message of the purchase is to show that Turkey does indeed have alternatives.

What exactly is the S-400?

The S-400 Triumf is Russia's next-generation, most advanced long-range anti-aircraft missile system.

It is designed to detect, track and then destroy any machine that poses a threat.

The Triumf is twice as effective as other anti-aircraft missile systems. It can work with 4 different types of missiles with different starting weight and launch range.

According to a report, the two countries agreed on a two-battery system with 240 warheads, and search-detection-tracking and baffle radars.

Russia has also agreed to sell them to China and India.

Why does this bother NATO?

The existence of Russian S-400 missiles on Turkish soil has annoyed NATO members.

Chairman of the US Joint Chiefs of Staff General Joseph Dunford said that Turkey's possible purchase of Russian S-400 missile defence systems is "concerning."

"Turkey has not completed a deal with Russia yet. If they would, it would be concerning," Dunford said.

Shortly after Erdogan said they had inked the agreement with Russians about the S-400s, he questioned, "Why would it be concerning? Every country needs to take certain measures for its own security."

"Steps have been taken and signatures signed. God willing, we will see S-400 missiles on our soil and precede the process with joint production," Erdogan said.

Russia's annexation of Crimea in 2014 led to sanctions against Russian officials by the US and EU. The purchase is seen by the the EU and the US as undermining the sanctions towards Russia.

The Russian defence system, according to Turkey's NATO allies, will be incompatible with NATO infrastructure.

"The problem is, how do you inter operate in the NATO system with Russians? They'll never inter operate," US Defense Secretary James Mattis told reporters. "We'll have to see — does it go through? Do they actually employ it? Do they employ it only in one area? All that kind of stuff. But you know, we'll have to take a look at it."

Greece bought the S-300 batteries from Russia in 1997, shortly after coming to the brink of war with Turkey and tested it in 2013. NATO allies, with the exception of Turkey, kept silent.

Turkey plans to make its S-400 compatible with NATO systems by making an interface program through IFF coding (friend and foe identification program) to be provided by Aselsan, a Turkish defence industry firm.

"If Turkey relies completely on NATO, IFF system considers all member states as friendly. If there was an attack from Greece, IFF system will not see this as an attack and ignore it. But if Turkey controls its system then it can determine what and who is enemy or friend," Seren said.

What are potential ramifications?

Turkey's new purchase may worsen already strained relations with the US and the EU.

The US and the European Union accuse Turkey of being undemocratic and violating human rights.

Turkey has accused both the US and the EU of supporting the PKK and its Syrian branch the YPG that is considered a terrorist organisation, for and backing Fetullah Terrorist Organisation (FETO) and its followers who attempted to overthrow the democratically elected government.

Some EU member states banned Turkish government officials, and some EU members suggested suspending arms sales to Turkey. Turkey is currently seeking membership to the EU.

"I don't think direct sanctions will be an issue," Merve Seren of SETA said.

"But some indirect sanctions could be possible, for example, Germany may not honour some of its agreements with Turkey, and it may not sell some crucial parts needed for systems, and this might disrupt relations. But this is ultimately Turkey's choice."

Author: Ali Topchi  TRT World
Last modified onTuesday, 01 August 2017 19:11