Brooklyn Borough President Supports WeWalk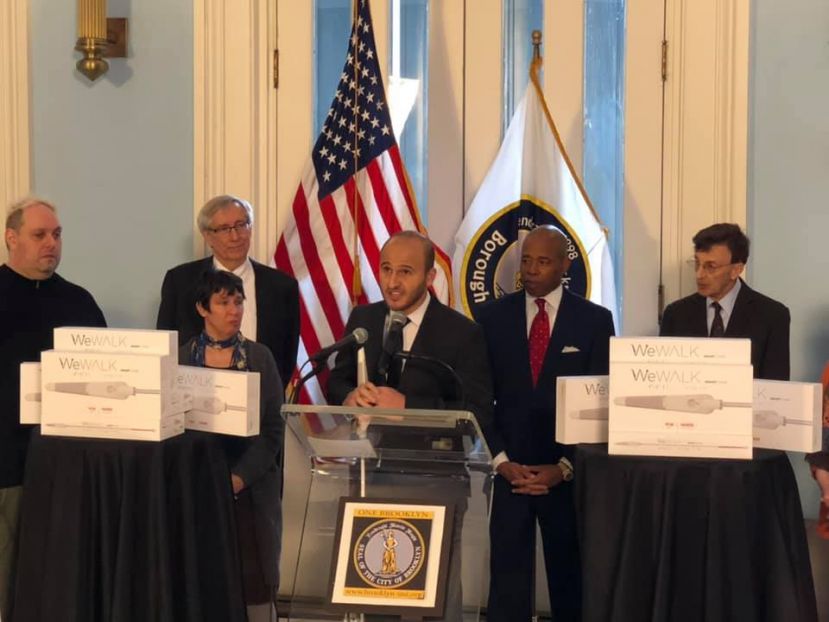 By Ali Cinar-New York - Brooklyn Borough President Eric L. Adams joined the representatives from WeWalk — developers of a "smart cane" for the visually impaired — to demonstrate the first-of-its-kind technology to Brooklyn and to announce the launch of a pilot program for clients of Helen Keller Services for the Blind, a non-profit organization based in Downtown Brooklyn helping people of all ages who are blind or visually impaired, and students from Lighthouse Guild, an organization dedicated to addressing and preventing vision loss. The technology, which was developed in Turkey through the non-governmental organization (NGO) Young Guru Academy (YGA), facilitates the world's first open platform "smart cane," which features security LED lighting, integration with mobile apps such as Google, Lyft, and Uber, and voice-command capability.
 
Borough President Adams demonstrated the new technology alongside WeWALK Project Lead Kursat Ceylan and WeWALK Growth Lead Eren Erdogan, as well as representatives from Helen Keller Services and Lighthouse Guild, while emphasizing the importance of government partnering with private sector innovators to uplift the lives of the more than 13 million blind and visually impaired people across the United States.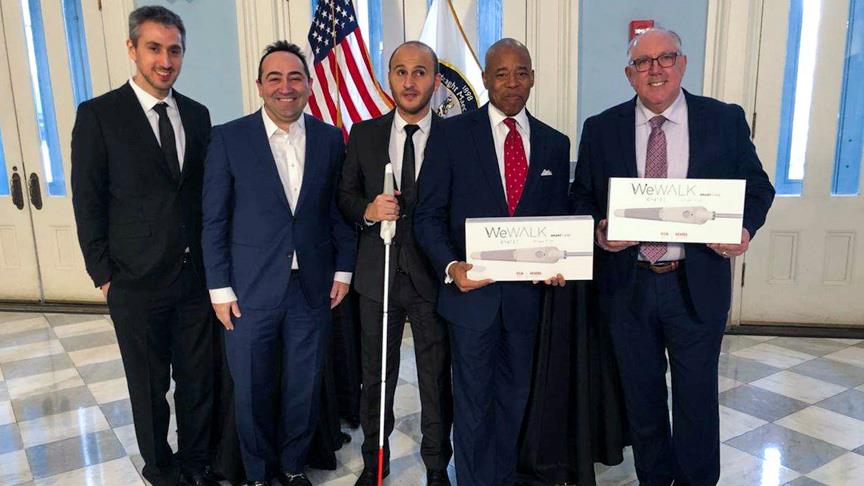 He also discussed his administration's ongoing emphasis on improving accessibility for New Yorkers living with disabilities; last month, he launched his "Barrier-Free BK" initiative, which focuses on policy reforms to assist young people living with physical disabilities. Thomas Lamb who is the MTA Innovation and Tehnology Chief attended the press conference and indicated that MTA is interested in WeWalk. WeWalk Project Leader said there is a foreign funding for their product and it was made in Turkey. One of Young Guru Academy's objectives are to make Istanbul a social innovation center globally. WeWalk is selected as one of the 22 Innovative Technology Startups To Watch At CES 2019 https://www.forbes.com/sites/jeanbaptiste/2019/01/05/22-startups-to-watch-at-ces-2019/#29b924835e5b



Media
{com/watch?v=jT1YtOjZzFw{/com/watch?v=jT1YtOjZzFwremote}{/com/watch?v=jT1YtOjZzFw{/com/watch?v=jT1YtOjZzFwremote}remote}{/com/watch?v=jT1YtOjZzFw{/com/watch?v=jT1YtOjZzFwremote}{/com/watch?v=jT1YtOjZzFw{/com/watch?v=jT1YtOjZzFwremote}remote}remote}remote}{com/watch?v=jT1YtOjZzFw{/com/watch?v=jT1YtOjZzFwremote}{/com/watch?v=jT1YtOjZzFw{/com/watch?v=jT1YtOjZzFwremote}remote}remote}{com/watch?v=jT1YtOjZzFw{/com/watch?v=jT1YtOjZzFwremote}remote}{com/watch?v=jT1YtOjZzFwremote}https://www.youtube.com/watch?v=jT1YtOjZzFw{/com/watch?v=jT1YtOjZzFwremote}{/com/watch?v=jT1YtOjZzFw{/com/watch?v=jT1YtOjZzFwremote}remote}{/com/watch?v=jT1YtOjZzFw{/com/watch?v=jT1YtOjZzFwremote}{/com/watch?v=jT1YtOjZzFw{/com/watch?v=jT1YtOjZzFwremote}remote}remote}{/com/watch?v=jT1YtOjZzFw{/com/watch?v=jT1YtOjZzFwremote}{/com/watch?v=jT1YtOjZzFw{/com/watch?v=jT1YtOjZzFwremote}remote}{/com/watch?v=jT1YtOjZzFw{/com/watch?v=jT1YtOjZzFwremote}{/com/watch?v=jT1YtOjZzFw{/com/watch?v=jT1YtOjZzFwremote}remote}remote}remote}
Last modified onTuesday, 22 January 2019 20:07