Turkcell Marks the 15th Year of its Dual Listing on the NYSE and Borsa Istanbul
Featured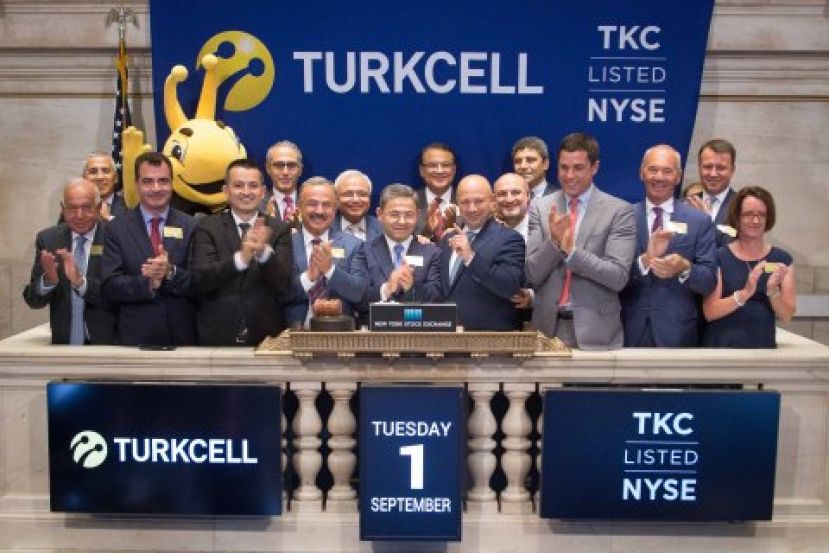 Business Wire
Turkcell's Chairman of the Board Mr. Ahmet Akca and Turkcell's CEO Kaan Terzioglu rang the Closing Bell on the NYSE on September 1st, 2015 to mark Turkcell's 15th anniversary on the New York Stock Exchange.
NEW YORK--(BUSINESS WIRE)--Integrated communication and technology services provider Turkcell (NYSE:TKC)(BIST:TCELL) marked its 15th year as a publicly-traded company as it rang the Closing Bell® on the New York Stock Exchange (NYSE). Mr. Ahmet Akca, Chairman of the Turkcell Board of Directors, and Mr Kaan Terzioglu, Turkcell's CEO, were joined by members of the Turkcell Board, NYSE President Tom Farley, Turkey's Consul-General in New York Mr. Ertan Yalcin, representatives of Turkcell's shareholders and Turkcell's upper management as they rang the Closing Bell.
Turkcell is the first company from Turkey to be listed on the NYSE. It has a current valuation of more than 10 billion USD and is among the 500 largest NYSE-listed companies, in terms of market capitalization.
"The NYSE listing has made it possible for Turkcell to access the world's largest capital market. Our listing on the NYSE also helped initiate a new era for Turkish business community as we demonstrated that a Turkish company could provide attractive investment opportunities for international investors," said Ahmet Akca, the Chairman of the Turkcell Board. "Over the past 15 years, we have adopted high corporate governance standards while operating a profitable business. Turkcell will continue to aim for the highest goals in technology, contribute to the growth of the countries where it operates, and create value for all its stakeholders."
Turkcell was listed on the Istanbul Stock Exchange, which later became Borsa Istanbul, at the same time as its listing on the NYSE. Today, the company offers its institutional investors the investment flexibility to choose between the NYSE and Borsa Istanbul.
Mr. Huseyin Zafer, Executive Vice-President of Borsa Istanbul, joined Turkcell's 15th year celebrations and shared the following remarks: "'As an exchange which aims to be the technology and finance hub of the region, Borsa İstanbul has established new linkages with exchanges and financial institutions all around the world and works to extend its presence further. In this regard, it is clear that Turkcell, by being listed on NYSE, made one of the very first contributions to promote Borsa İstanbul and Turkish market globally.''
Turkcell is currently one of the top 5 companies on BIST in terms of market capitalization.
ABOUT TURKCELL: Turkcell is an integrated communication and technology services player in Turkey. Turkcell Group has approximately 67.9 million mobile subscribers in nine countries and over 1.3 million fixed subscribers in Turkey as of June 30, 2015. Turkcell was one of the first among the global operators to have implemented HSPA+. It has announced two new HSPA+ Technologies on its 3G network to meet rising data usage. Having successfully integrated 3C-HSDPA and DC-HSUPA Technologies, it became the first mobile operator in the world to enable peak speed of 63.3 Mbps downlink while also enabled an 11.5 Mbps uplink on a 3G network. Turkcell is the first telecom operator to offer households fiber broadband connection at speeds of up to 1,000 Mbps in Turkey. As of June 2015, Turkcell's population coverage is at 99.85% in 2G and 92.06% in 3G. Turkcell Group reported a TRY3.1 billion (US$1.2 billion) revenue with total assets of TRY20.7 billion (US$7.7billion) as of June 30, 2015. It has been listed on the NYSE and the BIST since July 2000, and is the only NYSE-listed company in Turkey.
Last modified onSaturday, 29 July 2017 20:26