Turkish Airlines Works with Dr. Oz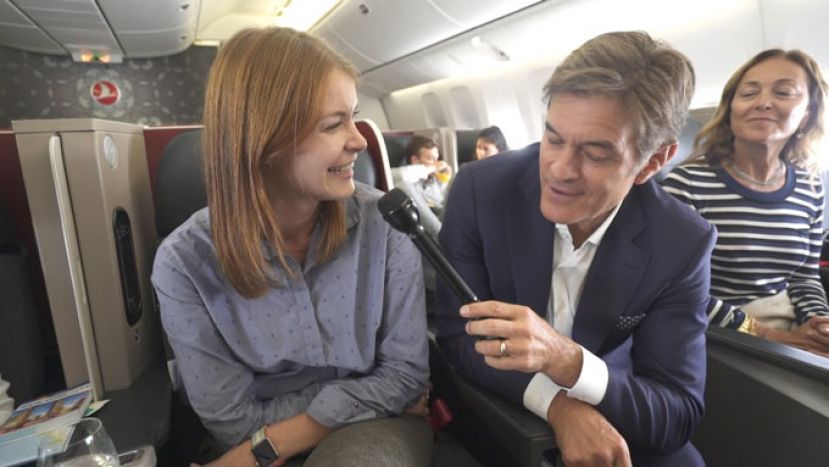 Turkish Airlines will collaborate with Dr. Mehmet Oz, the producer and host of world-renowned "The Dr. Oz Show", on its "Fly Good Feel Good" project. Turkey's flag carrier aims to provide an even more comfortable and healthy travel experience to its passengers.
The collaboration between Turkish Airlines and Dr. Oz will be a part of "Fly Good Feel Good" project, which created to improve the brand experience of Turkish Airlines, provided to its passengers. The project features short videos with expert advices presented on the Turkish Airlines official website, social media accounts and in-flight entertainment systems, and printed papers as well.
With help from Turkish Airlines pilots, cabin crew and the Flying Chef of flight TK01 from Istanbul to New York, Dr. Oz surprised passengers before filming content for his daytime show and the "Fly Good Feel Good" project. As part of this special flight experience, Dr. Oz entertained some 300 passengers of this special flight with health-inspiring gifts and messages over the in-flight entertainment system.


"Making our passengers' flight experience more comfortable and enjoyable by continuously improving our brand experience is one of our top priorities." Mr. M. İlker Aycı, Chairman of the Board and the Executive Committee of Turkish Airlines, said. "How a passenger feels is just as important as our award-winning service quality. Dr. Oz will create a special atmosphere onboard where our passengers will better feel the privilege of flying with Turkish Airlines."
"Turkish Airlines is world-renowned and awarded for its high quality service and perfect catering. "Fly Good Feel Good" is, too, an impressive project mindful of the health and wellness dimension of airline travels. I believe that this project is a great example of the attention put on the passengers by bringing the brand experience of Turkish Airlines to a higher level." Dr. Oz commented on the project.
The collaboration with Dr. Oz is the next phase of the Fly Good Feel Good project, which addresses all actions that to be taken before, during and after flight in order to make passengers have a good flight in all aspects based on a good flight experience.
As part of the "Fly Good Feel Good" project, Turkish Airlines has also initiated the volunteer-based "Flying Doctor" practice for when an on-board doctor is needed, which enables physicians who register with the program and gain extra miles on their flights.
In the latter phases of the project, Turkish Airlines will continue to take passenger satisfaction to even higher levels and continue to advice its passengers about healthy living.
For more information about the project visit, http://www.flygoodfeelgood.com/en
Last modified onThursday, 27 July 2017 03:58