Syriac Therapists of American Jewelry Buyers
Featured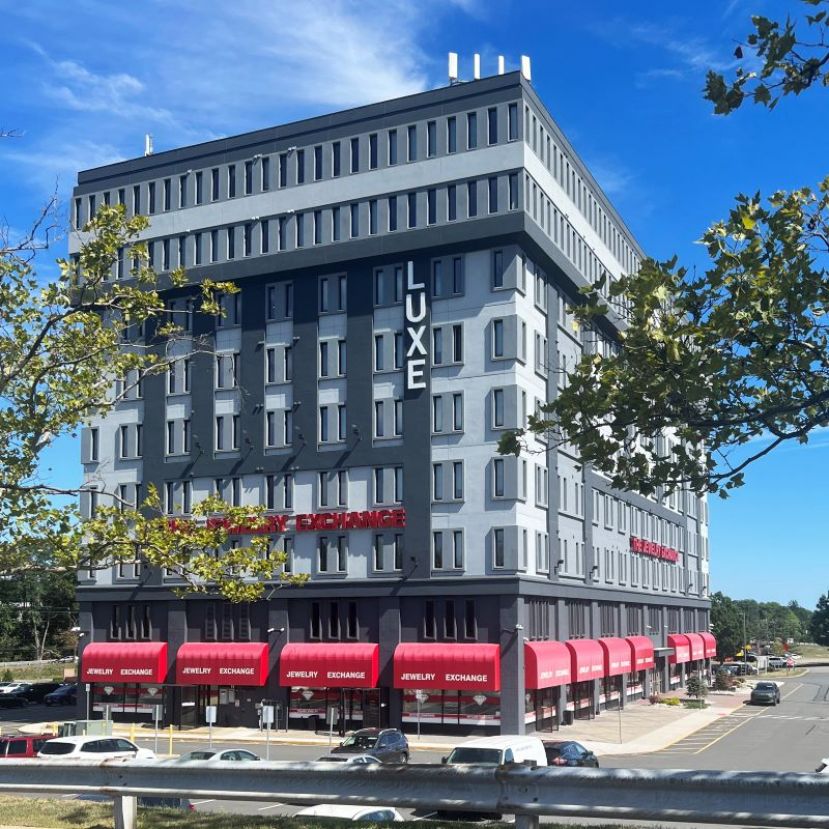 The building in Woodbridge has 36 booths and 90 of the businesses there are ran by Syriacs. Most of the Syriac business owners there are either relatives or from the same town.
In New Jersey and around it, regardless of which 'Jewelry Exchange' branch you go to, you would definitely encounter a jewelry salesperson with Syriac background. Jewelry Exchange on 47th Street in New York and in Wayne, Totowa and Paramus in New Jersey are some of them. And, the one in Woodbridge, NJ is one of the earliest jewelry exchange shops where the Syrian migrants in the USA started operating in the sector. The building in Woodbridge has 36 booths and 90 of the businesses there are ran by Syriacs. 
Most of the Syriac business owners there are either relatives or from the same town. And, they are the ones who introduced their authentic artisan culture to jewelry buyers in the USA. They are longtime friends with many of their customers. Many times, they sell their jewelry to newlyweds, whose parents also purchased their wedding jewelry from them. Moreover, jewelry buyers see their Syriac tradesmen as a family member and they share with them both their joy and their concerns.
TURKOFAMERICA visited the jewelry artisans in New Jersey's Woodbridge, Wayne, Paramus and Totowa and listened to the life stories of the Syriac craftsmen who changed the service culture in retail in the areas where they operate.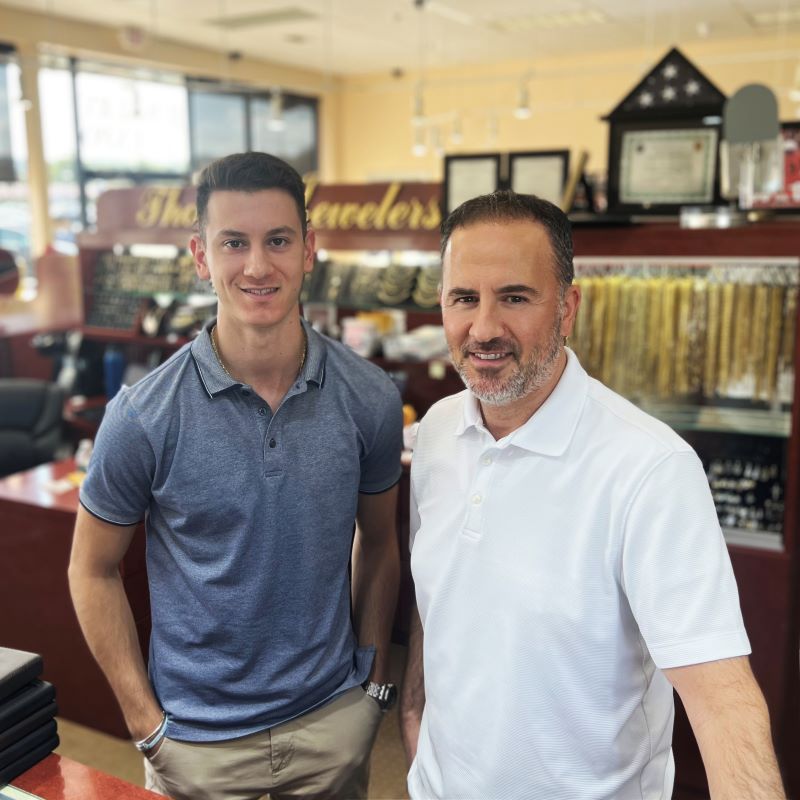 Thomas (Bülent) Altındağ: A True Biblical Servant
THOMAS JEWELERS- TOTOWA, NJ  
Abraham (İbrahim) Altındağ used to run a jewelry shop in Grand Bazaar of İstanbul. Father of four girls and one boy, he gave his only son the name of a neighbor of his, whom he dearly loved: Bülent. Having grown up in İstanbul, Thomas (Bülent) Altındağ spent most of his childhood at Grand Bazaar. Their shop at the Grand Bazaar was sold and they moved to USA as a family. "I cried when we moved here when I was 19 years old. We used to have a great circle of friends in İstanbul. 'Till this day, every now and then, I still question our decision to migrate. I keep wondering, 'Did we have to do this?'"
Father Altındağ was 53 when he moved to USA with his family and started his life from scratch. Having some friends here from his Syriac community was an advantage. Thomas started attending a language school in New York in 1991. And, in April of 1992, he started working at a jewelry shop in Wayne, New Jersey. And, the first item he sold there was a cross with a golden chain.
He continued working at the same booth there until 2014. When the owner of the exchange center in Wayne changed in 2014, he continued his work at Totowa, New Jersey. 9 of the 11 businesses there are still owned by Syriacs. He says, "I have customers that I have been serving since 1992. We have become a family."
Altındağ has 3 children, aged 30, 25, and 23. Two of his oldest children aren't very interested in the jewelry business. "My children used to come to the store sometimes. They used to witness my conversations with my customers. They would tell me, 'You talk to them for 30, 40 minutes. How can you remain that patient when they leave without buying anything? What kind of a business running is this?' I think, because of that they haven't had much interest in it. But my youngest son is somewhat more interested," he says.
Altındağ met with some of his friends again after 32 long years in Türkiye. His children also spent their last summer in Türkiye. Altındağ is also an active member of the Saint Gabriel Church of Haworth, NJ. Since 1997, he has been attending the bible reading sessions there three times a week. The bible reading is done on Monday and Thursday evenings in English, and Sunday evenings in Turkish. He is happy with the attendance of the second generation Syriacs.
He mentions that on Monday evenings, around 25-30 young community members come to the church.  Altındağ does not open his business on Sundays. "I haven't had a problem of not being able to see my children due to work schedule. Although the exchange center is open even on Sundays, I haven't opened my shop on Sundays for 23 years" he says.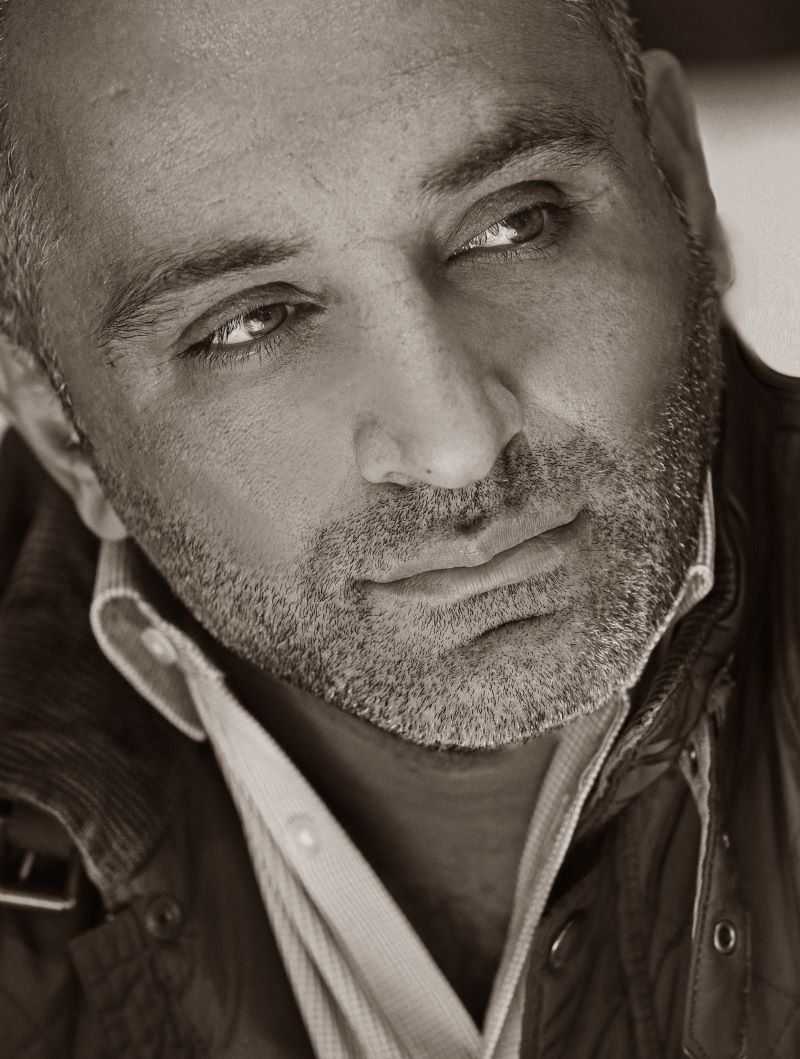 Freddy (Ferit) Cankurt photo by Koray Kasap 

Freddy (Ferit) Cankurt Creates a Life Long Customer
JULIANNA JEWELRY II – PARAMUS JEWELERS EXCHANGE, PARAMUS, NJ 
Freddy (Ferit) Cankurt, has been running, for 20 years, the Julianna Jewelry at the Jewelry Exchange on Route 4 in Paramus, NJ. Cankurt was born in Kumkapı in İstanbul. He has 4 brothers and a sister. His family had migrated to İstanbul from Mardin's Midyat in 1970's. Throughout his elementary school years, Cankurt worked in a jewelry shop that produced chains. "I have been in this business since I was 6 years old", he points out.

Cankurt and his family moved to USA in 1994 when he was 14. His first job here was at jewelry workshop, where he earned 180 dollars per week. His father opened his own jewelry shop in the USA in 1997. After working with his father at his shop for about 3 years, Cankurt opened up his own shop.
When asked why some customers prefer his business over giant jewelry chains such as Jared, Kay and David Yurman, Cankurt replies, "Firstly, it's about personal connection. Secondly, we can adjust our prices relatively more easily. Big companies have standard price policies. They can't go lower than the price determined by the management. And, since their expenses are higher, their sales prices are also more than ours."

At Cankurt's shop, named Julianna Jewelry II, product prices range from 100 dollars to 180 thousand dollars. The most expensive item currently put out for sale at his store is a yellow diamond ring with 12 carat gold. Of the 58 jewelry businesses at the Paramus Jewelry Exchange, nearly 80 percent are owned and operated by Syriacs. Cankurt's two siblings also have their businesses running at the same exchange center. While one of his other siblings has a shop in Woodbridge Jewelry Exchange, another one is in the jewelry wholesale sector in New York.
Cankurt is a father of 4 girls and one boy. When it comes to his children, he says, "I would definitely not want them to work in this business." When asked about the average shelf life of his products, he says, "There are items that remain on the shelf for 20 years. For example, we have items that were bought when the ounce of gold was 250 dollars. Now, the price of one ounce of gold has reached 1800 dollars. But each item has a buyer, at the right time."
His 18 years old daughter is starting college soon. Cankurt says, "My daughter wants to study business. I tell her to firstly work here at our shop to learn the basics and work elsewhere later on but she doesn't listen to my advice."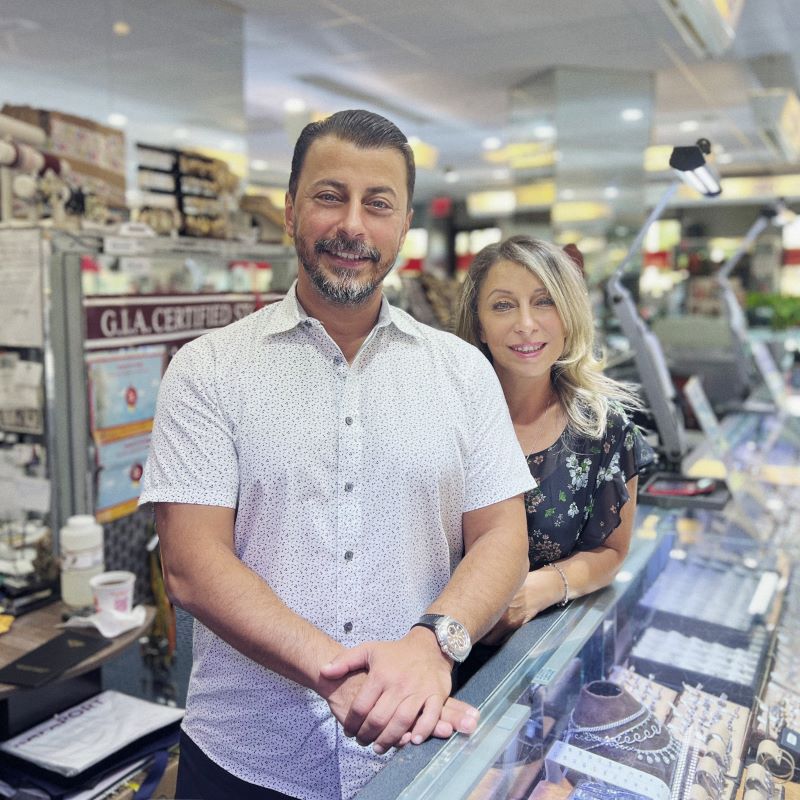 Ercan (John) Çoban: ''I Am Not a Salesperson. I See Myself as an Aid''
ROMANCING THE STONES – WOODBRIDGE JEWELERY EXCHANGE, WOODBRIDGE, NJ 
51 years old Ercan (John) Çoban is the owner of Romancing the Stone, which is one of the oldest jewelry shops at Woodbridge Jewelry Exchange. His father was born in Türkiye's Mardin and his mother was born in Kayseri. When Çoban was in 4th grade, his family migrated to the USA in 1982. Before migrating to America, his father used to work in shirt production in Yeşildirek in Türkiye. Çoban says, "My father's cousins were in America. So, he had come here to visit in 1979. He saw and liked the opportunities here. My father was a very hardworking person. He had an entrepreneur spirit. He feared nothing. He decided to migrate and took action. Two of my sisters and I moved her with my parents."
Çoban's family settled in Lodi, NJ when they first came to the USA. His father didn't go into jewelry business. Rather, he worked in leather purse production in New York. He was by himself at his business, so, Çoban started helping his father. However, when the production lines began to move to China after 1986, his father realized there won't be a promising future for his business. So, he asked his son, "Would you prefer continuing with leather or going into something else?" So, Ercan Çoban decided to change direction and start working in jewelry sector in 1990. First, to learn the process, he worked at one of his father's close friends' shops in Manhattan on 47th Street. He continued working in retail for 1 year. Then, in 1992, he came to Woodbridge Exchange and ended up being one of the first Assyrians who opened up a jewelry shop at that center.
He still remembers his first customer who bought a solitaire ring. "He is still my customer," he mentions. Pointing at the board on the wall, full of pictures, he says, "I sold the wedding rings to the parents of 20 percent of these babies that have their pictures on this board. And, we are still in contact with the second generation of these families, as well."
There were also some people who first worked at Romancing the Stone and, then, opened up their own shops. Çoban says, "One of my friends' sons and my cousin's son used to work with me. Later on, they opened their own stores and grew their businesses. I am very happy for them." One of the sectors that grew during the COVID-19 pandemic is the jewelry sector. Although the stores at the jewelry exchange centers remained closed for nearly 3 months, once they were open again, their businesses saw over 60 percent of growth.
Although he moved to America at a young age in 1982, Çoban still speaks Turkish very fluently. His wife is also a member of the Syriac community. He mentions that they still speak Turkish at home. Father of a 13 years old girl and a 10 years old son, Çoban says, "If my children would like to go into jewelry sector, I would support them. This is a relatively easy job. We don't get affected by outside factors easily. We mostly meet with our customers during their happy times. And, we are there for them when they start a new phase in their lives and we continue to be there for them thereafter."
Answering the question of whether he sees himself as a good salesperson or not, Çoban says, "I don't see myself as a salesperson. I see myself as an aid. In our family and community culture, I was raised to be always honest. I have been taught to believe that so long I am a good person, good things will also appear in my path."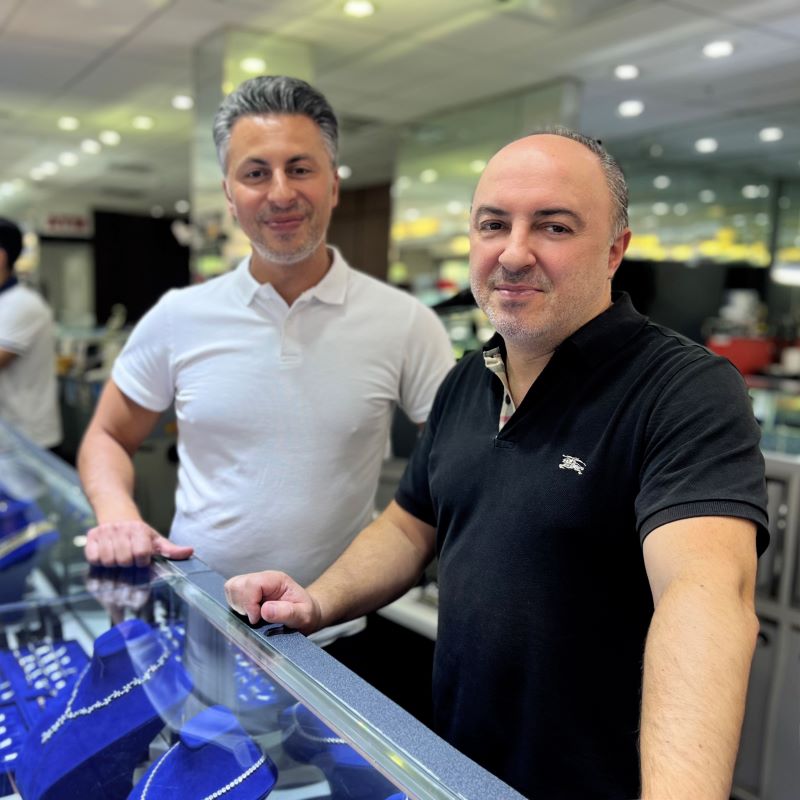 Özcan (John) Akyön: ''We Serve as a Therapist with No Cost''
KENT JEWELERY – WOODBRIDGE JEWELERY EXCHANGE, WOODBRIDGE, NJ 
The special place of Gabriel (Cebrail) Akyön within the Syriac community is unquestionable. He is deeply respected and viewed as a big brother by everyone, young and old, in the community. Cebrail Akyön's sons Özcan (John), Ferit (Freddy) and Kenan (Ken) run the Kent Jewelry at Woodbridge Jewelry Exchange.
Özcan Akyön was born in Bahçelievler, İstanbul in 1975. He attended elementary school in Bahçelievler. He came to the USA in 1991 with his family, along with his uncle. Their family used run jewelry stores, again under the name Kent, in İstanbul's Beyoğlu and at Grand Bazaar. Kent Jewelry of USA was opened in 1991, the year when the family arrived here. Akyön family is one of the oldest business owners at the exchange center. When asked whether they, as a family, thought about opening stores at different places, rather than staying at the same shop, or going into other businesses or not, Özcan (John) Akyön says, "Believing in the power of unity, we never separated our ways. And, also, the customers want to see the faces they are familiar with when they come to the store. The priority in our business is personal trust. So, if we were to open a store elsewhere, it would have taken time to build that trust there."
Akyön also draws attention to the fact that throughout the 30 years of running their business, they have been able to serve even the third generation of their customers. The exchange center's working hours start at 10 am every day except for Mondays. He says, "The business working hours make us obligated to come here. And, we cannot leave the place unattended. But thankfully, as the 3 siblings of the family, we cover for each other whenever needed."
Mentioning that their customers are not only from NJ but also from other states, Akyön says, "As long as there is mutual trust, we have people visiting us from North Carolina or even Florida." When asked about the difference between the jewelry sectors in the USA and in Türkiye, Akyön answers, "It has been quite easy for us to run a jewelry business. Our craftsman perception and culture are different and Americans have also had the opportunity to see that through our work. That is also why they build a bond with us. The attention they get when they visit us has led them to also bring along their family members. Sometimes, even if they don't purchase anything, we end up serving as a therapist with no cost."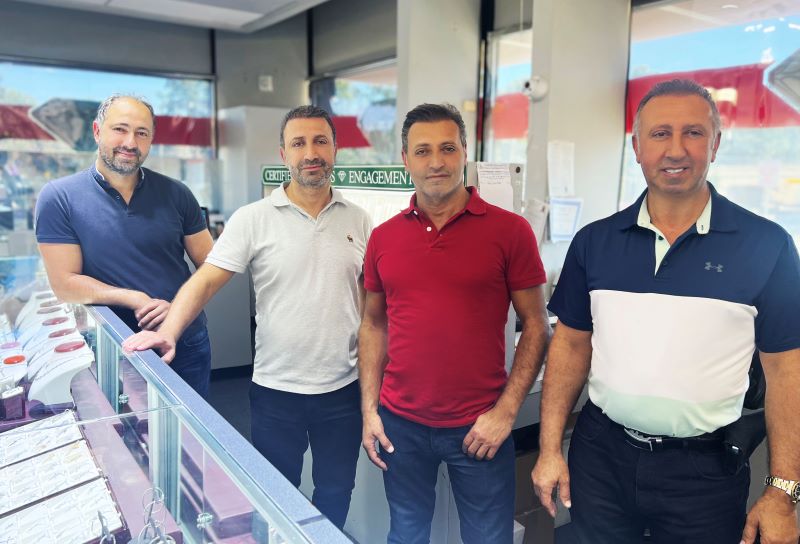 Bünyamin Alpar: ''If We Do Wrong to the Customer, We Lose''
MADLEEN JEWELERY- WOODBRIDGE JEWELERY EXCHANGE, WOODBRIDGE, NJ 
In Syriac American society, the jewelry business is the common income source of the families. All members of the family sometimes run shops together, sometimes in different locations. Benjamin (Bünyamin), John (Yuhanın), Simon, Oscar (Özcan) Alpar brothers, who are from Gülgöze (Aynvert) village of Midyat, have been serving at Woodbridge Jewelry Exchange since 1992. Benjamin Alpar, who also has a sister named Elizabeth, moved to İstanbul with his family in 1970 when he was 5 years old. He attended primary school in Kasımpaşa. His father worked as a janitor at the Italian Hospital in İstanbul. Later, in partnership with a few friends, he entered the jewelry business in 1974 at Kırklar Han in Çemberlitaş, İstanbul.  He also learned to make gold chains in the workshop with his father. He worked for his father until he went to the military. He did his 18-month military service in Çorum.  

His father and uncle came to New York to do research with the idea of 'what would it be like if we moved to the USA'. The father decided to move the family to the United States for the future of his children. The first to arrive was Benjamin, his wife, two children and his brother on November 20, 1991. "When we first arrived, we had difficulty adapting. We were coming from a very crowded and social environment. We had a few years of adaptation until we opened a shop here. At first, when we compared it to Turkey, we were disconnected from social life. Then we got used to it." 

After working in New York for about a year, Aziz Akyön, his uncle decided to move his shop to another place in the exchange; he sold his business to the four brothers in 1992. Benjamin, who is the father of 3 girls and a boy, named the store they opened after his daughter Madleen. The Alpar brothers have four separate shops on the exchange, Diamond Forever and Madleen. 
Jewelry exchange consists of 36 separate shops built on an area of 4 thousand sq. Although they are all relatives, neighbors, compatriots and acquaintances, they are in an intense competition. Their rent is much more expensive than regular shops in New Jersey, with booth rents around $10,000. Since they buy the jewelry they sell from similar wholesalers, customers have a lot of chances to break the price. "The biggest disadvantage of being together collectively is the competition we experience. We all know each other. Most of us are the same peasants. We all go to the same church. So, we don't have a problem." 

Almost all of the trades on the Exchange underline caring the customer, the service provided, trust, honesty. "If we do wrong to the customer, we lose. I sold an engagement ring to my client, who came to the first opening of the exchange in 1992 and she is still coming," he says. Although he doesn't go to Turkey often, his parents and son joined a 3-week tour this summer that included Mardin. Alpar's son also works in the shop, but he advised his other children to choose other careers.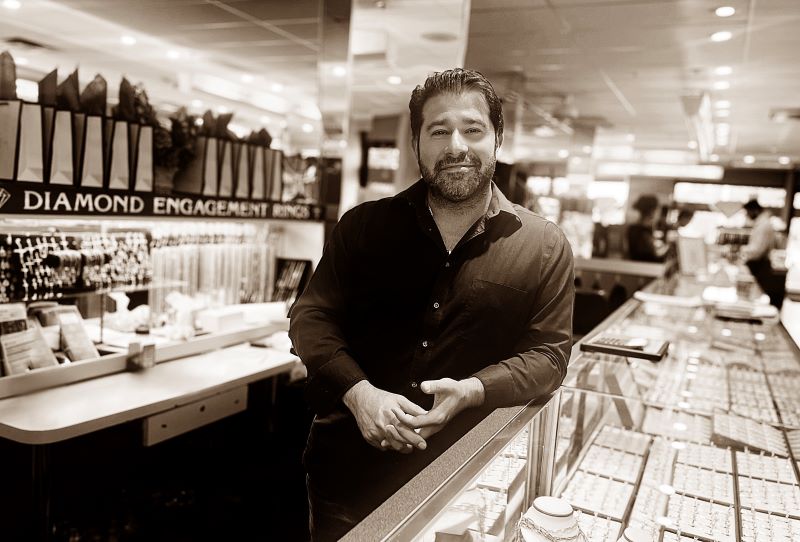 Murat Haniken: ''We've All Barely Seen How Our Children Grow Up''
HANIKEN JEWELERS – WOODBRIDGE JEWELERY EXCHANGE, WOODBRIDGE, NJ 
Murat Haniken was born in Bahçelievler, İstanbul in 1978. He studied in İstanbul until the middle school at first grade. His father worked in the workshop to manufacture of chains.  The family first moved to Germany, where many of her mother's side lived. "Stay in Germany. This is the welfare state, you have four children. You'll be comfortable,'' the relatives advised, but his father didn't listen. "I have cousins in the U.S. I'm going to go," he said. After staying three weeks in Germany, they moved to New Milford, New Jersey in 1991. Murat Haniken says, "I'm glad we came."  

Working is like worship for Syriacs. "We landed at JFK on Sunday. My uncle Yakup had a manufacturing shop at Manhattan 47. He was manufacturing bracelets and chains. On Monday, my brother Fırat, went to work with my uncle." Murat's brother worked in his uncle's workshop for about 2.5 years. Murat finished high school in New Milford. They opened their shop at the Woodbridge Jewelry Exchange in October 1993.  

The four brothers Fırat, Murat, İbrahim, and Burak are partners in jewelry business as well as building house in Bergen County. Haniken, who married at the age of 22, is the father of three sons and a daughter. Asked if he would like his own children to do this job, he replied: "I've thought about it a lot. My dad always told us, 'I just want you to do this job. You're going to stay in this business.' He also wanted us to study. I studied until high school, but I also needed to help the family. I both want and don't want my children to do this work. All my Saturdays and Sundays for the last 29 years, have been spent here. I didn't have a weekend. We work here for 6 days and go to New York on the 7th day to take orders. We've all barely seen how our children grow up."  
The four Haniken brothers have a total of 13 children. 4 boys, 9 girls. His brother Fırat's son now works in the shop with his uncles. Murat's eldest son, 20, also comes to the store from time to time. "Maybe one of my kids can do this job without pushing himself too hard. Let him work 40 hours a week, have a job to spend with his family on the weekend. It's a pity for the people who work here. For years, we closed the shop at 9.00pm. (Shops on the Exchange currently close at 7.00pm three days a week, 6.00pm on two days, and 5.00pm on Sunday. It's also closed on Mondays.) He drove home for an hour. During Christmas times, we worked at a busy pace for 40-50 days. When we went home, we didn't feel our legs. We would go home to bed and get up in the morning and come back. ''  

He went to Turkey for the first time in 2014 after 20 years. "I loved it. I didn't expect anything like this. I went to holiday destinations, Bodrum, Çeşme, İstanbul. I visited the apartment building where I was born and raised. I visited the workshops where my father and uncle worked. I loved everything from the food, the air, the water. Turkey is always my first choice for holidays, but not for living," he says.  

Murat's wife is also from the Syriac community. "She cooks very good Turkish food at home," he says. They have an established customer base because they have been running a shop in the same place for nearly 30 years. "The boy who was in the stroller when his parents arrived took his engagement ring from us. If a person who is shopping from us is turning to shopping from somewhere else, there is something wrong with him."  According to Murat, anyone who enters the jewelry business leaves it difficult. If he comes out, he cannot come back easily.  
Last modified onWednesday, 04 January 2023 23:28